Tag:
6th congressional race
Page 1/1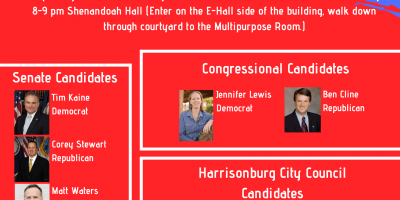 Instead of only hoping JMU students show up to vote in the Nov. 6 Election, many of the candidates in the biggest races affecting Harrisonburg will bring their campaigns to JMU students on Wednesday, Oct. 10.  
Candidates or representatives from Virginia's U.S. Senate race, the open 6th Congressional District contest and those running for the two spots on Harrisonburg city council will embark on an old fashion barnstorming tour by bus – bus-storming? – to three JMU residence hall areas. It's being billed as a Traveling Town Hall complete with free pizza and the candidates' best talking points. Each candidate will have between five and seven minutes to address the audience of first-time or relatively new voters.