By Andrew Jenner
A new chapter in the city's quest to regulate short-term housing rentals is off to an uneven start, after notices of violation – and accompanying $100 fines – were sent last week to a first round of property owners believed to be operating such rentals without a permit.
Earlier this year, city council adopted an ordinance requiring a special use permit for any short-term rental, and announced that enforcement would begin in August. In an email to The Citizen, Rachel Drescher, the acting zoning administrator, said the city mailed four letters of violation last week, and four more will be sent out soon. Drescher said she and the city's zoning inspector spent several hours this week identifying these properties by searching the sites where they're being advertised, including Airbnb, VRBO and HomeAway.
By Tuesday, however, Drescher said two of the initial four suspected renegade hosts had been cleared of suspicion after letting the city know that they rent out their properties for more than a month. The new ordinance limits short-term rentals to fewer than 30 consecutive nights.
Anna Bergey, a third property owner who received a notice of violation and $100 fine, said she also rents out the townhouse in question for a minimum of one month. Because the letter was sent to the townhouse, where Bergey currently has a tenant, she said she was unaware that the city believed her to be violating the short-term rental ordinance until contacted for comment by The Citizen.
Bergey said she has been renting the property for at least a month at a time since 2015, and worked with city staff when she began doing so to ensure that her rental complied with the zoning ordinance. She noted that property listings on both Airbnb and VRBO advertise that minimum stay. An agent with Kline May Realty, Bergey said there is "definitely a market" in Harrisonburg for month-by-month rental properties, catering to people who work transient jobs, such as travel nursing, as well as those in limbo between selling and a buying a home.
---
Ordinance violation begins with the advertisement
In her email, Drescher said advertising a short-term rental is itself a violation of the ordinance, which was a technicality that caught Sarah Good by surprise.
Good, the fourth owner sent a notice of violation by the city, said she had not accepted any new bookings since becoming aware of the new ordinance but kept her Airbnb listing active to maintain her host rating on the site. After receiving the letter from the city, Good said, she removed her listing from the website. She plans to pay the $100 fine and get the required permit in order to resume hosting short-term guests.
"It doesn't surprise me that they acted on it so immediately," said Good, who added that she was frustrated by the situation.
"I don't want to seem bitter," she said. "It was my negligence."
Airbnb growth soaring in the city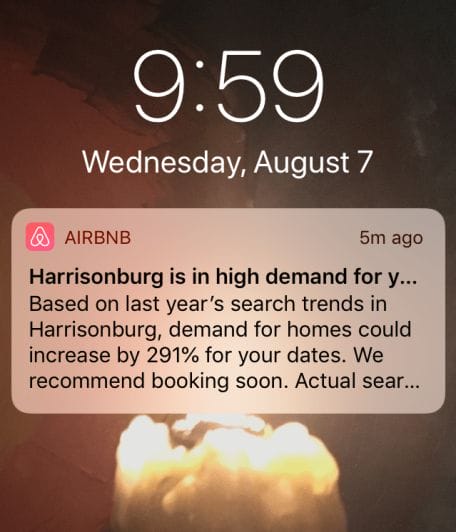 Over the past several years, Airbnb has grown dramatically in Harrisonburg, with "guest arrivals" in the city nearly tripling from 6,700 in 2016 to 19,900 in 2018, according to figures provided by the company. (A "guest arrival" is one person arriving to stay for any period of time at a property booked through Airbnb; one person staying for one week would count as one guest arrival, and five people staying for one night would be five guest arrivals.)
In response to growing concerns over a shortage of housing and potential effects on neighbors, the planning commission, city council and city staff spent months debating if and how to regulate short-term rentals. This spring, the council passed the ordinance requiring a special use permit.
Drescher said city staff believe about 40 short-term rentals in the city are being advertised on Airbnb and other platforms. A total of 11 properties have received special-use permits to do so, she said, while 15 more are in the application process.
"Overall, it appears that most operators of short-term rentals have worked or are working on complying with the new regulations for short-term rentals," she wrote in an email.
While the city has not been in direct contact with any of the online platforms about the new laws, Drescher said they make clear it is the host's responsibility to understand and follow any local laws regarding short-term rentals.
In an emailed statement, an Airbnb spokesperson said the company has "worked with dozens of municipalities across the state to craft policy that fits both the needs of local government as well as those of our community."
"Together, we can address transparency and public safety concerns, empower hosts to continue using their homes to make ends meet and help guests to visit new places all over the world," the statement continued.
In any case, short-term rentals are still very much in demand. As of now, just one of the several dozen properties listed on Airbnb is still available during JMU Family Weekend, Oct. 11-13. It's a five-bedroom brick home listed for $1,495 per night.
— Kyle Kirby contributed additional reporting to this article.
---
Journalism is changing, and that's why The Citizen is here. We're independent. We're local. We pay our contributors, and the money you give goes directly to the reporting. No overhead. No printing costs. Just facts, stories and context. Thanks for your support.