By Bridget Manley
Lori Mier could feel it come on each summer — that melancholy haze. And she would be drawn, almost like a ritual, to the story — her story.
Around Labor Day she'd go into her closet and pull out a box of papers.
She'd read the yellowed newspaper article describing what happened.
She'd look at the map where she and her sister were found, on the side of a rural mountain in Oregon, thrown from the back of her parents' truck during the accident.
Each year, she entertained the notion of trying to find the people who rescued her from the ravine. The ravine where her parents died. The ravine where she and her sister laid in the pitch blackness for a full night scared, helpless and alone.
And this summer, as she pulled out the papers in her Harrisonburg home, something compelled her.
On a whim, she looked up the Fire Department in Glide, Oregon, where the accident happened and found the department's Facebook page.
And she typed. She began reaching out to the find the people who saved her life. She wrote, in part, "I've begun searching for medics/rescue workers that are named in the reports I have. I also don't know if any of my family in Oregon has been to the site, have any of you?"
One by one, the people who rescued her and her sister that day began to emerge, each overjoyed that they could finally talk to the two little girls they helped save that day.
And now, Mier is planning a trip to go meet them.
'The Pickup Plunged 300 Yards Before Coming To Rest'
It was Labor Day weekend in 1984. Raymond Stanley and his wife, Julie, dropped their 10-month-old son Michael off with a babysitter. The young couple then drove 3-year-old Lori and 4-year-old Rachel into the mountains of rural Glide, Oregon — just east of I-5 near Roseburg. They were on a four-wheeler trip for the day with two other families.
The Stanleys got separated from rest of the caravan on the way home. Mier and her sister were riding in the bed of the pickup, which was covered by a camper.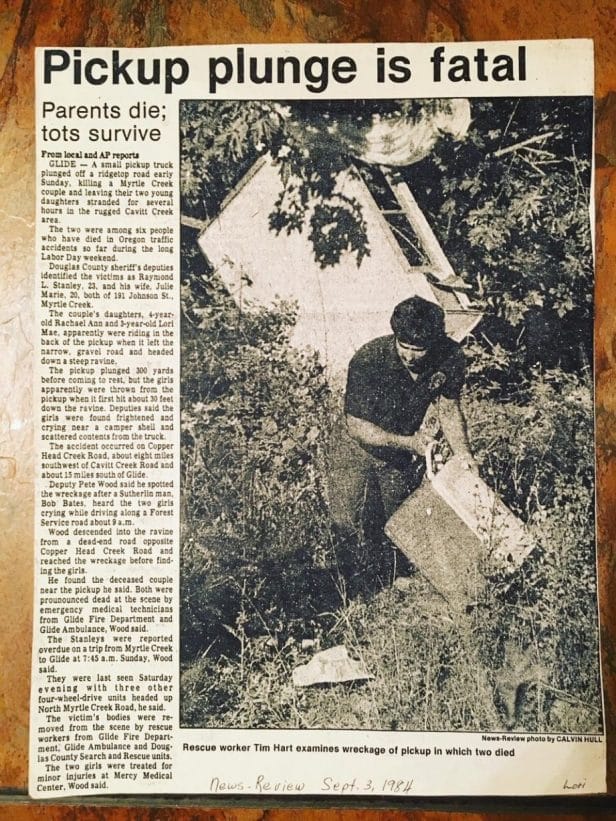 What happened next has always been unclear, but those who were with the Stanleys have since told Mier that the steering in the truck wasn't working properly.
The truck went straight over a cliff, and the two little girls got thrown from the back. Some reports said the parents were both deceased when help finally arrived, but Mier has heard that they may have been alive following the initial impact. Rescuers found both parents outside the vehicle. Mier said her mother had dirt in her fingernails, which she believes meant that her mother was trying to reach her daughters in her final moments.
Raymond was 23. Julie was 20.
Mier had a broken arm, but she and her sister sustained only minor injuries.
Mier doesn't remember anything about the accident, but her sister does. Mier said her sister Rachel has always told her that she remembers certain things about that night while they were stranded on the side of the mountain in the Oregon wilderness and their parents lay dying at the bottom of the ravine.
"She remembers yelling to one another…calling out," Mier says. "She also has this — who knows, it could have been a dream, it could be something she came up with later — but she's always had this image of a bear coming up to us and standing next to her in a peaceful manner, and then walking away."
"She still swears by it to this day."
'The Girls Were Found Frightened and Crying Near A Camper Shell'
Mier, who moved to Harrisonburg five years ago, is now a nature photographer and activist, as well as a mother of a 6 year old.
Almost immediately after she posted the first query on the Facebook page, the people who were on the scene or involved began reaching out.
Holly Hutchings was one of the first to contact Mier. Her parents were enjoying opening day of bird season on their four-wheeler that Labor Day weekend in 1984, when they thought they heard children crying.
"[My dad] said he remembered seeing the two girls," Hutchings said. "He stopped and was glossing this area with binoculars and could hear some kids crying. He found them through his binoculars in the ravine."
Her father, Bob Bates, sped down the mountain and called the police while her mother stayed to watch the girls. Hutchings believes her mother must have sat watching the girls from across the mountain for the better part of an hour while her husband went for help.
"She was pretty shook up about it," Hutchings said.
Mrs. Bates died in 2010, and Mr. Bates died in 2015. Hutchings said her parents spoke about the accident and the girls for the rest of their lives. She believes they would be content knowing that the girls survived and had eventually reached out.
"They had no idea what ever happened to them," Hutchings said. "They always wondered what happened to them."
Tom Doss was 34 years old the day of the accident. He and his wife were volunteer firefighters with the Glide Fire Department.
Now 69, Doss logged onto Facebook this summer and came across Mier's post randomly. He said all the memories of that day came rushing back — the sadness of knowing that two girls were orphaned and that nagging question about what ever became of them.
He knew immediately he had to reach out.
As one of the first rescue workers on the scene, he found both Mier's parents at the bottom. He couldn't determine at the time if Raymond was still alive – but he was sitting up outside the vehicle. He knew as soon as he found Julie that she was dead.
And then he climbed the hill, where he found Mier sitting up, quiet, and "in a daze."
He says that the scene became hectic, with ambulances and helicopters swooping in.
"A lot of yelling," he said.
They lowered the search and rescue basket. Doss scooped Mier up and "packed her out" up the steep mountain to a waiting ambulance.
For about five minutes, it was just the two of them.
"I can still feel her clinging onto me so hard, on my chest," Doss said. "And just — as far as I was concerned — the feeling of comfort for her, that she was safe and at least this portion of her ordeal was over."
He handed her off to the waiting medics and stopped to catch his breath. He never saw her again.
"Every so often, once a year…I've always in the back of my mind wondered what happened to the girls," Doss said.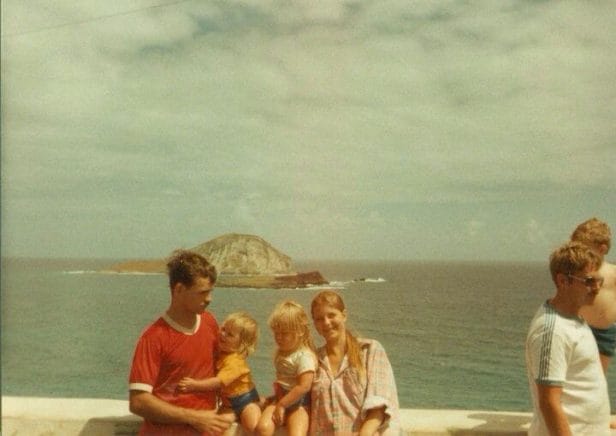 Others have also connected. Sheriff's deputies and other rescue workers who were on the scene expressed joy at knowing Mier and her sister have gone on to live their lives and offered Mier details about that day she hadn't heard before. Mier plans to go back and meet those who helped her next summer.
"Dad would be totally excited," Hutchings said of connecting with Mier. "They would be very ecstatic to know what happened."
A Pilgrimage To Oregon
As Mier grew up, she always knew the accident was part of her story but hadn't ever fully processed the depth of what had happened to her.
"As an adolescent, I had one star out of my bedroom window that I would always refer to as 'my mother and father' looking down on me, and I would talk to [them] at night," Mier says.
As an adult, she has deep connections to nature. An avid hiker and photographer, her work has been featured on the cover of A.T. Journeys magazine. She says that she has always been told that her father loved being outdoors, and she feels comfort being surrounded by nature.
Mier is now planning a trip back to meet the rescue workers, visit with family, and learn more about her father, whom she doesn't know much about. She and her siblings were adopted by her mother's sister and taken to Illinois to live after the accident.
"I want to learn more about him as well, from my grandmother," Mier said. "I have been told by a couple people that I was a daddy's girl and that we were really close."
Those who rescued her are eager to meet her, and she is ready to meet them.
"I want to be able to say thank you," Mier said.
---
Journalism is changing, and that's why The Citizen is here. We're independent. We're local. We pay our contributors, and the money you give goes directly to the reporting. No overhead. No printing costs. Just facts, stories and context. Thanks for your support.