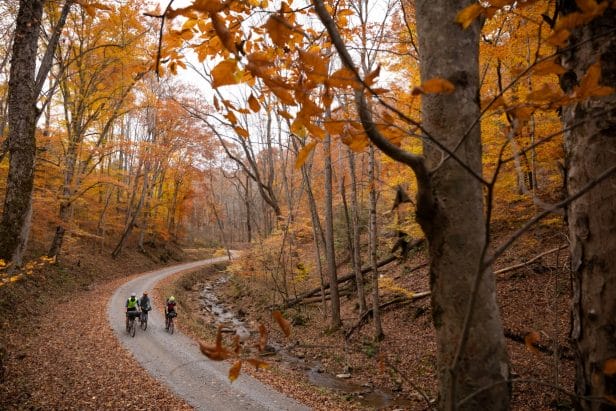 For their latest "experiment," serial experimenters David Landis and Anna Dintaman have mapped out a 550-mile bikepacking route across Virginia.
The 30-something married couple are the founders of Village to Village Press, which they operate out of their home in Harrisonburg. Their new TransVirginia Bike Route—or TransVA—connects Washington, D.C., to Damascus using existing rails-to-trails and rural dirt or gravel roads, often on public lands.
On the TransVA website, Village to Village provides detailed information about the route, including the steepness of inclines, places to stop for food or supplies, and where to camp or rent a room at night. Landis and Dintaman plan to publish a guide for the route within the next six months.
The new route is "well-positioned" to attract bikepackers, a fast-growing segment of cyclists, said Kyle Lawrence, executive director of the Shenandoah Valley Bicycle Coalition, a partner in marketing the route. Bikepackers carry food and supplies in ultra-light gear attached to their bike frames, enabling them to travel self-supported. Rather than sharing paved roads with cars, bikepackers usually ride on unpaved roads, often over challenging terrain.
The TransVA route takes advantage of western Virginia's vast tracts of public land, such as the George Washington National Forest. While riding the whole TransVa route is a "daunting endeavor," Lawrence said, he predicts a buzz will develop for shorter sections of the route—even parts that can be biked with an overnight trip. That could have a positive economic impact on communities along the route, or even be a factor in attracting people to relocate to Harrisonburg, which is already a top biking destination, he said.
After leaving Washington, D.C., the TransVA route skirts to the west of Harrisonburg along Shenandoah Mountain, hugging the West Virginia line on its way to Damascus, a mountain town almost in Tennessee.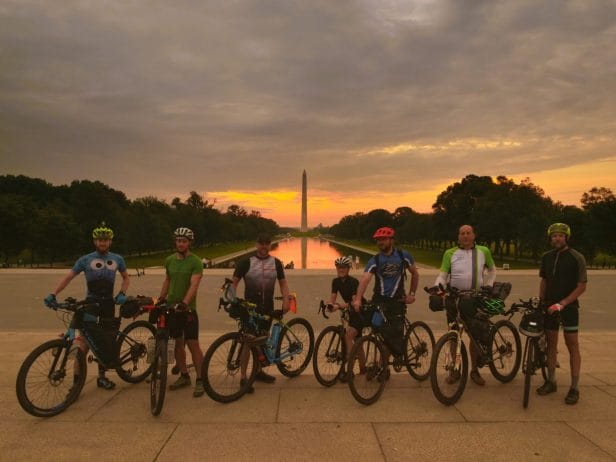 An October 12 "Grand Depart"
In May, seven cyclists, including Landis, rode the new route, with an additional 10 cyclists joining for parts of the journey. And on October 12, Landis is inviting the cycling public to join him for a "Grand Depart" from the Lincoln Memorial in Washington, D.C., to ride a 220-mile section of the route from D.C. to Harrisonburg—or on to the end of the route in southwestern Virginia.
One of the seven cyclists who rode the route in May was Eric Grossman, an education professor at Emory and Henry College in Emory. He said the TransVA route is remarkable because two-thirds of it is gravel or dirt roads. Although biking on unpaved roads is slower, he said, it's safer and the scenery can be more beautiful.
"I've had enough close encounters with cars to go off road," he said.
Village to Village has created a nine-day itinerary for cyclists to ride the route, but Grossman holds the record so far by completing it in the shortest amount of time: four days, 12 hours, and 16 minutes. He called the route rugged and strenuous.
"During the ride, I would sometimes curse David for routing us up and down the mountains so many times," he said. But that hasn't stopped him from wanting to go back for more. Grossman plans to ride the route northbound in October, paring down his time to four days.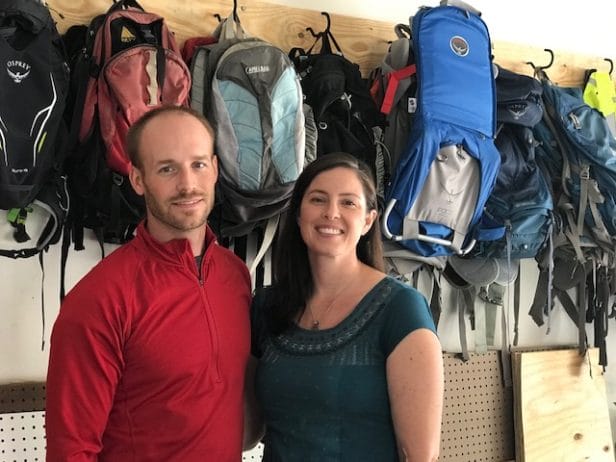 Trails in Other Countries
Previously, Village to Village has focused on tourism projects in other countries, mostly in the Middle East, where Landis and Dintaman lived for nearly a decade. "Everything has been an experiment," said Landis. "We make it up as we go."
He said all of the projects have one goal in common: to connect people and communities with each other.
In 2007, Landis co-founded the Jesus Trail with Maoz Inon, an Israeli tourism entrepreneur. The 40-mile walking trail from Nazareth to Capernaum winds through villages and the rugged countryside near the Sea of Galilee in Israel. It was featured in The New York Times in 2012 and Landis estimates that several thousand people walk it each year.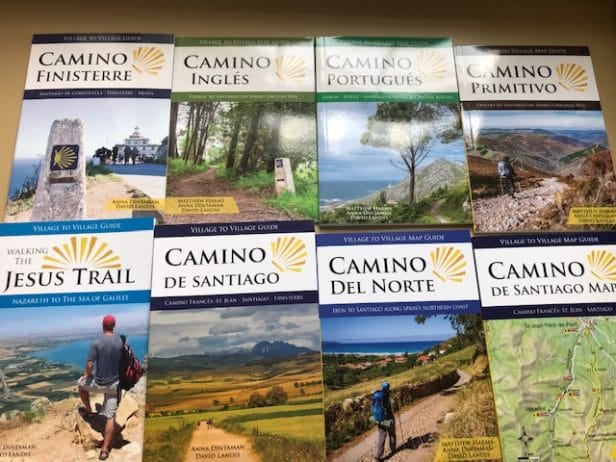 In 2010, the couple started Village to Village, along with getting married that May on a farm in Linville. Their wedding took place just after they published their guidebook for the Jesus Trail. Next, Landis and Dintaman biked together across the United States, from Seattle to Boston.
While working on the Jesus Trail, Landis and Dintaman separately made a 500-mile-long journey on one of the most famous hiking trails in the world, the Camino de Santiago in Spain. They fell in love with the trail and felt that the kind of guidebook they wanted for it didn't exist, so they researched and wrote one themselves. It's now in its 5th edition, and they've written six more on the various routes of the Camino de Santiago. The husband-and-wife team has also worked with organizations to create other trails like the Jordan Trail and the Abraham Path.
Harrisonburg Roots
Landis was born in Harrisonburg, left when he was four years old, and returned for college at Eastern Mennonite University. Dintaman moved to Harrisonburg as a young child and lived here through her college years at EMU, where they met. At EMU, Landis studied biology and Dintaman earned a bachelor's degree in religion and anthropology from EMU.
The couple moved back to Harrisonburg from the Middle East three and a half years ago. "We asked ourselves, 'Where do we want to go?' There is a huge world out there," said Dintaman.
They settled on Harrisonburg because it had a "vibrant biking community" and because they both had family—including both sets of their parents and siblings—who lived close by, she said. They have two children: Silas, 4, born in Jerusalem, and Eleanor, 2, born in Harrisonburg.
For their business, Landis handles web design, GPS technology, and photography while Dintaman focuses on researching the history of a region and writing guidebooks.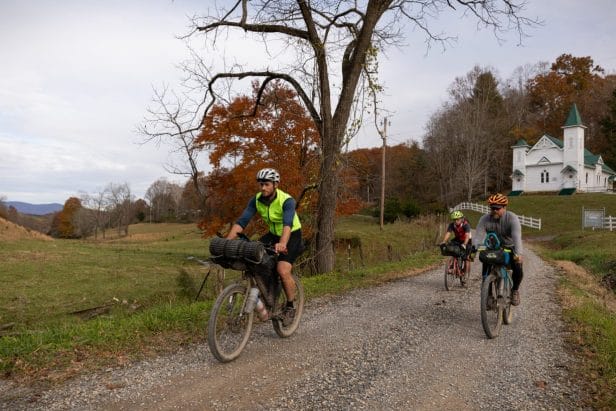 Modeled after the Great Divide Mountain Bike Route
Landis came up with the idea for a bike route in Virginia after researching—and riding—the Great Divide Mountain Bike Route, which runs 3,084 miles from Banff, Alberta, to Antelope Wells, New Mexico. Two years ago, Landis and a friend biked the Great Divide. Dintaman, with toddler Silas and infant Eleanor, met up with them most nights to share the adventure.
To market the TransVA Bike Route, Village to Village is partnering with the Shenandoah Valley Biking Coalition and Harrisonburg Tourism. They were awarded a matching grant for marketing for about $10,000 from Virginia Tourism.
Even with the October Grand Depart looming, the couple has yet another adventure tourism project in the works. This month, Landis made his fourth trip to China this year at the invitation of a provincial government in Hunan, China, where he is designing a 62-mile trail to attract international trekkers.
Landis and Dintaman have a vision to start more bikepacking routes in Virginia. They've just bought a house in Harrisonburg, near Hillandale Park, and plan to stay put for a while.
"We never quite know what the next year will be like," said Landis. "Just follow what you love—and sometimes it works out as a livelihood."
Journalism is changing, and that's why The Citizen is here. We're independent. We're local. We pay our contributors, and the money you give goes directly to the reporting. No overhead. No printing costs. Just facts, stories and context. Thanks for your support.