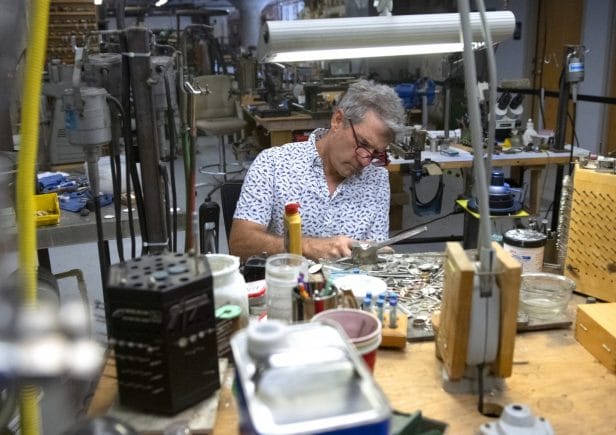 Story and photos by Mike Tripp, contributor
A light illuminates local jewelry maker Hugo Kohl, sitting at his workbench, file in hand, shaping his latest creation.
"This is a one-off piece that may or may not make production," he says, working deliberately.
Next step: the polishing machine.
Kohl concentrates on the work, shaping the metal to his vision. The son of a prominent artist, he's spent most of his life in a studio, making things.
"This just happens to be the way I make my living," Kohl says. "It could have been another medium, but it always would have probably been in a space where I'm making something."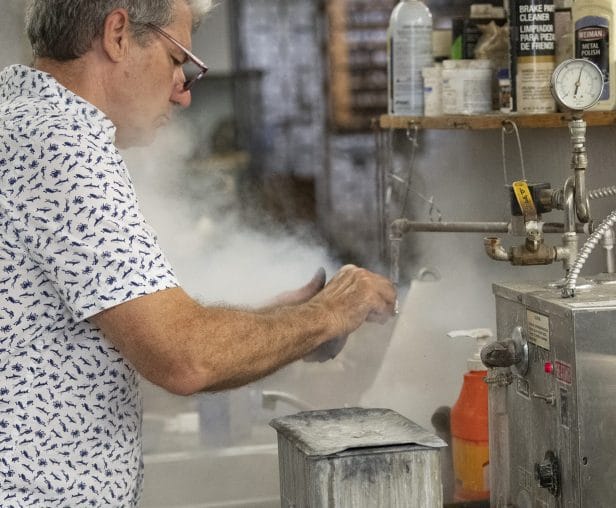 One of the few things that distinguishes humans from other animals, he muses, is creating symbols that speak to where we're from, who we care about, what we dream of.
"Can we live without jewelry in a certain context?" he asks. "We can, but in another context, we have no choice but to live with these things … This is something that's very innately human."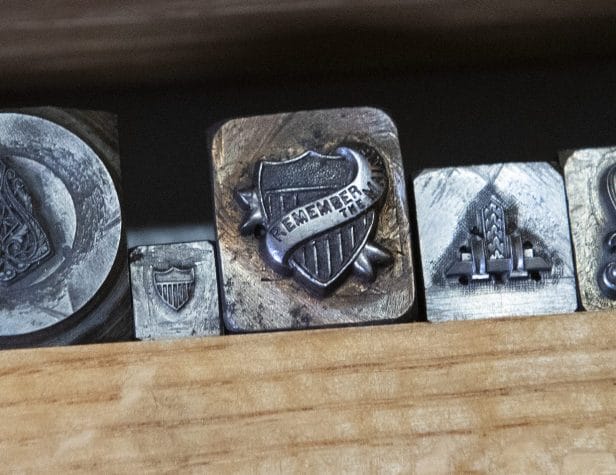 His workbench occupies a small part of a workshop that is equal parts place of business and museum, filled with vintage equipment salvaged in 1995 from a scrapyard in Providence, R.I., once a leading American city in jewelry manufacturing. After the march of technological progress left the city behind, Kohl saved some of its old equipment, giving it a new home and new life in his shop.
After acquiring the old equipment, Kohl began using similarly old techniques in his jewelry making, involving old tools, molds and intricately hand-carved hubs, dies and rolls.
To one side of his workshop is a room called the "hub vault." In the early 1800s, any jewelry factory would have had a hub vault like this, Kohl says. They were filled with "hubs," or, as he explains "an actual-size, three-dimensional rendering of what the finished piece of jewelry is going to be."
Kohl began life moving from place to place with his family.
"I'm a military brat, and so I consider myself from all over," he says. "I consider myself a citizen of the Planet Earth."
Eventually, he wound up in Harrisonburg thanks to JMU, which accepted his application. Now, his Hugo Kohl Jewelry Boutique is found downtown, on the first floor of the Ice House. The space also doubles as Kohl's Museum of American Jewelry Design & Manufacturing, featuring guided tours ($15) each Wednesday at 1 p.m. and self-guided tour.
Finished pieces of Kohl's jewelry can be found in the boutique attached to the workshop, as well as many other stores all across the country.
Journalism is changing, and that's why The Citizen is here. We're independent. We're local. We pay our contributors, and the money you give goes directly to the reporting. No overhead. No printing costs. Just facts, stories and context. Thanks for your support.