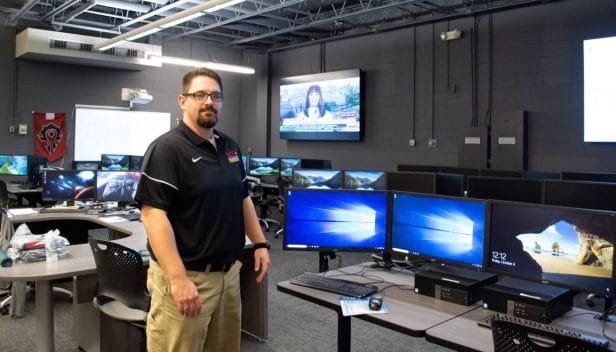 By Randi B. Hagi, assistant editor
Three rows of computers — each with two monitors — sit in one of Massanutten Technical Center's labs. A few pop-culture posters and education award pennants gussy up the otherwise charcoal gray walls. Otherwise, the only splashes of color come from zip-tied coils of wires that connect the machines that make up the heart of the Educational Security Operations Center.
Massanutten Technical Center unveiled the newly refurbished computer lab to the public on Thursday. It will allow Harrisonburg and Rockingham County high school students in the cybersecurity program to learn how to identify and disarm hacking attempts on an actual network.
This operations center, touted as the nation's first of its kind at the high school level, is the brainchild of a retired FBI counterterrorism analyst and a local sheriff's deputy who fell in love with computer gaming.

The origin story
Buddie Ritchie, the cybersecurity instructor at Massanutten Technical Center, worked for the Rockingham County Sheriff's office for 11 years, in a variety of roles, ending up as the school resource officer at Massanutten. Around this time, a friend got him into playing World of Warcraft – a multiplayer, online role-playing game.
"I got tired of paying people to fix my computer," Ritchie said, "so I started popping into the computer repair class, and then I got the bug, so I took the class at night."
After completing the necessary certifications, Ritchie ended up leaving law enforcement to teach Massanutten's night classes in computer repair. He stepped into the day instructor role nine years ago. Over the years, Ritchie said the demand for computer repair has dwindled because it has become more cost-effective to just replace most devices — and upgrade in the process — rather than fix the older items.
"Some of my kids may get jobs doing desktop support to start out with, but the mom and pop computer repair business," Ritchie said. "I'm not sure how much longer it's going to last."
Massanutten Technical Center launched the cybersecurity program this year and no longer offers computer repair courses.
The security operations center brings both hardware and software updates to the existing computer lab – dual monitors for each student, giant video screens that can stream live news or network traffic and software to gather and organize network data.
The system is isolated from the school's computer network, giving the program more freedom to simulate hacks.
The idea to outfit a high school-level security operations center to teach cybersecurity came from James Madison University professor Edna Reid, who settled in Harrisonburg in 2013 to teach intelligence analysis after retiring from the FBI.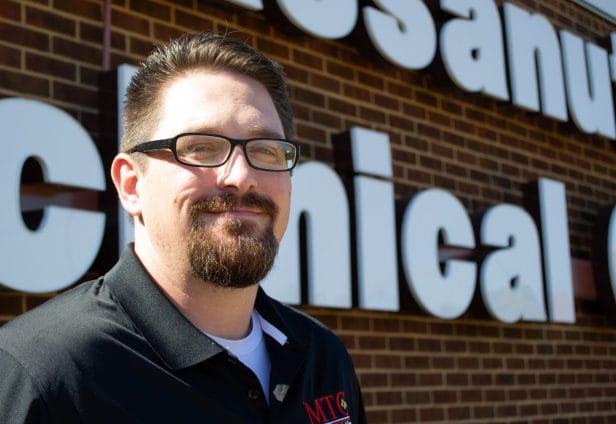 "It was very much the seed that she planted," Ritchie said. "At the time, I was more interested in just teaching kids how to rappel from the ceiling and break into the CIA … and then she brought this idea, and I was like, that might be a little bit easier to sell to the school board!"
Reid's work in counterterrorism focused on terrorists' use of the internet, and several years ago, she, too, began taking night courses – in cybersecurity forces at the National Intelligence University in Bethesda, Maryland.
Reid told The Citizen that Massanutten's new center might be the only one for high school students.
"I haven't found another one in the U.S. or the world," Reid said. "It is very exciting. Most high schools just have regular labs, IT labs."

Modeled after real-life security operations centers
Cybersecurity is a multifaceted field, and Ritchie wants his students to be prepared for a variety of positions.
Security operations center analysts monitor network traffic and respond to alerts of potential security breaches.
"Pen" — short for penetration — testers are hired to try to hack into a network in order to identify its vulnerable points. System administrators and network technicians maintain networks and servers. Information analysts gather information on hackers and threats to help technicians build stronger security systems.
"There are a lot of different jobs in cyber," Ritchie said. "It's a very large field with a lot of things that may even change tomorrow, so as long as they get the foundation, they can adapt."
Rockingham County students can start the program in 10th grade. Harrisonburg City students, in 11th.
There are a few prerequisite courses that students must take in their home schools to learn basic computer skills before starting the cybersecurity program. It's a two-year program, with an optional third year in which students can get an internship, do independent studies and provide mentorship to younger students.
Even in its pilot year, the cybersecurity program is almost at capacity. Fifty-seven students enrolled this year and are split into three classes. There's a cap of 20 students per class.
Ritchie structures the classes in a way that mimics real-life security operations, with students working in groups of three or four. Each has a team leader, a public information officer and one or two analysts.
"Everyone has to be prepared to take on anyone's role," Ritchie said. This not only teaches students about the mechanics of cybersecurity teams but also the teamwork required for efficacy in the field.
"You have to be able to function in a unit towards the same goals," Ritchie said.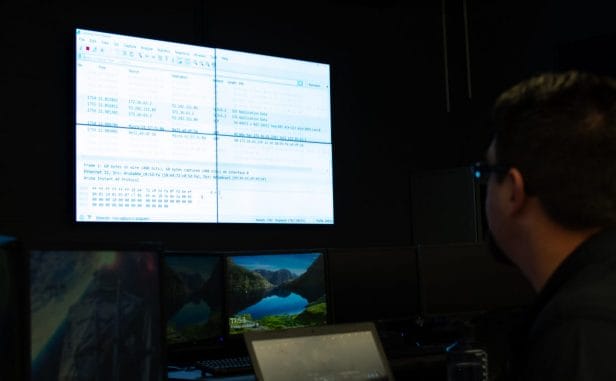 Using gaming to teach
Ritchie said he plans to use elements from the gaming world to prepare his students for real-world scenarios.
One example is introducing "chaos cards" into the curriculum, which function like a real-life board game – draw a card for the day, and follow its prompt, such as responding to your team leader calling in sick.
"Position two, you're now the team leader," Ritchie explained. "The ultimate goal being, these kids could go to any command center, whether it's VDOT's command center that's just monitoring road conditions, or Shenandoah Valley Electric Company … monitoring outages, they could go in that type of atmosphere and be prepared for that level of stress and be able to work with a group of people to solve problems."
Another example of this teaching strategy incorporates a server-based, world-building game that's much loved among Millennials and Generation Z – Minecraft.
The center allows Ritchie to split his students into two teams, who each set up an online Minecraft server on which other students come in and play. Each team then tries to bring down the other team's server, while protecting its own and responding to customer service queries from the gamers. Whoever's server stays up the longest, wins.
"It's an attack-defense capture the flag," Ritchie explained.
His background as a police officer comes in particularly handy in exercises like that.
"In law enforcement, we call them 'live fire' exercises. When you're doing a live fire like that, having worked in teams prior to that is a really, really important thing," Ritchie said.

Making a "tech hub" of the Valley
"This is an emerging industry. It's not going to disappear in five or 10 years," Reid told The Citizen.
According to Cyberseek, a project supported by the U.S. Department of Commerce's National Initiative for Cybersecurity Education, Virginia has more than 33,000 openings in the cybersecurity field – second only to California, which has over 36,000. Cyberseek describes Virginia's supply of cybersecurity workers as "very low."
Reid called the new security operations center an "innovative approach" to addressing this workforce shortage.
"This provides them with a unique opportunity to learn what happens at a security op center, to watch data flowing; the goal being that we have kids that are trained to do those jobs," Ritchie said. He said the school has developed partnerships with local economic development groups to help attract bigger businesses to the area, and "make the Shenandoah Valley more of a tech hub than it is now."
Reid serves on the Harrisonburg Economic Development Advisory Committee and said the graduates of Massanutten Technical Center's cybersecurity program will help draw those companies to the Harrisonburg area.
The telecommunications company Shentel, based just up I-81in Edinburg is one of the program's existing partners in the business world. Their employees give occasional guest lectures in Ritchie's classes, and they are looking to increase internship opportunities for cybersecurity students.
The security operations center "heightens the ability for us to offer more impactful internships, because they're actually hands-on, working on actual cases of monitoring," Elaine Cheng, Shentel's Chief Information Officer, told The Citizen. "I think the concept is really novel."
Reid said that Massanutten's future cybersecurity graduates will be competitive in their field – not just because of their hands-on training, but also thanks to the cultural and linguistic diversity of area students.
"We have people with these diverse backgrounds coming from all parts of the world, speaking all different languages … so that's going to be an advantage," Reid said. "They will have more employment opportunities."
---
Journalism is changing, and that's why The Citizen is here. We're independent. We're local. We pay our contributors, and the money you give goes directly to the reporting. No overhead. No printing costs. Just facts, stories and context. Thanks for your support.