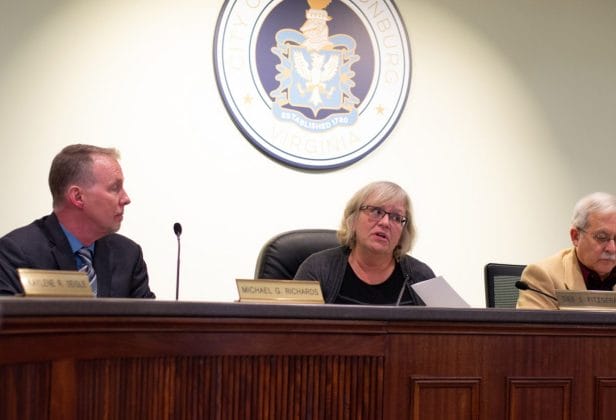 By Randi B. Hagi, assistant editor
An alternative construction plan for the new high school that would delay building most athletics facilities won approval from the Harrisonburg School Board in a meeting on Thursday evening.
This 'plan B' of sorts, drafted after city officials expressed concern about the $87.2 million maximum cost of the project in a liaison meeting last Friday, would push back construction on a new stadium, auxiliary gym, tennis courts, practice fields, and baseball and softball fields in order to save about $7.2 million off the high school's initial price tag.
The school board held a public hearing on Thursday for community members to weigh in on this "phased-in" option. The board members present Thursday all voted to pass this option along to city council, which will review it alongside the original plan — potentially as early as it's Nov. 26 meeting. Board member Kaylene Seigle was absent.
City council members expressed their concern Tuesday about the cost, which would cause the city to borrow money. With surrounding road improvements and the cost of furniture, the total project is expected to be about $100 million.
"It gives them a little more room in debt capacity," which the council may find "kind of attractive," Board Chair Deb Fitzgerald told The Citizen after the meeting.
Phasing in the athletic fields later gives the city a few years to finish paying off other debts, such as renovations to Keister Elementary School, before incurring the remainder of the costs of the new high school.
However, city council members' other concern is an increase in the real estate tax rate to cover the payments on the new school. That likely won't be allayed with the alternative plan.
Superintendent Michael Richards said building the school "as designed" would cost the average Harrisonburg homeowner an extra $260 in real estate taxes, annually. The "phased-in" plan still costs that same homeowner $248 more per year than they're paying now.
"We heard from city council and the manager that the tax rate is a concern, and we heard that the debt capacity is a concern. The phased-in plan doesn't really affect the tax rate that much, as you can see. It's not a big difference there at all … high schools are expensive. And so you're going to have a tax increase," Richards said.
Nine city residents spoke during the public comment period. Three of them expressed concerns about the consequences of the phased-in plan, including the quality of Harrisonburg High School athletics.
Peter Johnson, the head equipment manager for JMU's baseball and softball teams, said that "athletics are a big part of a child's life." 
His youngest daughter, he said, is still a student in the city schools. "Let's make sure we do this right the first time."
Local resident Barbara Reisner thanked the school board for moving forward, saying, "it is not a perfect option not to have everything sooner rather than later … but it's a plan to deal with the overcrowding."
The existing Harrisonburg High School has 1,881 students enrolled — more than 500 over its original capacity.
Three other local residents expressed concern about the potential tax rate increase, especially for those on a fixed income.
"We take in consideration our ALICE population," school board member Obie Hill said, referring to the Asset Limited, Income Constrained, Employed population. "And we also take in consideration what's important for our students, and for our future. When we compare our city to other cities, Harrisonburg has been very conservative for a considerable amount of time with our tax rate."
Journalism is changing, and that's why The Citizen is here. We're independent. We're local. We pay our contributors, and the money you give goes directly to the reporting. No overhead. No printing costs. Just facts, stories and context. Thanks for your support.