By Bridget Manley, publisher
Facebook is a weird place. If you scroll long enough, you'll no-doubt find obsessively detailed missives about the meme of the day. Maybe your long-lost uncle and your former friend from summer camp are entangled in a political argument. And your insurance broker is on Day 12 of thankfulness —today it's peppermint mocha. 
But between Holiday Decor Etiquette Battles and the Great Generation Wars of 2019, there exists a generous group of people who give and borrow and receive and express gratitude and meet their neighbors and make new friends. They share posts like:
"Gift — Maternity clothes. Dresses, sweaters, cardigans, shirts and nursing tanks/bras."
"Gratitude post: I really appreciate this community. I have been gifted clothing for me and my children, jewelry, and plenty of other items. I also appreciate the chance to give to others and pass along things to people – instead of a thrift store."
"Wish: I know of several families in desperate need of winter items such as coats, jackets, sweatshirts, boots, gloves and hats. All sizes are needed from 6 months to adult sizes for males and females. If you have anything that they might be able to use, I'll come grab it!"
These posts are part of the "Buy Nothing Harrisonburg" online community that has sprung up in the last few years on Facebook aimed at helping neighbors
It's part of a wider network of local groups across the country — and the world — called "The Buy Nothing Project." And it's taken off in Harrisonburg as it approaches 750 members.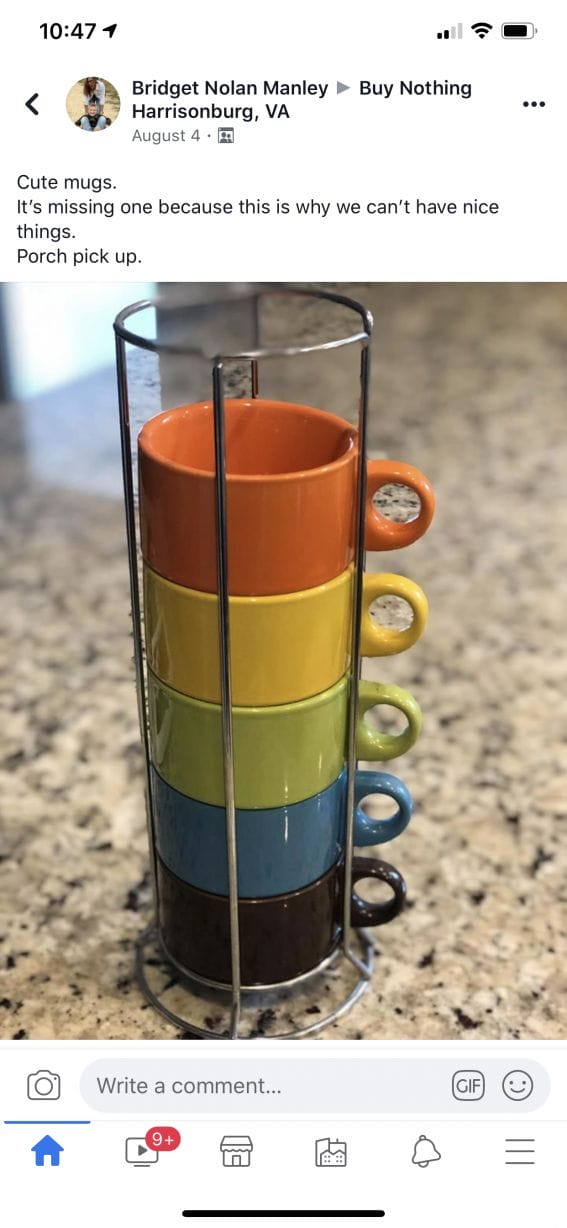 (Full disclosure: I've used Buy Nothing Harrisonburg to give away a half pack of diapers, a light fixture, a mirror and life jackets. I've also been gifted a shower chair, and I've made new friends, both on Facebook and in that weird alternate space called "real life.")
The mission for these groups is to buy less and share or give what you have, said Rabia Lieber, one of the moderators of Buy Nothing Harrisonburg.
Anyone can post anything to give away, lend or share. People can also make requests for things to borrow or keep, such as specialized tools. Teachers often ask for class materials for projects.
At any given time, the  range of items on this virtual swap meet can include a amalgamation of  toys, food, clothes, DVDs, kitchen utensils, crock pots, Peet moss, hand weights and other household randomness. At times I've thought who would want that? only to see in the comments someone getting super excited that they have been gifted it. It's part of why the group seems to have caught on. 
There are rules to be in any Buy Nothing group. You have to live in the community where you are giving and receiving. You cannot sell anything. You are allowed to be in only one group. And you can't collect items and then go resell them elsewhere. These rules, created by the Buy Nothing Project, seek to encourage the spirit of facilitating local gift economies. And moderators of the local groups are tasked with enforcing those rules.
"It's a way to grow community and to give of what we have and to share what we have with other people," Lieber said. "It's meant to be community building and making connections of people who are actual neighbors. It's kind of the old 'run next door to borrow a cup of sugar' idea, because we just don't do that anymore."
The mission of these groups, according to the official website, is to facilitate community and enable people to take in acts of good together daily.
It has developed as fast fashion and online stores have allowed Americans to amass more stuff than ever. And Buy Nothing seeks to be a metaphorical antidote to the "need something, purchase something" mentality, Lieber said.
Some Buy Nothing groups have full lending libraries for that purpose, she said.
"They will have a list, and it will say 'this person has a 20-foot ladder' and so anyone who needs to borrow a 20-foot ladder can contact that person," Lieber said.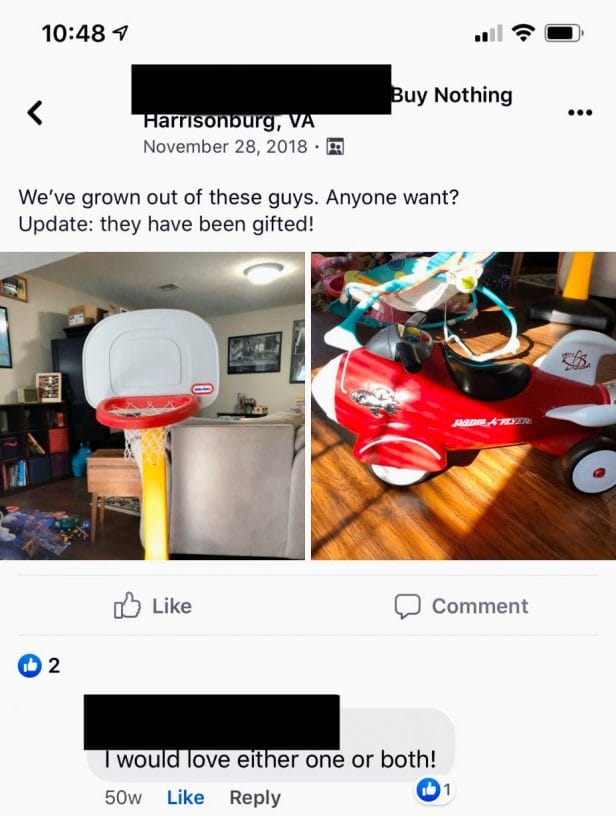 Most give-and-takes are easy, with "porch pickup" being the fastest way to give something to someone. Members feel comfortable giving things to others because of the geographical proximity to others in the group.
"It's meant to be more community driven," Lieber said. "You're more likely, when you click on somebody's name, to have friends in common because you're from the same area, and that creates trust."
Most of the posts also come with a description of what the item is and what it does, and that's helpful for those who are interested. It makes it easier to use, unlike dropping things at a thrift store and not knowing what certain items may be used for.
"I have a real hard time throwing things away," Lieber said. "Especially things that I think still have good use to them, even when they're things that I don't think everybody would find useful. I've donated stuff to Goodwill before, and they've probably looked at it and said 'what is this?'"
Even local thrift stores appreciate the group's mission and don't it as competition.
Shannon Secrist, executive director of Harrisonburg Gift & Thrift Shops Inc., said the store sells good donated from Harrisonburg residents both in stores and on eBay.
He said he hasn't seen a slowdown in giving. In fact, he says, donations have picked up. He said the uptick might, in part, be because of the closure of the Salvation Army thrift store but also doesn't see Buy Nothing as a competitor.
"Our issue is that if we can't sell it, or we can't recycle it, then we are going to have to throw it away," Secrist said. "We have to pay to take it to the landfill, so if we get broken items, we have to throw them away."
The sharing economy is something that Secrist said he can get behind no matter where it shows up, whether in person or online.
"I think personally the fact that people are building community in that way and showing care for each other in the community is awesome," Secrist said.
Journalism is changing, and that's why The Citizen is here. We're independent. We're local. We pay our contributors, and the money you give goes directly to the reporting. No overhead. No printing costs. Just facts, stories and context. Thanks for your support.