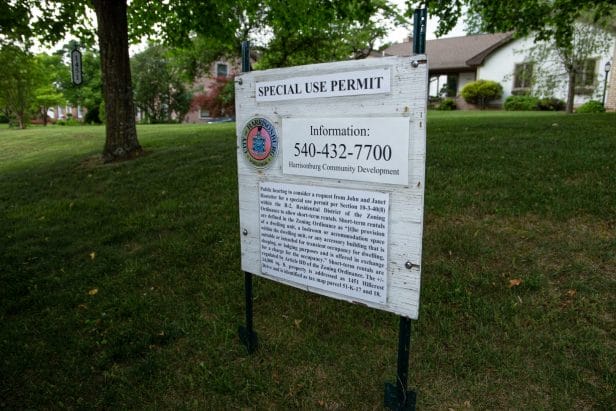 By Jeremiah Knupp, senior contributor
City officials' year-long struggle to create fair, equitable regulations for short-term housing rentals plodded on during a Planning Commission work session on Wednesday afternoon, where a two-tiered system for permitting was discussed again.
Although city council adopted an ordinance last March requiring a special-use permit for any short-term rentals – usually through websites like Airbnb and HomeAway – residents have continued to question the process. One item of contention that arose during the planning commission work session is the seemingly arbitrary nature of the current special-use permitting process.
"When we first began this process, Councilman Baugh made the comment that while we need to pay close attention to the petitioners, we also need to pay attention to the group of people coming against the petitioner," said Wes Smallwood, the only person to speak at the Planning Commission work session.
Smallwood, whose application for a short-term rental permit for a location on New York Avenue was denied in August, referenced the case of another homeowner in the Forest Hills neighborhood who had run an Airbnb prior to the new regulations taken effect without significant issue. When she applied for a special-use permit, however, opposition from her neighbors was part of that application being denied.
"We still seem to have the language that we don't want 'change in the neighborhood.' I know the people who spoke against mine used the language 'change in the neighborhood' and I think I've actually had a positive change in the neighborhood. I think that point that Councilman Baugh made has been lost in our meetings."
Smallwood's revised application is currently under consideration by the Planning Commission, after being sent back for a second review by City Council.
Vice-chair Gil Colman seemed to agree that the existing special-use permitting process may give too much input to others who live near the applicant.
"Just by having many neighbors complain about it doesn't make it an issue. People will be upset about things that are not an issue and not a nuisance," he said.
Commissioner Kathy Whitten, however, defended neighbors' role in the special-use permitting process.
"Public hearings are for the pubic to comment," she said. "If it's their neighborhood, they should be listened to and not discounted."
Wednesday's work session focused on adopting a two-tiered system for short-term rental regulations. The proposed system would allow for "by-right homestays," where property owners to host up to four guests at a time for no more than 90 nights in a calendar year. These hosts would not need special-use permits or a public hearing, but would have to register annually and pay a $25 fee.
Property owners who want to host more than four people or rent for more than 90 nights in a calendar year would still be considered "short-term rentals" and have to apply for a special use permit. They would also have to register annually and pay the $25 fee. Anyone denied the special use permit could operate under the conditions of a by-right homestay.
In both cases, the homeowner would have to be present while hosting guests. A similar system was proposed and rejected last year before the current ordinance was adopted.
Currently, anyone who operates a short-term rental in their home has to pay a $425 fee and apply for a special use permit, regardless of the number of guests they plan to accommodate. They are also required to pay the city's 7-percent transient occupancy tax.
Since the current ordinance took effect on Aug. 1, running a short-term rental without a permit has been punishable by a fine. According to Thanh Dang, assistant director for planning and zoning, 14 fines of $100 have been issued since that date. Five of those were subsequently found to have not been in violation.
Among members of the commission, discussion on Wednesday centered around how flexible or rigid regulations should be, with disagreement about limiting the number of guests to four people for each permit. The city has already approved special-use permits allowing up to 13 guests at a short-term rental.
"It's called a 'special use permit' because each one is different," Commissioner Brent Finnegan said. "I'm not in favor of putting a [guest] limit on that. If it's a large house, it makes sense to have more guests. I think we should take it on a case-by-case basis."
"It still feels like it's becoming more of a business than a house or a home if you're filling it with people who are paying to stay," Whitten responded. "That's more like a hotel function. That's not a neighborhood function. It's not about if the house can accommodate it. It's about how that property is being used. We wouldn't allow a business that could be intrusive into a neighborhood. If we're going to allow this the numbers need to be tempered as a response to that."
Whitten also suggested that short-term rentals be at least 500 feet apart.
"My question is are you comfortable with 'first-come, first served?'" Department of Planning and Community Development director Adam Fletcher asked, noting that the first person to get approved in a neighborhood would prevent their neighbors from getting a permit.
Whitten also suggested that properties used as short-term rentals should have higher property assessments, resulting in larger tax bills.
"I think if you're going to play on the fields with the big leagues you've got to be willing to pay the price," she said.
According to Airbnb, the site facilitated nearly 20,000 short-term rental stays in Harrisonburg in 2018. The city has received 33 requests for special use permits since the ordinance was passed, Dan said. Twenty-four of those permits have been approved, five were withdrawn before the process was completed, two were denied and one was tabled by City Council. Another pending permit will be considered by city council at its Jan. 14 meeting.
In the end, consensus emerged among commissioners on the terms of the by-right homestays, and determine the maximum guest limits for permitted short-term rental properties on a case-by-case basis. Commissioners also said there should be no restrictions on which zones that short-term rentals would be allowed in.
Dang told the commission that because of the Holidays, city staff probably wouldn't be able to review and prepare finalized amendment until February or March. Any proposed changes adopted by Planning Commission would then have to be approved by city council – meaning it's still at least several more months before city residents have a clear, long-term policy for how to host short-term renters in their homes. In the meantime, the permitting process created by the current ordinance will remain in effect.
---
Journalism is changing, and that's why The Citizen is here. We're independent. We're local. We pay our contributors, and the money you give goes directly to the reporting. No overhead. No printing costs. Just facts, stories and context. Thanks for your support.