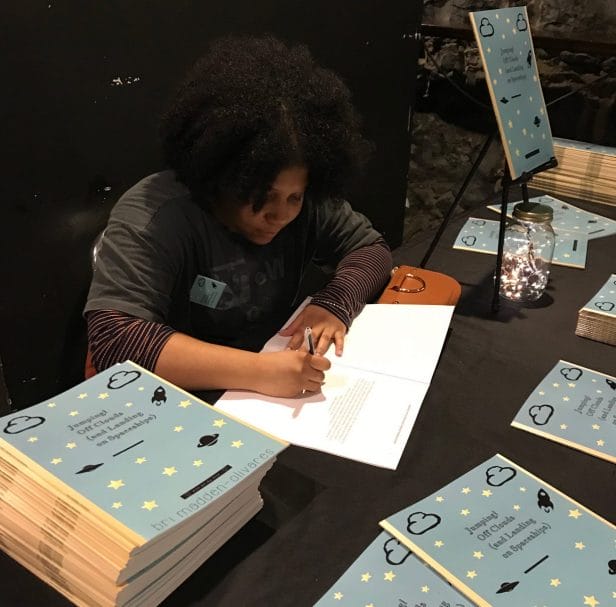 By Bridget Manley, publisher
Briana Madden-Olivares has always been a writer. Since she was a little girl, Bri, who was born in New York City but moved to the Shenandoah Valley as a child, wrote poetry, then branched out to playwriting.
The 2017 graduate of Spotswood High School spent a year at VCU. But something was calling her.
Her roommate at the time convinced her to apply to a highly competitive drama program at The New School in New York City.
Bri, who was by then a spoken word artist, playwright, actor, poet and writer, was nervous that she wouldn't make the cut to the highly renowned school. But she did.
The New School accepted her for the fall 2019 semester. She was elated. She made plans to live with her grandmother in New York City, and she started the transfer process.
A week before school began, Bri was completing paperwork when she realized the tuition for her first semester was $10,000 — and her heart sank.
Bri knew that she didn't have the money. And that meant she couldn't attend the fall semester.
However, Bri had a group of committed and eager Valley residents who didn't want to see her talent quashed because of the cost.
And now — with the help of those volunteers, a big anonymous donation and some reshuffling and reorganizing at the financial aid office — Bri raised the money she needs to attend the school this spring. And she's headed to New York City to begin her spring semester in January. 
Help from Shenandoah Valley Black Heritage Project volunteers
Bri spent the majority of 2018 as an intern for the Shenandoah Valley Black Heritage Project. During that time, she wrote a play for the Project.
"Not Made For This" is based on Jordan Banks, an enslaved man who lived on a plantation in Port Republic near Elkton. His mother was the chef at the plantation.
Writing the play impressed Robin Lyttle, the heritage organization's president.
Lyttle was blown away by her work and her passion.
"She's wonderful,' Lyttle said. "I couldn't be prouder of this young woman."
For Bri, writing is a passion. She caught the writing bug in the third grade when her teacher asked the class to write a poem. She credits her mother with exposing her "to some amazing writers." Her favorites growing up were Maya Angelou and Shel Silverstein.
"My favorite book was Shel Silverstein's 'Where The Sidewalk Ends'," Bri recalled. "The art was amazing. The rhymes were so good. And I loved it all."
She continued to write through middle and high school and expanded her repertoire to include other writing forms.
"I got interested in writing stage plays," Bri said. "Recently I've been working on a screenplay. So, I don't think there's any limit to what I like to write, I just like to write anything and everything that I can. I love learning new forms and new ways to tell stories."
She has performed her work at many events in Harrisonburg as a spoken-word artist, including open mic events at the Furious Flower Poetry Center.
"Jumping Off Clouds (and Landing On Spaceships)"
After seeing the tuition bill this fall, Bri was temporarily crushed.
"I'm not going to lie. I gave myself a couple of hours of tears," Bri said.
But after the initial disappointment faded a bit, she got down to work.
"I thought 'what am I going to do now?'" she said. "I dedicated a lot of time to writing. I got a job at Starbucks. And I searched for opportunities."
Lyttle, also heartbroken for Bri, decided she needed to raise money for her so that she could attend The New School in the spring semester.
Lyttle asked Bri could compile some of her poems to see if she could use them to help raise money.
But Bri, ever the voracious writer, raised the stakes. She wrote a full book instead.
"Jumping Off Clouds (and Landing On Spaceships)" is a collection of poetry with two parts. Part One comprises poems she wrote before finding out about the tuition. Part two answers the question "how's life in New York?" 
"Part two is my love letter to New York," Bri said. "A love letter to Spanish Harlem. It's my favorite part of the book. It's all new poems. It's a fresh voice."  (Watch Bri Read Her Poetry)
Lyttle and her team of volunteers got it published, and they set out to sell the book and raise money. They even held a book signing and poetry reading at the Golden Pony Saturday, Dec. 7.
"A bunch of us got together and brought food, and the Pony let us use the space," Lyttle said. "We were able to raise $668 for her selling her book."
Lyttle also has started a GoFundMe page so that people could donate to help Bri.
All the money from the sales of the book go directly to Bri's Education Fund, which had a goal of $3,600. But on Saturday, Dec 14, Bri learned that an anonymous donor paid the rest of her tuition, ensuring she could head to class in January.
"Having people who believe in me really means a lot," Bri said. "It keeps me going."
---
Journalism is changing, and that's why The Citizen is here. We're independent. We're local. We pay our contributors, and the money you give goes directly to the reporting. No overhead. No printing costs. Just facts, stories and context. Thanks for your support.