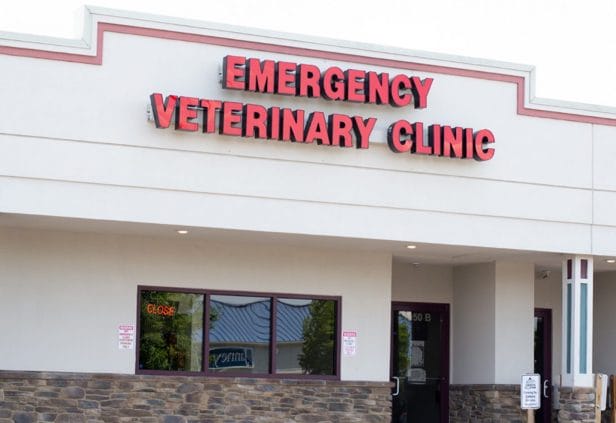 Update: The hearing date for Ayman Salem has been pushed back until July 28 and 29.
By Eric Gorton, senior contributor
When Harrisonburg veterinarian Ayman Salem had his medical license suspended on March 22, an already short supply of pet doctors grew even shorter.
Salem, who has previously run afoul of state regulations governing veterinary medicine, will have a hearing before the Virginia Board of Veterinary Medicine on April 28-29 in Henrico. The state board, in its March letter, said his "practice poses a substantial danger to the public health and safety" in the wake of five situations with treating people's pets last year.
Following the hearing, the board could dismiss the case, reprimand Salem, require him to pay a monetary penalty, place him on probation, continue the suspension of his license or revoke his license.
Salem operated Harrisonburg Veterinary Emergency Clinic on Deyerle Avenue in addition to Silver Spring Veterinary Hospital in Winchester, which is also closed.
He has not responded to multiple emails and phone calls from The Citizen requesting comment.
While Salem's license troubles play out, city pet owners should be aware that they have one less option for getting care.
"The current situation with respect to demand for veterinarians (across Virginia) does leave a bit to be desired," said Dr. Marty Betts, president of the Virginia Veterinary Medical Association and a partner at Charlottesville Veterinary Hospital, in an email. "Even prior to COVID there were fewer veterinarians than we would like. COVID increased the demand for our services significantly."
Betts could not say with certainty what caused increased demand for veterinary services during the pandemic, but he surmised it may be in part "because people were home and, it seemed, were more aware of their pets and seemed to have more income available."
As the spread of COVID-19 has abated (at least for the moment), demand for veterinarian services has eased some too, he said.
But there's still a shortage.
Tricia Eagle, practice manager at Ashby Animal Clinic in Harrisonburg, said in an email that she thinks the pet population is growing faster than the number of veterinarians graduating from vet schools.
"We have been looking for another veterinarian for over a year," she said.
While the clinic has been searching for an additional veterinarian, it has been able to provide regular wellness care within a week of being contacted.
"Routine surgeries, for us, can usually be scheduled no later than two weeks or less," she said.
But the area's veterinarian network is stretched thin.
"No matter the shortage, all of the veterinarians in the area and their support staff are working their hardest to help pets and clients in need while at the same time, not burning out from the workload," Eagle said.
She said the biggest challenge is to educate pet owners to plan ahead and be "proactive in their pets' care."
"They should be booking their appointments for wellness care and routine surgeries weeks in advance," she said. "And when their pet becomes ill, call right away. Do not wait until the pet is very sick then expect to be seen the same day."
The latest case against Salem
The Virginia Board of Veterinary Medicine, in a March 22 letter to Salem, stated it had received information that he may have violated certain laws and/or regulations governing the practice of veterinary medicine.
"Based on the information considered, and having determined that your practice poses a substantial danger to the public health and safety, the Board voted to summarily suspend your license to practice veterinary medicine in the Commonwealth of Virginia pending a hearing," the letter states.
The board based its decision on Salem's care for five patients between March and August 2021.
In those cases, the board states that Salem:
Did surgery on a dog to remove bladder stones but failed to remove all the stones or adequately close the urinary bladder incision or perform leak testing. The document also states Salem used too much anesthesia for the size of the dog. The dog's owner took him to another veterinarian who successfully completed the surgery.
Failed to provide adequate care and treatment for a 19-month-old dog that was experiencing vomiting and diarrhea. Salem diagnosed the dog and started treatment, but failed to recognize the dog's lack of response to the treatment before discharging him. The dog had surgery at another clinic.
Treated a dog named Levi for heat stroke and hypoglycemia "while failing to recognize and address multiple issues in the bloodwork and radiographs. He discharged Levi home with ongoing untreated problems without providing Levi's owners with information on abnormalities from diagnostic testing, treatment options or discharge instructions. Levi's owners later took him to another practice where he was euthanized."
Failed to adequately perform a C-section on a Great Dane. The board stated that Salem did not remove all the puppies and did not properly close the wound. The dog was taken to another veterinarian who closed the wound and provided pain medication for the dog. That veterinarian discussed the situation with an investigator with the Virginia Department of Health Professions in January.
Failed to recognize that the accuracy of tests he performed on a dog were improbable and failed to repeat the bloodwork to confirm the results. He treated the dog with inappropriate medications based on the bad test results. In addition, in three of eight radiographs, human hands were visible in the primary x-ray beam, "indicating a failure to use protective shielding when taking the radiographs."
---
Journalism is changing, and that's why The Citizen is here. We're independent. We're local. We pay our contributors, and the money you give goes directly to the reporting. No overhead. No printing costs. Just facts, stories and context. We're also a proud member of the Virginia Press Association. Thanks for your support.