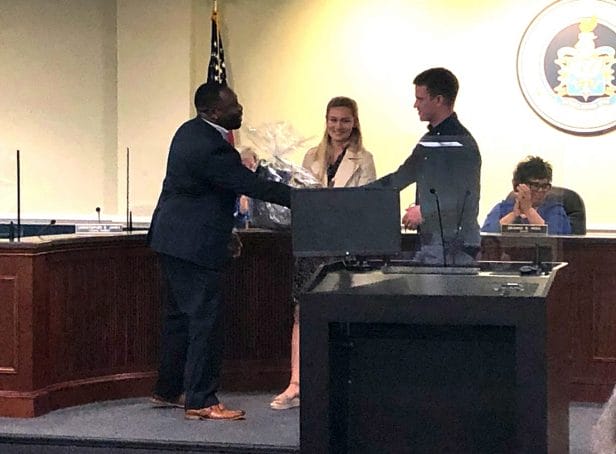 By Ryan Alessi, publisher
The Shenandoah Valley's ample biking opportunities – and a nudge from an insider with Harrisonburg ties – landed the city the first U.S. operation for Iceland-based bike maker, Lauf Cycling.
The company will spend the next year refurbishing a historic building at 156 E. Washington Street into its U.S. headquarters, which will also include a showroom and some bike assembly. In the meantime, the company will use space in the N. Main Street building where Brothers Brewery and Trade Show Direct are based, said Brian Shull, the city's economic development director.
Shull introduced Benedikt Skulason, the founder and CEO, to the city council at the start of Tuesday's meeting.
The company specializes in gravel bikes, a higher end model for road and off-road biking. 
"We are doing extremely well in sales," Skulason told the city council. "About 80% of what we do is in the U.S."
But Lauf hasn't had a U.S.-based facility. While it's based in Reykjavik, Iceland, it ships its bikes from a factory in Taiwan.
Skulason said he was open to any U.S. city and had no ties or preferences when considering its new location but picked Harrisonburg because of its proximity to major transportation arteries, like interstates 81 and 64 that can easily reach a big portion of the East Coast and Midwest — as well as access to airports, like Dulles International, that go to Reykjavik. And the area's mountains, biking trails and natural beauty really sold Skulason, he told the council.
But when it came to down other potential sites Harrisonburg also had an advocate inside the company.
Tim Rugg, a professional cycler who lived in Harrisonburg from 2012-2016, now serves as Lauf's U.S. operations manager.
"When they were deciding between Chicago and Denver and some other places, my argument for here was the brand image of the Shenandoah Valley, the Blue Ridge Mountains," Rugg told The Citizen. "Virginia's ripe for having a brand represented by everything that's so great here for riding and just for being outdoors."
Rugg said the company also is eager to make a difference in the community and has the opportunity to do that in a bigger way in Harrisonburg than being another "small fish in a big sea" in Chicago.
The company hopes to have between 8-12 employees at the Harrisonburg office within three years, Rugg said.
And Skulason will move with his family to Harrisonburg as early as this summer, while the company's chief operating officer will remain in Iceland, Rugg said.
With Skulason in town, city leaders used Tuesday evening as an opportunity to announce the company's decision at the start of the city council meeting.
"We're very excited about the exposure Lauf is going to bring to Harrisonburg and the Shenandoah Valley," Shull said.
---
Journalism is changing, and that's why The Citizen is here. We're independent. We're local. We pay our contributors, and the money you give goes directly to the reporting. No overhead. No printing costs. Just facts, stories and context. We're also a proud member of the Virginia Press Association. Thanks for your support.