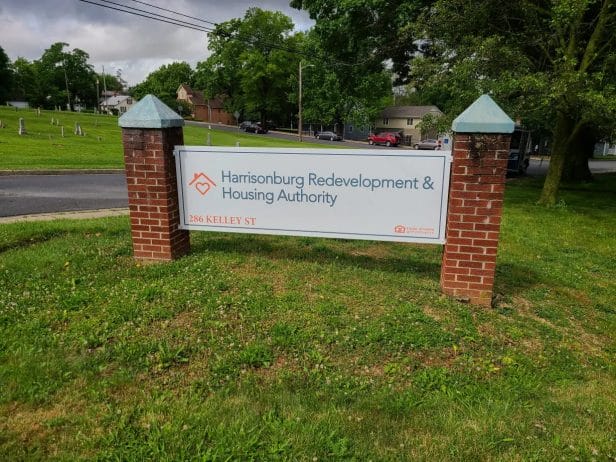 By Eric Gorton, senior contributor
The Harrisonburg Redevelopment and Housing Authority (HRHA) is hoping to address a shortage of affordable housing for low-income and first-time homebuyers with a new development off Erickson Avenue and Garbers Church Road, across from Harrisonburg High School.
If approved by City Council, the development would be built over several years on 84 acres and contain about 1,000 units of mixed-income housing, said Michael Wong, executive director of HRHA.
The development would also feature service-oriented commercial space, such as healthcare, childcare and employment services; connections to the greenway trail system; pocket parks; playgrounds; city bus stops; and walking trails.
Wong said the goal is to have a "Main Street type of community" that is pedestrian and bicycle friendly.
The development would be financed by a joint venture between HRHA and EquityPlus, LLC, a private equity and housing development partner. Site work could begin in the first quarter of 2023, with some of the first units being delivered by the end of that year.
However, that timeline will depend on getting some approvals from the city, including rezoning. Some of the land is zoned for single-family residences, another portion is zoned for multiple dwelling residences and the remainder is zoned for general business, according to the city's zoning map.
Wong said HRHA will ask for the entire property to be rezoned to R-7 for medium density, mixed residential, planned community.
The city zoning ordinance states that R-7 is intended for development of planned residential communities offering a mix of single-family detached and attached dwellings, open spaces, and certain governmental, educational, religious, recreational and support uses. Innovative residential building types and creative subdivision design solutions are encouraged to promote neighborhood cohesiveness, walkability, connected transportation systems, community green spaces and protection of environmental resources.
A traffic study, which could take three to six months to complete, has to be done before HRHA can apply for the rezoning, Wong said. Engineers and architects already are working on a site plan and feasibility study to determine what can be built, he said.
Wong said rental units will be affordable for households with incomes at least 60% of the local median income. For sale units will be for first-time homebuyers and households making 80%-120% of the local median income.
Homes and apartments will be energy efficient.
"It's really critical for affordability, making sure they are energy efficient so there are not additional costs for the homeowner," Wong said.
"I think it's a great opportunity to address the needs of housing within our city," he said. "It's one of the very few projects that's being developed that's really focusing on affordability. Much is needed in regards to home ownership and rental."
Dany Fleming, chairman of the HRHA Board of Commissioners, agreed, saying the project could become a model for other localities. He also said it addresses a pair of big issues in the city: the lack of housing and housing inequity.
"This project really hits both of those in kind of significant ways. If we were to have a blank slate and say, how would we design something right now to address those two big issues, this would be kind of what we do," he said.
The City of Harrisonburg Comprehensive Housing Assessment and Market Study released in January 2021 lays out the need for this type of development. More than 7,800 city households fall below the ALICE threshold of being Asset-Limited, Income-Constrained and Employed. The lowest income group (up to $19,410 for a family of four in 2017) has the smallest housing inventory available and affordable for them.
It's that study that led EquityPlus to propose the development to HRHA last year.
"Our realtor made us aware of the Harrisonburg Housing Study that indicated a need for 5,000 units in the Harrisonburg area and identified this parcel as being suitable for addressing this need," said Avram Fechter, managing director of EquityPlus, a privately-held investment and advisory firm focused on building value using federal and state tax credit investment programs.
"When it became clear that we could meet the workforce housing needs of Harrisonburg on this site, we reached out to HRHA to see if they would be interested in partnering with us," he said.
Wong said plans for what the development could look like are in the works and will be shared with residents in the area to get feedback.
"We really want to work with the community members to make sure that, if they have issues with the proposal, we do the best we can to make it work for everybody," he said.
Fleming said people should not be concerned that the project would draw more people to Harrisonburg.
"This is predominantly housing for people already here," he said. "We have a housing crisis among our current residents. Folks who are paying way too much of their money because they can't find a place that is less expensive and more affordable as it's defined. This will be a place where those folks can move and they can create wealth, they can create financial stability."
Another plus, he said, is that it won't require local tax dollars to finance.
"We're fortunate to be able to do something that addresses both housing and equity in ways we haven't been able to do in the past at no cost to the city taxpayer," Fleming said.
---
Journalism is changing, and that's why The Citizen is here. We're independent. We're local. We pay our contributors, and the money you give goes directly to the reporting. No overhead. No printing costs. Just facts, stories and context. We're also a proud member of the Virginia Press Association. Thanks for your support.