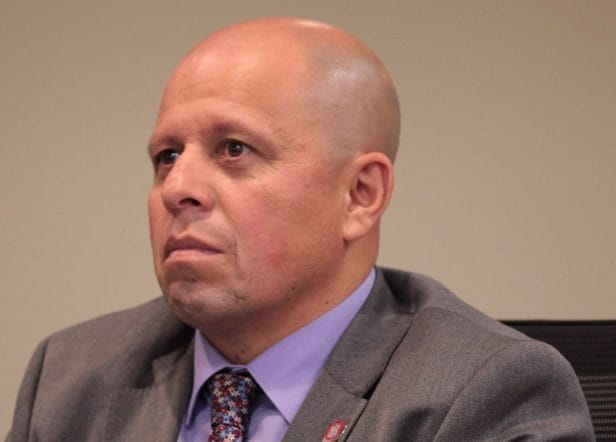 Harrisonburg Vice-Mayor Sal Romero officially announced Thursday he will not seek a second term on the Harrisonburg City Council.
The decision comes after months of contemplation from Romero, who signaled in February he was not sure if he would run again.
Romero, who is the first Hispanic member of city council, cited family as one of the biggest reasons not to run for re-election.
"Family is certainly at the top of this list, and I realize that I have to make some changes to be more present as we continue to raise our children and provide them with the family experience that is so fundamental to my wife and I and to our culture," Romero said in a press release. 
In an interview with The Citizen, Romero said that while he was the first Hispanic member of city council, he will not be the last.
"The door has been opened," Romero said. "It is now time for other leaders and others who wish to engage in politics to run for election. Get involved locally, and be able to get elected. Because I think the community has seen the benefits of having a Latinx member, and not only for the Latinx community, but for the broader immigrant community. The door is open, come on in and let's get some more people elected."
Romero also encouraged his fellow council members to continue to engage the immigrant community after his term ends.
"I'm going to encourage my council colleagues to keep in mind that as we have a growing Latinx community in Harrisonburg, that their voice needs to continue to be represented across the boards and the commissions," Romero told The Citizen.  
The announcement leaves the door open for at least one new council member after next November's election, with two seats open.
City Councilman Chris Jones will seek re-election for his council seat. He is joined by four other candidates running for election.
Political newcomers Monica Robinson, the president of the Harrisonburg-Rockingham NAACP, Paloma Saucedo, a community activist and previous candidate for city council in 2018, and Dany Fleming, chair of the the Harrisonburg Redevelopment and Housing Authority, are all running as Democrats.
They will face off in a firehouse caucus on June 4th, according to Alleyn Harned, Chair of the Harrisonburg Democratic Committee. The caucus will run from 10 a.m.- 5 p.m. at the HDC/RCDC Building on West Market Street in Harrisonburg.
Harned said potential voters need to be registered in Virginia, saying "anybody registered to vote in Harrisonburg can participate in the Democratic caucus, but they have to sign a pledge that they are not voting against democrats in the election."
There is also an absentee by mail voting option for those who cannot participate on June 4.
In addition, one independent candidate, Marshall Orenic, has also filed for election.
Harrisonburg City Republican Committee Chair Pat Haden told The Citizen that there are no plans to run any Republican candidates at this time.
During his time on the Harrisonburg City Council, Romero worked on the completion of funding for the new Rocktown High School, established a permanently funded program for interpretation services for City Council and Planning Commission meetings, and has been working with city council to use American Rescue Plan Act funds to support the acquisition of land for use as a permanent year-round low-barrier homeless shelter.
In his statement, Romero said had been an honor to serve on council, and thanked everyone who had showed him support during his term.
"Being elected the first Hispanic city council member in Harrisonburg has been one of the most honored experiences of my life and having the opportunity to work with and learn from my fellow councilmen and women, as well as other amazing leaders in our city, has allowed me to gain knowledge, more awareness of how diversity makes us stronger, and an understanding of how leaders must work collaboratively toward the greater good as we seek to make decisions during a critical time in our city's growth," Romero said.