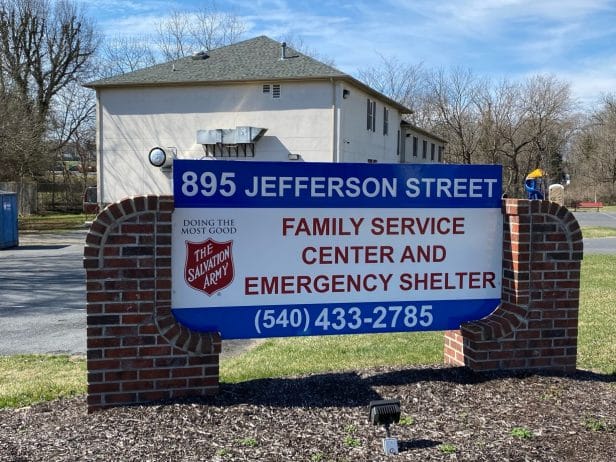 By Bridget Manley, publisher
The Salvation Army is making plans to re-open its Harrisonburg emergency homeless shelter, after closing it in March in the wake of allegations of mismanagement and poor living conditions.
In an interview with The Citizen, the leader whom the Salvation Army assigned to oversee reforms said the organization is in the final stages of renovating the shelter and will make additional hires to fully staff the shelter.
Capt. Duane Burleigh, whose last leadership in Harrisonburg was from 2008-14, said the review found that employees were overwhelmed working too many hours and with not enough help, and he aims to reduce that stress by maintaining proper staffing levels.
"I will not open until I have the right amount of help," said Burleigh, who came out of retirement in March and returned to Harrisonburg with his wife Catherine to help re-open the shelter.
The Salvation Army plans to hold a ribbon cutting for the eventual re-opening, but Burleigh said the opening date hasn't been set.
The shelter has received new paint, ceiling tiles and light fixtures along with other improvements.
"The facility looks better than it did when I left here in 2014," Burleigh said.
But the bathrooms need to be fixed before the shelter can re-open, and supply chain issues are holding up delivery of some materials.
Burleigh said once they receive the bathroom construction materials, they can have it finished and anticipate a re-opening day within a few weeks of completion. 
Burleigh also plans to start hiring once those facility upgrades are complete. The shelter will need seven employees to "run it right," Burleigh said. That includes the shelter director, a lead supervisor and shelter monitors.
Two shelter monitors remain employed and have working in the Salvation Army's offices while the shelter has been closed.
'Prepared for the unexpected'
Because of the allegations, officials from the Salvation Army Potomac Division launched a "top-to-bottom review" of the operations at the shelter, leading to the removal of Capts. Harold and Eunice Gitau from their positions in Harrisonburg.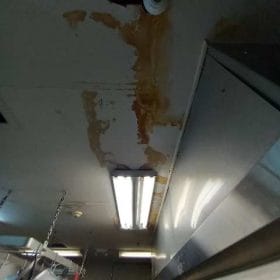 Burleigh said the review found no evidence of financial mismanagement, but he believes that the operations became too much for the former captains.
"I think they basically got overwhelmed," Burleigh said. "I don't know what I would have done, running a shelter during COVID. They had to deal to with that. They couldn't get enough employees."
He said the challenges kept mounting, much like snowball.
"As it rolls down the hill, it keeps getting bigger and bigger, and I think that's what happened," Burleigh said. "They kind of got snowballed, and got overwhelmed, and I don't know how much experience they had at running a shelter."
People staying in the shelter when the Salvation Army closed it down moved to a hotel in March. The Salvation Army typically houses those experiencing homelessness for 90 days, but those who moved to the hotel were granted another six weeks after their 90-day stay expired — with meals provided.
Burleigh said the organization has since helped those people find resources and other housing accommodations.
Burleigh said the shelter operations come with specific difficulties, so the organization must be able to adapt.
"It's a different animal. You've got to be prepared for the unexpected, and that's what we are hoping to do now, is bring it back the way it was," Burleigh said.
The Salvation Army also plans to prioritize training of new employees, which many former employees told The Citizenthey did not receive.
Former employees had previously stated that because of poor training and overworked staff, key safety steps were skipped, leading to people being admitted who had records as sex offenders or who brought weapons.
Burleigh said training is important, and the rules to stay at the shelter will be enforced.
'We heard … saw … reacted'
The Burleighs were previously in charge of Harrisonburg's Salvation Army operations from 2008 to 2014.
"I wasn't going to come out of retirement again, until they said it was Harrisonburg," Burleigh said. "We invested our heart and our soul here, and we can't let it …we have to come back."
During his last leadership stint, Burleigh began a music program in Harrisonburg, as well as maintaining operations of the shelter, food pantry and other operations.
Burleigh, who underwent treatment for cancer last January, has come out of retirement four times for the Salvation Army since his first retirement. The Burleighs have agreed to stay with the Salvation Army in Harrisonburg until June 2023 to see the re-opening through and make sure the reopening goes smoothly.
Burleigh said he was actively involved in shelter operations previously and he will be again.
"We heard, we saw, and we've reacted," Burleigh said. "The Salvation Army has been here for 97 years, and we plan on being here for another 97." 
---
Journalism is changing, and that's why The Citizen is here. We're independent. We're local. We pay our contributors, and the money you give goes directly to the reporting. No overhead. No printing costs. Just facts, stories and context. We're also a proud member of the Virginia Press Association. Thanks for your support.