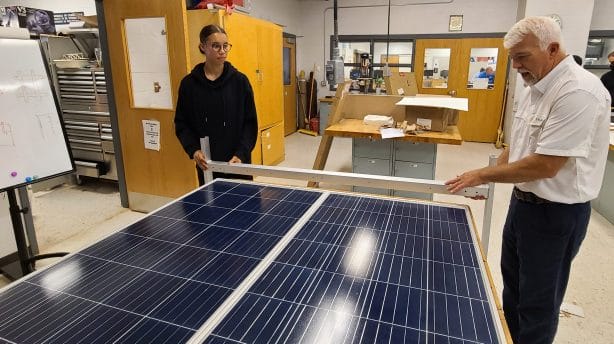 By Eric Gorton, senior contributor
Students in the Governor's STEM Academy at Harrisonburg High School got a sneak peek recently at how solar panels on Bluestone Elementary School will help them with future research projects.
Affordable Energy Concepts, Inc., plans to start work on the 756-panel energy system in mid- to late-June, said Alex Haney, a member of the company's solar installation team.
Most of the installation should be complete by the time school starts again in the fall, although supply chain hiccups might alter the schedule.
Because the work will be done during summer when schools are not in session, high school senior Olivia King organized an event May 13 so underclass STEM academy students could see what's coming. The event started in a high school classroom with a presentation from Haney and culminated in a short walk to the elementary school for some hands-on activities that let students explore how solar panels are installed and how they work.
King said about 20 STEM academy students attended the event that she organized as part of her senior capstone experience.
"It was nice that students could choose what they wanted to do, and we gave them enough time to do everything," she said about the two-hour program that included lunch provided by local nonprofit GiveSolar.
Students put panels together in small arrays, checked energy data from panels with a meter and experimented with a small solar-powered fountain. By shielding various parts of the solar panel from the sun, they could see how different amounts of sunlight affected the energy output and thus the fountain's operation.
"It was really interactive," said high school science teacher Myron Blosser, a co-director of the STEM academy. "It wasn't just listening to somebody talk. It was, 'here are the panels, here are the brackets, see if you can get them into a four-by-four or a four-by-six.'"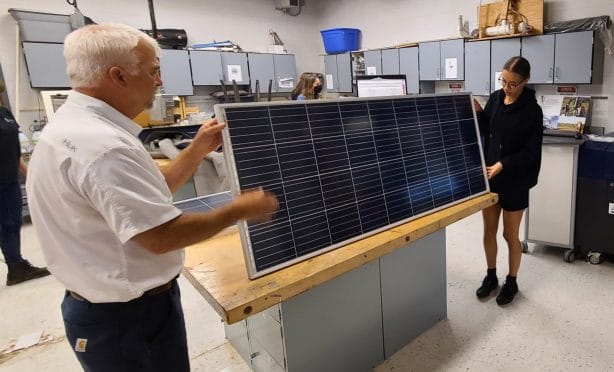 The event, which King said doubled as a celebration of the first city school to get solar power, also let students see the two types of solar panels — bifacial and monofacial — that will go on the roof of Bluestone Elementary. Bifacial panels have solar cells on both sides and can absorb light from under the panel to increase efficiency while monofacial panels have solar cells on just one side and an opaque backing on the other.
Most of the system will consist of monofacial panels, but Haney said 106 bifacial panels will be installed alongside 106 monofacial panels with the same rating so the students can learn along with the company Affordable Energy Concepts how the panels differ.
"We want to see how the bifacial modules perform compared to monofacial modules with the same STC (Standard Test Condition) rating on the same roof," Haney said. "We think this might be a useful tool for students doing research."
Data on how the solar panels perform will be sent to a website where students across the school system can access it. During his presentation before the interactive portion of the event, Haney showed the students data from the Culpeper Technical Education Center, where Affordable Energy Concepts recently installed solar panels.
"I was impressed with the user-friendliness of the website and how much data it generates," Blosser said. "Pick a day and you can go back and see exactly how much energy was generated that day. There's just a lot of data there that we can use."
Affordable Energy Concepts will provide some educational materials on solar power, which was a requirement of the city's request for bids. Haney said the company is working with teachers to design materials that can be used across the school system.
Another learning tool being discussed is a display, perhaps portable, that will help students learn about the panels.
And Affordable Energy Concepts is offering up to three internships for Harrisonburg High School students over age 18 this summer to get some experience installing the solar PV system.
Based on the school's electric bills for the past two years, Haney expects the solar system will provide 90% to 100% of Bluestone Elementary's power.
"We estimate an average annual production of 430,000 kWh per year or more," he said. "Bluestone Elementary School has the lowest power bill of all the schools in the district, so it is easy to offset most of this electricity use from the small rooftop on the school."
Jeff Heie, executive director of GiveSolar and mentor to King this spring, said based on the $625,000 cost of the project — funded by a grant from Harrisonburg Electric Commission — amortized over 25 years, the solar energy will cost the school about 6 cents per kilowatt hour. Currently, he said, city schools pay 10.9 cents per kilowatt hour for electricity from HEC.
The yearly savings to the public school system, he said, will be around $45,126 and roughly $1,128,150 over 25 years.
King will head to the University of Massachusetts in the fall to study hospitality and tourism management, but she said her mentorship with GiveSolar spurred an interest in renewable energy and she plans to look into a sustainability minor.
Blosser said the event she organized "fit very nicely with what we do. We're interested in alternative energies and exploring those. When Olivia came with this idea, it just segued so nicely into what we want our students to be made aware of."
Students interested in the internship with AEC can email Haney at [email protected].
---
Journalism is changing, and that's why The Citizen is here. We're independent. We're local. We pay our contributors, and the money you give goes directly to the reporting. No overhead. No printing costs. Just facts, stories and context. We're also a proud member of the Virginia Press Association. Thanks for your support.