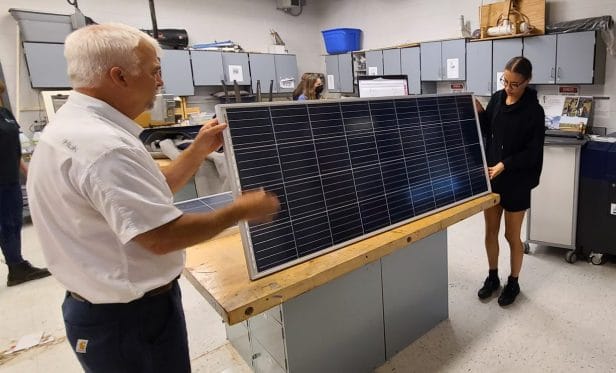 A contributed perspectives piece by the Climate Action Alliance of the Valley (CAAV)
Editor's Note: This is the latest installment of a regular series of contributed news roundups about statewide environmental and news. This piece highlights, with links to further coverage in various media outlets, recent environmental news stories of significance to Virginia, with a focus on energy and the environment.
Energy
Washington & Lee University inked a "long-term virtual power purchase agreement" with a solar developer "to purchase enough solar energy to match 100% of the university's annual electricity consumption." Meanwhile, the Port of Virginia says it's ahead of schedule on its goal to be carbon neutral by 2040, and will be meeting all its electricity needs from renewable sources by 2024.
In a petition to the Federal Trade Commission, over 200 advocacy groups, including Solar United Neighbors, accused "investor-owned utilities of taking advantage of their status as regulated monopolies to uphold 'market control' at the expense of consumers and certain climate‑friendly policies." Dominion Energy and Appalachian Power are investor-owned regulated monopoly utilities. A blogger said "Fuel Costs [Will] Explode on Dominion Bills in July," pointing out that "The dramatic electricity cost projections made a few years ago when the General Assembly adopted the Virginia Clean Economy Act [VCEA] did not include these explosions in fossil fuel prices." To meet its emissions goals under the VCEA, Appalachian Power issued a Request for Proposals for up to 100 megawatts (MW) of solar and/or wind resources via one or more long-term power purchase agreements (PPAs).
A blogger wrote that Appalachian Power customers in Southwest Virginia may have to "shoulder their 'share' of the cost of propping up two money-losing West Virginia coal plants." The same blogger wrote: "If you can't beat 'em, join 'em? Dominion Energy begins selling residential solar." A State Corporation Commission hearing "examiner recommends approval of Dominion's relicensing plans for North Anna and Surry plants," saying these plants "'may become more important to the transmission system' as Virginia and the utility move to decarbonize the power grid by midcentury."
Harrisonburg resident Alleyn Harned's opinion piece concluded that, despite the limitations of producing hydrogen from renewable energy, [it's] "a critical piece of the puzzle for reducing emissions." Thanks to the Ukraine-Russia war, Virginia's coal production is rising. A Virginia Tech professor pointed out that, "for over a century, this region has powered the country's growth with coal, gas, and oil. But its communities have not seen the prosperity and health the fossil fuel industry continues to promise them."
North Carolina and Virginia are getting $58 million of USDOT money for rail projects in 32 states. It will help build anticipated high-speed passenger rail service between Raleigh and Petersburg, including funds for improvements at the Ettrick Amtrak station. Virginia is also searching for funding opportunities for "a $3.7 billion passenger rail plan that depends on construction of a second two-track bridge over the Potomac River to Washington, D.C."
A commenter asked: "As Congress bankrolls electric conversion for bus fleets, is Virginia ready?"
"The City of Martinsville partnered with American Electric Power (AEP)" to establish a 10MW battery energy storage facility. The city will receive a percentage of the savings the facility will generate and will save money "by reducing its peaks when the electric grid needs that power the most."
A Roanoke Delegate believes "It's not too late to call it quits on the Mountain Valley Pipeline [MVP]." MVP owners are seeking the appointment of new appellate court judges to rule on litigation. This storymap, produced by Appalachian State University, links the stories of landowners in Giles, Montgomery, and Roanoke Counties about their experiences with MVP construction.
The Institute for Local Self-Reliance Report, The State(s) of Distributed Solar — 2021 Update, shows "The U.S. electricity sector is evolving toward a clean, decentralized system at an ever‑accelerating pace." ILSR says "Distributed solar, which can be owned by individuals, businesses, and public entities, is turning the electricity industry upside down as individuals choose to generate their own solar power." Virginia is behind many states.
Charlotte County Supervisors postponed deciding the fate of a proposed 240MW solar farm on 2,000+ acres. "Russell County … cut the ribbon on a new regional industrial park that turns an area of old coal mines into an area of potential economic development opportunities." A Staunton solar development company created a "Solar Installer Apprenticeship Program in Southwest Virginia…. High School Students in Virginia's Coalfield Region [Will] Install Solar on Their Own Public Schools through an Innovative Partnership Program." A solar developer filed a notice of intent for a 15.68 MW Endless Caverns South Solar Project near New Market. "Lynchburg Parks and Recreation [celebrated} the opening of [its] new Solar Power Education Facility … [that] contains an array of features about solar…. [It's] developing a curriculum on solar power."
Climate and Environment
"The city of Alexandria has allowed toxic chemicals to discharge into the Potomac River for more than 45 years, and has not taken action to fix the problem, according to a new lawsuit by the Potomac Riverkeeper Network." "Two environmental organizations that filed a citizen lawsuit … against Henrico County, alleging that the county has repeatedly violated the Clean Water Act during the past three decades, now are challenging the decision of a federal judge who ruled … that their suit could not subject Henrico to civil financial penalties because the county already was facing such penalties from the state."
This blogger offers an example of a Louisiana approach to flood control that he believes Virginia should follow. Hampton wants public input as it looks for ways "to combat sea level rise." The non-profit Climate Central issued results of a study that "Virginia could lose 42 percent of tidal wetlands to sea level rise by 2100. Researchers say conserving coastal land where marshes can migrate is a 'decisive factor' in offsetting losses. A "Hampton Roads group wants to help save historic homes from flooding — using science."
The Army Corps of Engineers is seeking public input on ways to reduce flooding along the west bank of the Potomac River. "The proposal … follows flooding from Hurricane Isabel in 2003 — among other big named storms — which caused millions of dollars in damage to homes and businesses." Governor Youngkin vetoed legislation to give an appointed citizen board authority over the "Virginia's Community Flood Preparedness Fund, a pot of millions of dollars earmarked for community flood protection work across the state, [which] will remain under the oversight of the executive branch…."
Bristol Tennessee sued its sister city in Virginia "over [the latter's] lack of action on its embattled landfill." There was to have been a "hearing on Bristol, Tennessee's motion for a preliminary injunction on June 21 …. On June 14 the cities reached a settlement agreement. Virginia lawmakers approved a biennial budget that includes $2 million in funding for the landfill. DEQ wants the city to come up with an action plan by July 6; as part of its agreement with DEQ, the city decided to stop accepting trash and eventually "closing and capping" the landfill. Cumberland County's water may be in trouble similar to Flint Michigan's, according to testimony given to the Virginia Department of Environmental Quality about a proposed mega-landfill.
"From Shenandoah Valley farms to the Chesapeake Bay: 'Historic' cleanup proposal included in state budget deal." There is funding for improving farming practices to reduce pesticide, herbicide, and fertilizer run-off and keep cattle out of waterways, plus money to address stormwater runoff.
"A veteran government scientist and meteorologist [has] become director of the U.S. Environmental Protection Agency's Chesapeake Bay Program, which oversees federal and regional Bay environmental monitoring and cleanup efforts … [over] 64,000 square miles across New York, West Virginia, Pennsylvania, Delaware, Maryland, Virginia and the District of Columbia." A recent University of Maryland Center for Environmental Science report gave the Bay only a C+ health score, up from a C last year. The Chesapeake Bay blue crab population is way down, concerning fishery managers because "it has been accompanied by a three-year streak of below-average reproduction." "Virginia is proposing tighter regulations on the crab harvest after [a] survey showed the population of blue crabs in the Chesapeake Bay is the lowest in the survey's 33-year history."
Thanks to efforts by volunteers to collect "millions of eelgrass seeds [as part of a restoration effort] …, an underwater eelgrass meadow near Virginia's Barrier Islands now spans about 10,000 acres…. The underwater fields store enormous amounts of carbon dioxide in the seabed, preventing it from being released into the atmosphere where it contributes to global warming." Scientists want to know "what feeds the fish in the Chesapeake Bay" and are "casting a wide net" to find out. This storymap "highlights Chesapeake Forest restoration during Chesapeake Bay Awareness Week, … shows how trees and forests throughout the watershed contribute to a healthy Chesapeake Bay[,] describes specific practices and strategies for restoring forests in different landscapes and contains information about the role that forest restoration can play in mitigating and adapting to climate change." The Alliance for the Shenandoah Valley described "how we experience the Bay here in the Valley." The description by Erin Burch, penned in honor of the Bay Awareness Week, included this wonderful map of the Shenandoah Valley's part of the Chesapeake Bay watershed.
"A Cape Cod science center and one of the world's largest shipping businesses are collaborating on a project to use robotic buoys to protect a vanishing whale [right whales] from lethal collisions with ships." One buoy will be located off the Virginia coast.
An Arlington group opposes "changes to Arlington housing policy [that] could have a cataclysmic impact on existing tree canopy in the community." Richmond's summer "heat and humidity are getting worse, and global warming plays a part." The heat island effect there is becoming more and more apparent; planting more trees can help.
A Virginia Beach coalition led by Lynnhaven Now wants the city to join other Virginia localities and set a 5₵ tax on plastic bags. Wegman's announced it will discontinue use of plastic bags in its Virginia Beach and North Carolina stores effective July 1; the company plans to eliminate plastic bag use completely by the end of 2022.
Action Alert
Check out…
Why not …
The Climate Action Alliance of the Valley (CAAV) is a non-profit, grassroots group in the Central Shenandoah Valley that educates legislators and the public about the implications of the Earth's worsening climate crisis.
---
Journalism is changing, and that's why The Citizen is here. We're independent. We're local. We pay our contributors, and the money you give goes directly to the reporting. No overhead. No printing costs. Just facts, stories and context. We're also a proud member of the Virginia Press Association. Thanks for your support.