By Eric Gorton, senior contributor
Starting Tuesday, the Harrisonburg Electric Commission will lose one of its four connections to Dominion Energy during a transformer replacement at a switching station on Ramblewood Road.
The work is expected to last through September and will not result in any additional charges to HEC customers. HEC General Manager Brian O'Dell told the HEC board this week that the work should not cause any service interruption.
"We'll do some reconfiguration on our system to balance the loads on those (remaining) delivery points and Dominion also has a contingency plan in place for a backup transformer on site in the event of another contingency," he said.
When Commissioner Maria Papadakis asked if the system will be OK at peak times, O'Dell said it would.
"We will operate in some areas that we don't normally operate in, but well within the ratings of the lines and the equipment."
He explained that the system normally operates well below operating limits. "Under this contingency, we will have less margin in some system elements than usual," he said in an email Thursday.
O'Dell said the work is necessary to upgrade aging equipment, meet compliance requirements and add capacity.
Dominion plans to replace the other transformer bank at the switching station in the spring.
"Once they finish this project and next year's project, we'll have a much higher reliability and capacity at those delivery points," O'Dell said.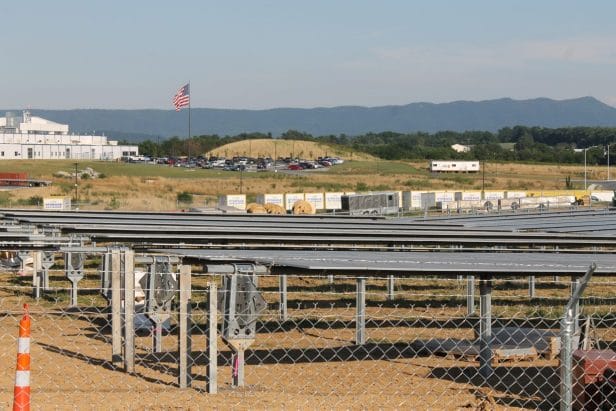 Solar farm construction on schedule
O'Dell also told the board that construction of the Acorn Solar plant on Acorn Drive is on schedule and that HEC customers may be able to sign up for the Friendly City Solar Program at the end of August.
Customers will be able to purchase the solar energy in 50 kWh blocks for $5.75 per block, which is $1.50 more than the current cost of 50 kWh of electricity through HEC. Customers who subscribe for the maximum amount of solar energy through the "Friendly City Solar Program" would pay about $90 more a year for their electricity.
O'Dell told The Citizen in March that HEC is adding a 3-cent-per-kilowatt-hour premium to the solar energy because it is more expensive than the grid power it will replace. However, the net increase to customers will be 1.5 cents per kilowatt hour because no fuel charge is added to solar energy.
Fuel prices for running fossil fuel electric plants have skyrocketed across the country this year.
HEC bills include a 2.26-cent charge per kilowatt-hour for fuel. For the average residential customer who uses 1,000 kWh a month, that amounts to $22.64. From October through March, HEC customers were charged 1.439 cents per kWh for fuel, or about $14.39 a month based on the average customer's use.
In September, HEC was charging less than half a cent per kWh for fuel, resulting in a monthly charge of about $4.39 for average users. That means the average customer's electric bill is now $18.25 more per month than it was in September, all due to increased fuel charges.
Customers will be able to enroll in the Friendly City Solar Program by email or a form on the HEC website, but enrollments won't start until the plant is producing energy.
"If we're billing for renewable energy, we need to make sure we're generating first," O'Dell said.
Customers can expect to see some increased marketing of the program with their bills and through email in the coming weeks.
---
Journalism is changing, and that's why The Citizen is here. We're independent. We're local. We pay our contributors, and the money you give goes directly to the reporting. No overhead. No printing costs. Just facts, stories and context. We're also a proud member of the Virginia Press Association. Thanks for your support.