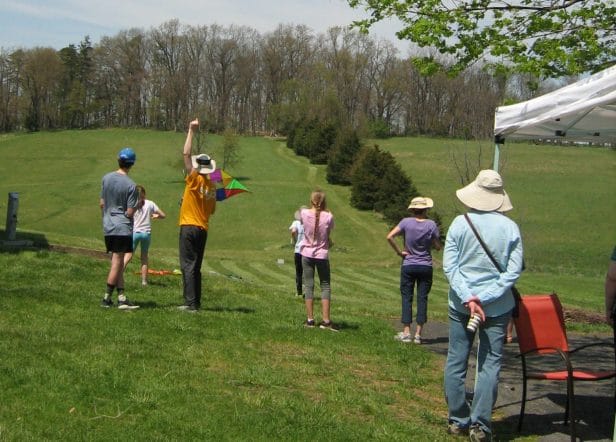 By Stephanie Spernak, contributor
Juniper Hill Commons is slated to be the first cohousing neighborhood built in Harrisonburg — the culmination of a dream 10 years in the making.
But before it can become a reality, it needs a few more future residents to commit to purchasing one of the twenty-seven houses yet to be built on the property, located on Keezletown Road.
Cohousing, a concept coined only a few decades ago, is rooted in some of the oldest characteristics of human settlements, including making communal meeting places and open green spaces central in the community's design. And unlike many new housing developments, where houses are built after each lot is sold, a cohousing community can't move into the construction phase until enough future residents join in to build their neighborhood.
Cohousing groups use a simple membership structure as the path to home ownership. These members are essential to the success of any cohousing community .
Laura Sparer, head of the membership committee for the Harrisonburg Cohousing, LLC, said 15 households have become equity members, who pay a $10,000 fee to select and reserve a particular home in the neighborhood.
The next step for equity members is to make a payment of around $70,000. The reserved home is called a "presale" at this stage. The $80,000 total will be applied against the price of the reserved home.  
Final prices of Juniper Hill Commons' homes haven't been set yet but are expected to range between $350,000 and $450,000, Sparer said.    
Of the total of twenty-seven homes to be built at Juniper Hill, 24 homes must reach the presale stage before the construction begins.
There is an introductory membership category called "associates," who pay a $150 fee to receive invitations to cohousing events and tours, and allow attendance at group decision meeting, although this membership level may not participate in the decision making. It's a way for interested folks to gain more information about cohousing and for them to meet the members and determine if it is a good fit.
Juniper Hill has six associate members.
Sparer said many people interested in cohousing can't afford the up-front membership and presale fees.
This presale phase is crucial. If the target number of presale homes is not reached, the development will stall and might not be completed. If this happens, no fees paid by members are refundable and this risk is clearly set forth in all the contracts.
Cohousing Began in Denmark
In 1988, the book "Cohousing: A Contemporary Approach to Housing Ourselves" introduced the concept to many Americans. Architects Kathryn McCamant and Charles Durrett wrote in the book that "very few people in the United States had heard of this form of housing." It had been pioneered in Denmark a couple decades earlier, and McCamant and Durrett described its origins as a "grass-roots movement that grew directly out of people's dissatisfaction with existing housing choices."
In the foreword to the book, fellow architect Charles W. Moore expresses the opinion that many cohousing proponents have echoed: that modern housing is "pretty much the same, and pretty terrible," in part because its driven providing privacy "… with no attention to providing for community, ever."
McCamant and Durrett wrote that the goal of cohousing is to design a whole neighborhood of homes to make it easy for social interaction to happen throughout the day. In this way, residents get to know each other and form bonds that build a sense of community.
Some Danes, who had grown frustrated enough with "the isolation and impracticalities" of life in traditional housing — single family houses and apartment units — sought out others who felt the same way. The type of housing they wanted to live in is called bofoellesskaber, which means "living communities" in English and featured characteristics of traditional villages.
McCamant and Durrett created a new English word, "cohousing," to refer to this new model of housing.
But it's different from communal living arrangements that some people experimented with in the 1960s and '70s where residents do not accept private ownership of property or resources. Communal living groups often promote a particular religious, spiritual, or ideology orientation among members that is absent in secular and inclusive cohousing communities.
The homes in a cohousing neighborhood, however, are privately-owned, privately occupied, and each built for self-sufficiency. Designated common spaces and some resources (like tools) are intended to be shared by the community.
Cohousing neighborhoods may contain a variety of shared amenities such as swimming pools, tennis courts, picnic areas, and baseball or soccer fields, whatever facilities the residents agree they want to pay for, build, use, and maintain.
Cohousing developments are legally organized like condominiums where the residents are responsible for management and maintenance of the entire community.
A distinguishing feature of the cohousing neighborhood is the common house, described as "the heart of the community," by McCamant and Durrett.
Although like a clubhouse found in suburban developments, the common house serves a vital role in the daily life of a cohousing neighborhood.
For example, meals are cooked, shared, and cleaned up in the common house. Some cohousing communities offer a daily evening meal and breakfast on weekends, a boon to working parents.
Special community events, holiday festivities, and casual get togethers also take place in the common house.
The common house serves as auxiliary space and resources for private homes and typically includes a kitchen and dining area that can accommodate the entire community. Many common houses contain a media room, laundry room, safe play space for children, small library, meeting room, woodworking or craft shops, artist studios, office space and equipment, and bicycle storage.
As with all aspects of cohousing, the residents decide what facilities their common house will have, how it will be managed and maintained.
Today, more than 165 established cohousing communities have popped up across the United States, with another 140 in the planning stage, as reported by the Cohousing Association of the United States, a nonprofit organization that supports the cohousing movement.
Virginia hosts six established cohousing neighborhoods, with another six in the planning stage. Blueberry Hill Cohousing near Vienna in Northern Virginia, completed in 2000, is the oldest cohousing community in the state.
California has the largest number of cohousing communities, with 28 already established, two in the building stage, and 16 in the forming stage.
Developing Cohousing
Developing a cohousing community is a complicated task. And it often starts with people who don't have expertise in this area.
The fundamental philosophy of cohousing is that the group who want to live in cohousing must create it together. Each member of the cohousing group must be involved in all aspects of development and decision-making
In theory, the struggles that occur during this lengthy and uncertain process can form strong connections among the residents that support a successful cohousing community long after building is complete.
Because of the group decision making process, cohousing does not attract professional developers, said Ervin Stutzman, head of Juniper Hill's planning and design committee.
"Cohousing is definitely a small, niche market of home buyers" Stutzman said. Therefore, cohousing groups must be prepared to engage in "self-development" and hire professional help as needed, Stutzman said.
Site Selection and Rezoning
The group hired Gil Colman, a licensed professional engineer with Colman Engineering, PLC, at South High Street, to serve as an adviser on site selection and to prepare the site plan for the city's approval.
After spending a few years evaluating different sites, in 2018, the group agreed to purchase the 5.48-acre site at 650 Keezletown Road. City utilities were already in place at this site and stores and restaurants were within walking distance. An existing single-family home, built in 1940, with a garage and small shed are located at the south side of the site close to the road. The remainder of the site to the north is open green space.
Because the site had been zoned so that only single-family homes could be built there, the group had to request a rezoning to allow for the mixed density and planned community.
Colman, who was serving at that time on the city's Planning Commission, prepared the rezoning application and site plan for Harrisonburg Cohousing along with another cohousing consultant, Peter Lazar with Sheeflee, LLC.
Lazar lives in Shadowlake Village, an established cohousing neighborhood in Blacksburg, Virginia. Lazar also was the developer of Emerson Commons, a cohousing community established in 2019 in Crozet. Many cohousing neighborhoods are located near college towns.
On March 10, 2020, the plan for Juniper Hill Commons won the Harrisonburg City Council's unanimous approval. Colman had recused himself from the planning commission's vote on the issue.
Colman said he believes that the alternative design and density of Juniper Hill Commons is "good for the city" and "the planning serves the community."
Home density accomplishes two primary goals of cohousing: first, proximity encourages opportunities for casual social interactions, and secondly, home density preserves more open common space in the neighborhood. Homes are also clustered close together in the same location on the property, a design strategy that preserves the most open space for the neighborhood.
The 27 Juniper Hill homes will range from 800 to 2,400 square feet and feature front porches, standard 9′ ceilings, 6″ thick walls, quality casement windows and will be certified for low energy.
No house will have a garage or driveway. Instead, the parking lot will be at the edge of the site to create open space. Cars won't be permitted to drive through the development so streets are preserved for pedestrians and provide a safe area for seniors, children and pets.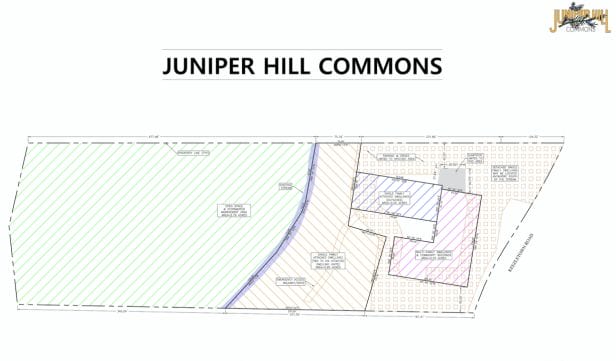 Building Cohousing
Jim Herr, president and owner of the building contractor firm Herr & Co. at West Bruce Street, is the builder hired to make Juniper Hill Commons happen.
Herr said other characteristics emerge in the construction. For instance, he said the term "green," which is a part of the community's marketing, is more of a philosophy.
"Green to me is how we use resources provided, such as minimizing waste, selection of material that is sustainable for a longer life span, and attention to detail that can minimize energy loss," Herr said.
Those details extend to the insulation and inclusion of programmable thermostats, as well as houses that include low-electricity LED lighting and are ready for solar installations.
"This development provides housing for a population who has similar values in terms of the minimal impact on city resources," he said. "While this is a higher density than single family homes, the development is retaining an equal amount of undeveloped property. This may not happen in a 'for profit' development."
Correction: This story was updated to reflect the correct estimated prices of the homes.
---
Journalism is changing, and that's why The Citizen is here. We're independent. We're local. We pay our contributors, and the money you give goes directly to the reporting. No overhead. No printing costs. Just facts, stories and context. We're also a proud member of the Virginia Press Association. Thanks for your support.