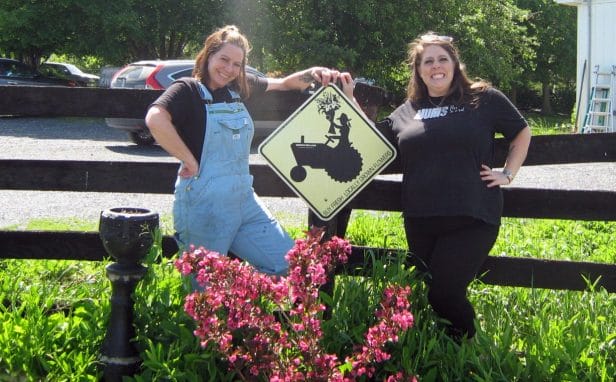 Article and photos by contributor Stephanie Spernak
Starting up a farm is a tough business. Shipping fresh cut flowers offers its own set of challenges. Doing all of that just before the onset of a global pandemic — it's almost a recipe for failure.
Yet, at every challenge, a pair of entrepreneurial sisters have not only helped their business survive but thrive while establishing their farm in the Valley as one of the country's top online shippers of fresh, direct-from-farm flowers.
On July 16, Harmony Harvest Farm in Weyers Cave will host the "Flower Fair" to celebrate the grand opening of the new, on-site Farm Store, the latest innovation of sisters Jessica Hall and Stephanie Duncan, who own and operate the farm.
Duncan said the Farm Store "will have an amazing assortment of fresh flower bouquets and arrangements, flower frogs, plants, our favorite snips and gloves, dried flower wreaths and other floral novelties."
The store's opening event, from 10 a.m.-2 p.m. Saturday, will feature events including, farm tours and flower picking, crafts and activities, as well as a "bouquet build off" demonstration. It will also have live music, a food truck and cider from Stable Craft.
Before those events, the farm will offer a floral design workshop, which requires tickets. And the Augusta County Historical Society will present a program at 1 p.m.
Duncan and Hall also see the store evolving. Duncan said they want to add a nostalgic touch to the Farm Store by stocking "childhood favorites," like candy necklaces.
Before COVID, Duncan said the farm "focused on full-service weddings, wholesale bulk flowers for florist nationwide and mixed bouquets for WholeFoods stores across the East Coast."
But the customer profile changed, Duncan said, and today the farm's biggest clients are individual customers for bouquets, florists and bulk flowers for DIY weddings.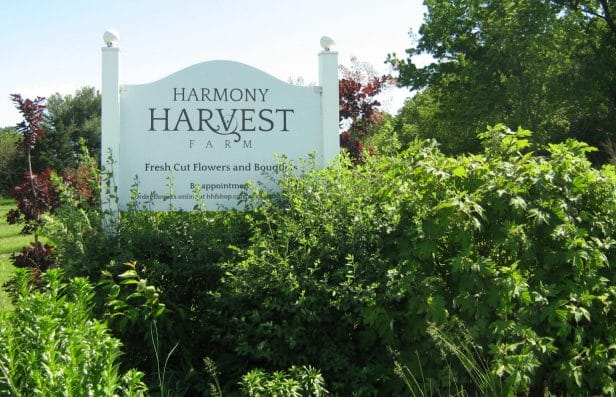 The Farm Life Vision
Hall and Duncan grew up next door to their grandparent's 86-acre cattle and sheep farm in Augusta County. Both spent their summers working on the farm preparing livestock for market and exhibits at the county fairs. They were active members of 4-H and Future Farmers of America. 
After graduating from Virginia Tech where she studied horticulture, Hall lived in Staunton and worked for a greenhouse supplier. She married and had her first child. By then, Hall was ready to act on her vision and build a family farm like her grandparents.
In 2010, Hall and her mother, Chris Auville, bought a 20-acre, former cattle farm, with a house and barn, in Weyers Cave.
The Future Farmers of Virginia, later to become the Future Farmers of America, established its first chapter in Weyers Cave in 1927.
Hall lives on the farm with her husband, Brian, and their four children.
Her mother lives nearby in Mt. Sidney. Auville had managed a physician's office for years but now uses that experience in her dual capacity as the farm's CFO, both chief financial officer and "chief flower officer, " Duncan said.
Before retiring, Hall's father taught agriculture science classes at Fort Defiance High School and worked with technology centers in Augusta County. He now manages special projects at the farm.
Although Hall said the passion for farm life skipped a generation, both her parents supported her vision to build another family farm. Hall credits her grandmother with instilling the passion and entrepreneurial spirit necessary to do that.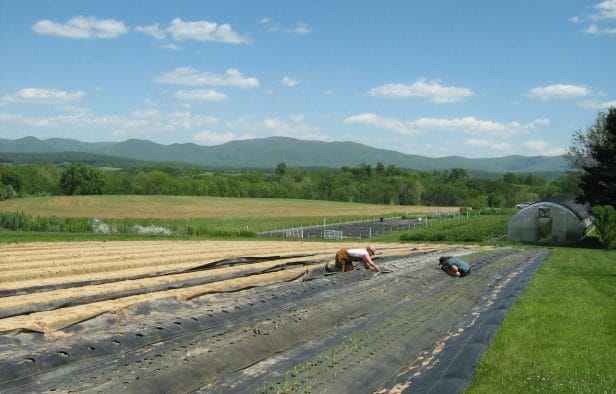 Sowing the seeds of a flower farm
Hall wanted to grow plants on her new farm. Her first crop, green beans, was a failure at market. There were simply too many other, larger vegetable growers who had been selling green beans to established customers in the area for years.
Typical of entrepreneurs, however, Hall took that failure in stride. During a day at the beach with her family, her mother asked the fateful question: "Where do florists get their flowers?"
A light bulb went on for Hall. She replied that she loved flowers and decided then that she would build a flower farm and sell cut flowers, called floriculture.
And the market was there. The value of the US cut flower industry was estimated at $6 billion in 2020, according to a 2022 report by Global Industry Analysts, Inc.
Seasoned growers would later advise her that "You can't ship fresh flowers," she said.
But Hall knew that cut flowers were being shipped in boxes across the country all the time. She said she realized that "can't ship" really meant that shipping a perishable product like cut flowers was a difficult operation and not a product that first-time, small growers should attempt.
Undaunted, Hall said she was determined to learn how to ship cut flowers. For example, she had to learn what popular flower varieties had stems and buds that best tolerated the packing and shipping process, and what were the optimum times to harvest these varieties to retain maximum freshness.
There were other lessons to learn to stay in business, such as estimating box size and shipping costs, understanding carrier logistics for order pick-up and delivery and marketing fresh flowers products for delivery to the online customer.
Duncan said the Harmony Harvest bouquet aesthetic "is farm fresh and seasonal, so it's always a bit of a surprise" what customers might receive. On the farm's website, customers can view the fresh flowers available at the time of order.
Peonies are one of the farm's most popular flowers with their "soft romantic colors," Hall said.
They also offer growers the advantage of a longer sale time than other varieties because "you can pick and then hold in a cooler until sold," she said.
After Hall bought the cattle farm, she had to construct two permanent greenhouses, an innovation that first emerged in Europe in the early 1700s that provided the climate control necessary to extend the flower growing season.
Additional structures included two "hoop houses" and four "high tunnels," semi-permanent structures similar to greenhouses with walls and roofs made of transparent material.
Duncan said they "just put up the fourth high tunnel this year that will be dedicated to our heirloom chrysanthemum crop."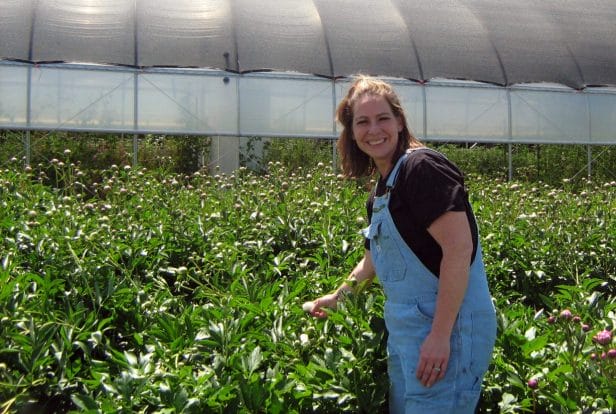 Getting into the flower frog business
When their grandmother died in 2016, and their farm in Bribery Branch, VA was sold, Hall and Duncan inherited from the estate. Duncan said she remembers her father saying at that time "do something with this (money) to make her proud."
Hall wanted to use the inheritance to expand the farm's operations and buy a business that made a related product. She decided to make metal flower frogs, which required a foundry be built in the farm.
"We wanted to save these American-made mechanics. We had such an appreciation for sustainability and heirlooms that we didn't want to see it fade away," Duncan said.
To move closer to her vision of a family farm business, Hall, who had recruited her mother, now wanted her sister to join in.
Duncan was then living with her family in Charlotte, North Carolina, and had worked for 10 years in marketing, after graduating from Radford University with a degree in business management
Duncan said she recognized her sister's persuasive pitch as the business opportunity she had been waiting for — one that combined Hall's knowledge of plants with Duncan's business and marketing skills.
Duncan quit her job and moved with her husband, Zane, to Crimora to be near the farm.
She is now an owner and the chief marketing officer at Harmony Harvest Farm. She is also the "head frog slinger," as she calls it, at FloralGenius, a second company the sisters created as the flower frog business.
Most flower frogs are not metal, they are typically made of green Styrofoam, and placed at the bottom of a vase or flower arrangement to hold the stems in place. Plastic frogs, however, are ecological bad guys. They decompose in flower water and release carcinogens. They also turn the flower water a swampy green.
Metal flower frogs, however, do not decompose in the flower water. They are reusable and are more aesthetically pleasing to the cut flower aficionado. Some metal flower frogs have become collector's items.
The Japanese use metal flower frogs in Ikebana, their traditional art of cut flower design.
FloralGenius is the sole producer and seller of metal flower frogs in the U.S.
Duncan said they ship the frogs "to floral shops and event designers internationally, as well as floral wholesalers and mail order catalogs in the US and Canada."
Spreading joy in a box
When the COVID-10 pandemic struck in early 2020, events were cancelled, and people cut back on shopping.
To keep sales going during this financially difficult period when flower orders stopped, the entrepreneurial sisters sought to innovate their way through.
As parents, they needed to stay at home with their children when schools closed. Working with a friend who was a fourth-grade science teacher, they invented the "Happy Box," which Duncan described as "an interactive flower project for kids."
The Happy Box contained a bunch of daffodils, which were the only flowers growing on the farm at that time, "a custom coloring sheet to go with the flowers" and a flower frog. The materials contained a link to a video on the farm's website that showed children exactly what to do with these materials.
The Happy Box was an instant hit, Duncan said, with more than 100 orders coming during the first 24 hours after they launched the Happy Box on the website. Based on the success of the Happy Box, the sisters soon expanded to "The Bouquet Box" and "The Farmer's Choice Box." The Happy Box has been discontinued, but Duncan said it may be offered again.
Customers who ordered these boxes specified messages they wanted to include. From these messages, it was clear, Duncan said, that the customers intended to spread some joy during a challenging time. The sisters saw that their farm was a key part of this positive momentum and that was what they wanted for their business.
The onset of the pandemic, during the busy spring season in the farm, also stretched the sisters' resilience. Because some employees were at high-risk for COVID-19 infection, they furloughed the entire staff for 30 days with the promise that everyone would have their job to come back to.
During those 30 days, Hall kept up with the early spring harvest operations, Duncan fulfilled orders and marketed products on the web. Their mother, quarantined in her house, answered phone calls and ordered farm supplies.
This period of intense workload revealed inefficiencies, so they made a number of improvements in the business. They delivered not only on the promise to their staff that they would come back their jobs, but they would be even better jobs.
Duncan said that in 2020, the farm experienced a 1,650% increase in sales.
In 2021, she said the farm was selected out of 8,300 entries for the FedEx Small Business Grant Contest, the only grant winner in Virginia.
Hall said one of their big goals now is "to make small family farms relevant on a bigger stage and to evolve the transport of perishables." They want to "showcase women in agriculture and in the Shenandoah Valley."
They also want to build a community around the farm, as a place for jobs, education, entertainment and recreation, said Hall, the "farm grows people as much as flowers."
For example, classes for school children and adults could be held in the barn, Hall said, and the farm's current hay field, left over from its days as a cattle farm, could be replanted and preserved as a native wildflower meadow.
Hall also sees agritourism possibilities for the farm such as participating in the Virginia LOVE tour, building a nature trail and campsites for visitors.
Although they have worked hard for years to get the farm to this stage, Hall and Duncan both agreed that "they feel they are just at beginning of this adventure."
---
Journalism is changing, and that's why The Citizen is here. We're independent. We're local. We pay our contributors, and the money you give goes directly to the reporting. No overhead. No printing costs. Just facts, stories and context. We're also a proud member of the Virginia Press Association. Thanks for your support.