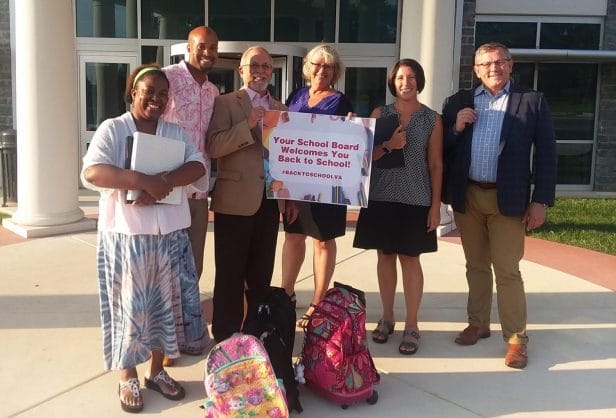 By Bridget Manley, publisher
Nick Swayne, the chair of the Harrisonburg School Board and founding director of JMU X-Labs at James Madison University, will become president of North Idaho College and will leave Harrisonburg in August.
The departure will create voids in the technical and entrepreneurial spaces at JMU, as well as on the school board.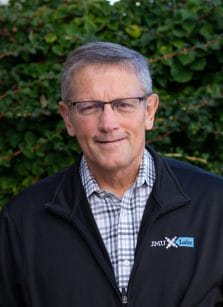 For Swayne, the move is a sort of homecoming. Swayne, who graduated high school in Idaho about an hour from the college, will take the helm of the public two-year college that focuses on degrees in business and career and technical programs.
Swayne said the school played an important role in the community and many of his friends attended it.
"It was a prominent part of my growing up that this place was just up the road," Swayne said.
Swayne officially starts at NIC on Aug. 1 but plans to relocate at the end of August.

Presiding over more than a decade of change
Swayne has served on the Harrisonburg School Board since 2009, serving several terms as chair and vice-chair, and has been part of a school board that in recent years has presided over construction of Bluestone Elementary School in 2017 and now the new Rocktown High School, which is slated to open in 2024. Swayne also has served on boards that expanded the Governors Program to include K-12 students, expanded the S.T.E.M. Academy and Visual and Performing Arts Academy.
When Swayne began his first term on the school board, the Harrisonburg City Public Schools had a little more than 4,000 students in the system. That number is now more than 7,500.
Students in the Harrisonburg school system represent 72 countries around the world, and for many students, English is their second language. When Swayne began his first term, one of the deciding factors for gifted and talented program admittance at the time was based on a language test.
Swayne said this meant that for many students, if they did not speak English, they were not admitted to the program. Swayne, along with other members of the board, worked to change the admittance requirements for students to be more inclusive and diversify the programs.
"Those students are welcomed into the community, and given those opportunities, and that's phenomenal," Swayne said.
Many members of the board expressed their appreciation for Swayne's leadership and friendship over the years.
Vice-Chair Deb Fitzgerald told The Citizen she will miss Swayne.
"Idaho's gain is our great loss, that of a great, community minded leader with a steady hand, a ton of experience, and a good heart," she said.
School Superintendent Michael Richards said Swayne was transparent about applying for the job in Idaho. He said he was happy for Swayne's next adventure. 
"Nick has been a valuable member of the Board and has relentlessly advocated for our students and our community. He will be greatly missed," Richards said. "I will personally miss his wisdom/experience and critical thinking. I wish him all the best in his new journey."
Board members Andy Kohen and Kristen Loflin also thanked Swayne for his leadership.
"At a personal level, he was instrumental in orienting me by volunteering to be my 'wing man,' when I was thrust by circumstances into being the chair only three months after being sworn in," Kohen said. "He has been an ardent champion of increasing compensation for all our teachers, classified and professional personnel and grasped the intricacies of budgets, pensions and health insurance programs."
Loflin, who served as the board's chair last year, said she appreciated his guidance.
"I was fortunate to serve as chair when he was most recently vice-chair, and learned a tremendous amount from him," she said. "He has a unique way of gently nudging people to try something they weren't confident they could do. He helps grow stronger leaders."

Forthcoming resignation from the board
Swayne has not formally resigned from the Harrisonburg School Board, and the question of when he will officially resign will lead to how his seat will be filled. After being re-elected in November 2020, Swayne still has more than two years left in his term.
Vice-Chair Deb Fitzgerald explained to The Citizen said special elections for seat vacancies cannot be ordered to occur within ninety days of a November Election, according to Virginia law. Harrisonburg's Voter Registrar Mark Finks concurred.
If Swayne officially resigns before Aug. 10, the special election can happen in November — in conjunction with the regularly scheduled general election on Nov. 8. Three other seats on the six-member board are up for re-election this fall — the three held by Kohen, Loflin and Obie Hill.
If Swayne resigns after Aug. 10, the special election will most likely occur in November 2023, and the board can appoint someone to fill his seat until that time.
Swayne told The Citizen he wants to resign during a board meeting, even if he has to dial into the meeting from Idaho. While the next board meeting is Aug. 2, Swayne said he might officially resign at the end of August instead.
He said that while he will do his best to make everyone happy, for him the decision to officially resign and do it in person is a personal decision.
"I'm technically still a resident. My house is still here. We won't sell, so probably the end of August, sometime at the end of August I'll officially resign," Swayne said. "I don't want to text in my resignation, you know?…I'd love to do it in person, I don't know if the timing is going to work out, but I would love to do that in person, if I can."
Swayne said he feels confident in the stability of the board and superintendent as the school district moves forward, and he is confident the board will continue to focus on the students of Harrisonburg.

Legacy at JMU
Swayne moved to the area in 2001 to head JMU's ROTC program. And he helped lead the program to consistently be among the top 5% of programs nationally. After his retirement from the military, Swayne stayed on at JMU in the College of Education as director of external relations and outreach.
Swayne also played a key role in growing the first robotics program at JMU and hosting more than 100 teams for robotics championships in Harrisonburg.
In 2015, Swayne started the JMU X-Labs. Swayne told The Citizen that he had an idea for a program that would teach systems of innovation through collaborative, cross-disciplinary projects, and he convinced the university to renovate the building and create the program.
By 2019, JMU X-Labs was featured on the cover of Chronicle of Higher Education. The Chronicle also highlighted five exemplar schools for innovation and creativity, of which JMU was named.
In a letter to the university sent Friday, JMU President Jonathan Alger said Swayne will be "a terrific college president."
"Nick has been a champion of innovation and interdisciplinary education at JMU, and has built connections and collaborations across departments, institutions, and sectors," Alger said in the statement.
And as for JMU X-Labs, splitting his roles and visions into "manageable bites" for the rest of the X-Labs staff and educators will be a process, but he said Alger assured him that the program will continue and flourish.
"Everybody is lined up to support [the program]…and everybody is committed to the continuity and success of the X-Labs," Swayne said.
---
Journalism is changing, and that's why The Citizen is here. We're independent. We're local. We pay our contributors, and the money you give goes directly to the reporting. No overhead. No printing costs. Just facts, stories and context. We're also a proud member of the Virginia Press Association. Thanks for your support.