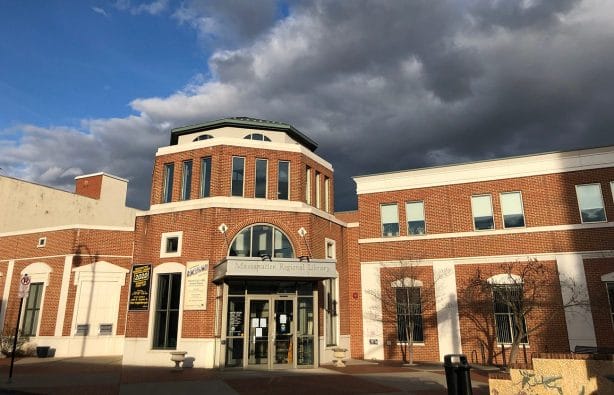 By Eric Gorton, senior contributor
Five months after a new director started at Massanutten Regional Library, the organization is again seeking to fill the top spot.
Rochelle Carr, a former director at the Shasta Public Libraries in California, started as MRL's director Feb. 1 and resigned June 17. Carr, whom the library announced as the new director in a Dec. 23 press release, filled the post left by longtime director Lois Jones, who retired last August.
Laura Thomas, president of the library's board of trustees, and Mary Golden Hughes, director of advancement and spokesperson for the regional library system, said in emails to The Citizen on Thursday that they couldn't discuss why Carr left because it is a personnel matter.
Thomas also said she could not discuss whether Carr is still earning her MRL salary. The salary range advertised in the fall was $90,000-$105,000, she said.
The Citizen reached out to Carr multiple times over social media but hasn't received a response.
As it did in the fall, MRL is using Bradbury Miller Associates to conduct a nationwide search for the next director, in part because of the firm's credentials and also because the previous contract provided for a new search within a year without fees, Thomas said.
"Bradbury Miller Associates is a respected library recruitment firm that is known nationwide," Thomas said. "Karen Miller, the president/owner of the firm, is a former librarian who possesses extensive library experience and knowledge in library leadership."
Once the new job advertisement is finalized, it will appear on the websites of both MRL and Bradbury Miller Associates, Thomas said. The application will be open for six weeks after the job is posted "and we expect it to take approximately six weeks after that to screen candidates and conduct interviews," she said.
A timeline for filling the position is in the works.
Thomas said the director is the public face of the library and the person in the job is responsible for creating a welcoming atmosphere for patrons and employees, in addition to forging strong relationships with local and state entities that provide funding and with donors and community partners that support the library's nonprofit mission.
"In long-range planning, we expect the director to get to know the communities we serve and help develop a strategic plan to meet their needs better, both now and in the future," she said.
MRL is a seven-branch system serving Harrisonburg, Rockingham County and Page County. In addition to the central library in Harrisonburg, branches are located in Bridgewater, Broadway, Elkton, Grottoes, Luray and Shenandoah.
Until a new director is hired, the duties are being handled by the library administrative team based at the central library in Harrisonburg.
"The Board of Trustees has complete confidence in this team and in MRL's branch managers to keep the organization running smoothly, even during this very busy and exciting time of increased usage and foot traffic in all seven branches," Thomas said. "We are very confident the public will not notice any disruption in service during this interim phase and we warmly welcome all in our service community to come enjoy all the free educational, informational, research, and program resources MRL has to offer."
Hughes said systemwide, MRL's circulation, patron visits, program attendance and private donations are on the rise and with more than 4,300 readers of all ages, participation in the Summer Reading Program has doubled from last year.
"It's an exciting time for growth for MRL," she said.
— Contributor Jessica Kronzer added reporting to this article.
---
Journalism is changing, and that's why The Citizen is here. We're independent. We're local. We pay our contributors, and the money you give goes directly to the reporting. No overhead. No printing costs. Just facts, stories and context. We're also a proud member of the Virginia Press Association. Thanks for your support.