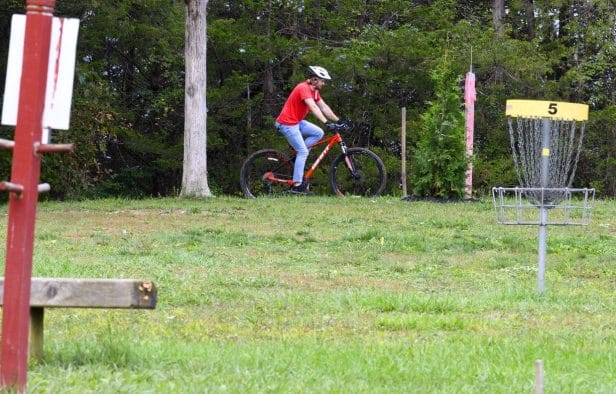 Correction: Assistant City Manager Amy Snider's name was misspelled in an earlier version of this article.
By Charlotte Matherly, contributor
Harrisonburg now has an official policy to accept private donations that can help spruce up or expand public areas, parks and other projects and programs.
The city council approved the new policy, which Assistant City Manager Amy Snider presented at Tuesday's meeting. While the city didn't prohibit private donations, the new policy outlines how the city can receive gifts of park and trail amenities, trees and equipment, as well as financial donations.
Snyder said the policy divides amenities into two categories: standard and legacy. Standard amenities, she said, include gifts under $10,000, which can be used for benches, trees and other smaller accommodations. Legacy amenities — those over $10,000 — must first be approved by council and include a legal agreement defining terms and conditions of the donation.
One detail of the new policy prompted some confusion, specifically over whether signage acknowledging donors should be allowed at sites that benefit from cash contributions. Financial donors, as well as those who donate legacy amenities, can work with city staff members to decide if — or what kind of — signage might be displayed. The policy says agreements involving monetary contributions wouldn't be "marketing partnerships or reciprocal agreements."
But council member Chris Jones said he had some concern about a provision in the policy that said people or businesses that donate cash to city projects and programs couldn't get free marketing or other benefits from the city tied to their donation. But Jones said donor signage could be considered a marketing opportunity, although he said he isn't against that.
After some discussion, other council members agreed to take a closer look at the language of naming rights while still approving the policy.

Seeking funding to accelerate child care expansion
The council gave the go-ahead to the Harrisonburg-Rockingham Child Day Care Center and the Harrisonburg Department of Economic Development to apply for a grant through the state to help the daycare pay for renovating a building at the corner of East Market Street and South Federal Street.
The daycare center is a nonprofit organization that serves local families with childcare, 80% of which pay reduced daycare feeds based on their household incomes.
Martha Ross, president of the daycare center's board, said the organization purchased the building in 2018 and has been trying to raise money to cover the $3.75 million renovation costs ever since. If the daycare receives the $1.5 million from the Industrial Revitalization Fund
grant, the remaining funds would come from the daycare itself — a dollar-for-dollar match with the IRF grant — and donations.
Assistant Director of Economic Development Pierce Macgill said the IRF grant is provided by the state using American Rescue Plan Act (ARPA) funds. He said childcare was one of Harrisonburg residents' top picks on the recent survey that assessed the community's needs and preferences for how the city should spend ARPA funds.
The daycare serves 50 children, ages 2 to 5, in five classrooms. With the renovations, it could expand to serve 80 children in nine classrooms and extend its age range to include infants and toddlers.
Mayor Deanna Reed said she was excited about that prospect.
"It was important for me to know that you'll be able to take infants because I think that that's a necessity, a need, that we haven't really been able to fill," Reed said.
Ross said the daycare expects to take four infants and six to eight toddlers. The number might seem small, she said, but younger children require more full-time care.
Along with the necessary renovations, Macgill pointed out that the new design could add to the "aesthetic appeal" and "attractiveness" of that part of town.
"This project, coupled with several others ongoing right down East Market Street, will vastly improve the attractiveness of this gateway as folks come into our downtown," Macgill said.

Next steps for city environmental goals?
The five council members also offered their support for the city's Environmental Performance Standards Advisory Committee (EPSAC) next steps to develop city and community goals for energy efficiency and renewable energy.
Council member Laura Dent said electricity is the largest single source of greenhouse gas emissions in Harrisonburg and so far, she added, it's also been the hardest to tackle.
But only 3% of those emissions are from the city's municipal resources, like city-owned buildings and schools, which is what EPSAC can most directly affect through the city's Environmental Action Plan. To reach the other 97%, Dent said, the city needs to involve the community more.
"The bylaws of EPSAC also address … other environmental issues of concern to the community," Dent said. "EPSAC has a larger educational and outreach function so that we can address those larger issues. So, that's where we need to sort of enlist, encourage and facilitate community participation."
There's only so much the city can do, though, council member Richard Baugh said. Harrisonburg can control the municipal goals, but that 97% has to be approached in a different way.
"We're not telling anybody to do anything," Baugh said. "That's got to be a collaborative process, or whatever we can do until such time as, if ever, that higher authorities than ours even empower us to do anything in the private sector."
Baugh, a former EPSAC representative to the council, said he thinks EPSAC staff has been hesitant to tackle the community side of the issue.
"I think there is a sense that it would be helpful to get this nudge from council to let staff know that … the emphasis is not so much telling [people] what to do as it is empowering them," Baugh said.
Even so, Baugh said, he appreciates that EPSAC staff has shown restraint and care in not overstepping their authority.
"I think staff's handled this correctly so far," Baugh said. "But if we want them to feel more liberated to look more freely at some of these projects, some types of areas, they need to hear from us."
---
Journalism is changing, and that's why The Citizen is here. We're independent. We're local. We pay our contributors, and the money you give goes directly to the reporting. No overhead. No printing costs. Just facts, stories and context. We're also a proud member of the Virginia Press Association. Thanks for your support.