By Charlotte Matherly, contributor
With an initial focus on reducing pollution from transportation, city staff are preparing to invest in more electric vehicles, improve efficiency of traffic flow and plan for more sidewalks, bike trails and shared use paths.
These were among the main themes of an update to the Harrisonburg Environmental Plan, which the city's director of public works outlined to the Harrisonburg City Council Tuesday night.
At the council's first meeting since Richard Baugh rejoined it, the council unanimously approved everything set before it, including a 3-cent real estate tax increase, a water and sewer rate increase, several special event requests and new traffic rules in the Portland East neighborhood.
Baugh was also sworn in at the meeting's start. The council appointed him earlier this month to replace George Hirschmann, who resigned from the council for health reasons. The return of Baugh, who served on the council from 2009-2020, means all five council seats now are held by Democrats. Hirschmann was an independent.
Baugh also will take over Hirschmann's positions as a council representative on seven boards and commissions.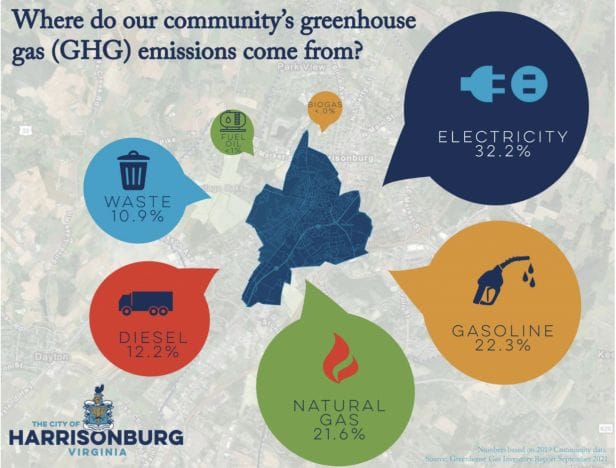 Aiming to cut back on gas and gases
To cut back on greenhouse gas emissions, the city will have to look at replacing its vehicles with electric ones, said Tom Hartman, the city's director of public works.
The city will evaluate the potential for an electric vehicle fleet because cars, trucks and public transit make up 35% of municipal greenhouse gas emissions, he told the council as part of his presentation of an amendment to the city's Environmental Action Plan.
The city will gradually replace old municipal vehicles with electric vehicles as needed to meet this goal, Hartman said — something that's already been set in motion. Harrisonburg recently received a grant that will aid the city in purchasing two electric school buses and related infrastructure.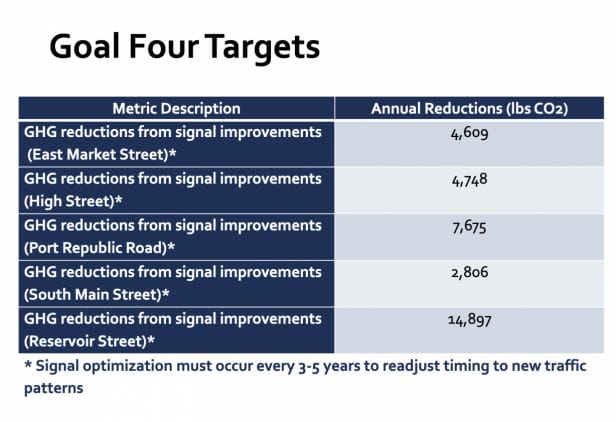 Overall, the amendment, which the council unanimously approved, establishes goals and strategies to reduce greenhouse gas emissions in five-year increments until 2040.
Hartman also said Harrisonburg can reduce emissions by improving traffic signals to decrease time spent waiting at stoplights and increasing the use of public transit by optimizing bus routes, stops and frequency. The amendment also lays out a plan to encourage walking and biking by adding sidewalks and bike lanes.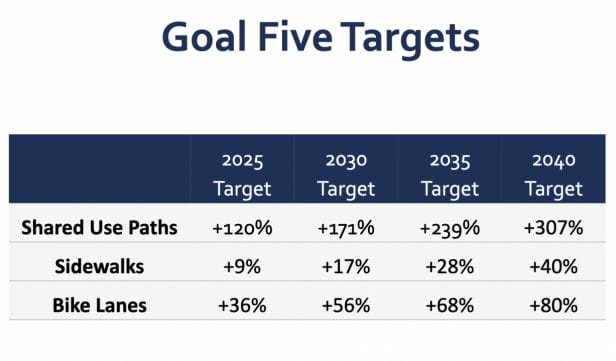 And, while the city can't control whether private residents buy electric vehicles or hybrid cars, Hartman said the city will seek to build infrastructure to support more electric cars, with a goal of building 10 EV Level 2 charging stations by 2025.
Council member Laura Dent said building charging stations will encourage people to buy EVs once they know they'll have a reliable way to charge them.
While Dent supported the amendment, she said she was disappointed that the target for reducing greenhouse gas emissions was lower than she would have liked because the city aims to cut those emissions 20% by 2030. Although she said she understood that the targets are based on what can reasonably be accomplished, she said the city should be aiming to reduce emissions by 40% in that span.
"Let's hope that we can find other ways and build momentum more towards what we must do," Dent said.
Dent noted that the plan applies specifically to municipal operations, which makes up about 3% of electrical usage in the area, according to data from 2019.
"How do we marshal the resources of the community to meet the goals for the overall emissions for the other 97%?" she asked.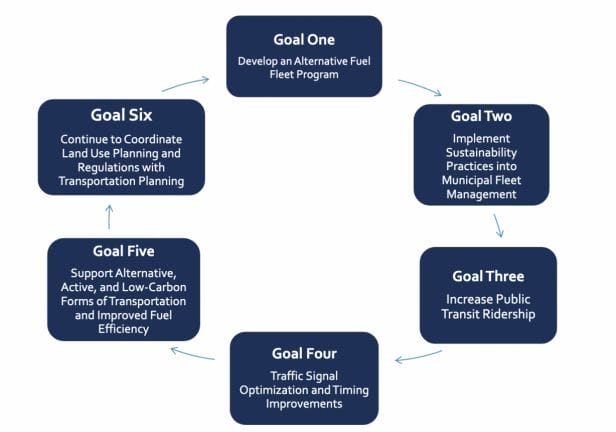 Diverting traffic from Portland East
The council approved the installation and enforcement of "No Thru Traffic" signs on Portland Drive and Fieldale Place to prevent drivers from cutting through the Portland East neighborhood. Hartman said it's necessary because many people take a shortcut through that neighborhood to avoid traffic from Reservoir Street and Port Republic Road.
Traffic volume in the neighborhood showed a 20-25% increase between 2018 and 2021, and Hartman said late-night traffic is a concern — particularly from 11 p.m. to 3 a.m. and especially when EMU and JMU are in session. Hartman attributed the uptick to an increase in student housing in the area.
The city will also communicate this change — which can only be done once "No Thru Traffic" signs are installed — to Waze and Google Maps, Hartman said, in hopes that future students and residents won't find the shortcut and will avoid cutting through Portland East.
Several council members said if this plan doesn't work in the next year or two, the city will need to do something else.
Council member Chris Jones and Vice Mayor Sal Romero said Council has been talking about this "for years" on a broader level, with issues occurring at multiple points throughout the city.

Three years with a free summer concert series
The council unanimously approved Harrisonburg Downtown Renaissance to use the grass lot behind City Hall to host a free public concert series every summer for the next three years.
The organization will apply for a grant from the Levitt Foundation, which would allocate $90,000 to the production of a 10-week free concert series from June through September every year through 2025.
HDR Executive Director Andrea Dono said the goal is to attract nationally touring musicians to the concerts, which would be held each Wednesday evening for an audience of about 350 people.
This will require a temporary stage on the lot each summer, as well as portable public restrooms, which Dono said is why the proposal needed the council's approval. Part of the grant's purpose, Dono said, is to ensure these events are accessible and inclusive, which will be fulfilled with the use of nearby bus stops for transportation and accessible public restrooms.
Mayor Deanna Reed said the concerts would be an opportunity for people "to hang out downtown."
Jones and Romero echoed that sentiment.
"Music is one of the easiest ways to bring people together," Jones said. "We've got so many different languages spoken in our community that this would be an easy way to see families and people of color and some folks that we sometimes don't see downtown as often."

Tax and fee increase approvals
The council approved an increase of water and sewer rates, effective July 1. A 20-cent increase per 1,000 gallons of water, a 1-cent increase per 1,000 gallons seasonally and a 12-cent sewer rate increase per 1,000 gallons will add $715,000 in city revenue. Meanwhile, residential monthly bills will increase $1.60 for water and sewer, and $1.65 from July through November.
The council also formally approved the increase on the real estate property tax to 93 cents up from 90 cents on every $100 of assessed value. That was built into the city's budget as part of the funding to cover the cost of the new high school under construction. The increase works about to be about $30 more a year on a $100,000 house.
Upcoming events
The council approved three special events requests: the Best.Weekend.Ever event put on by HDR this Saturday, Magpie's Juneteenth celebration on June 19 and the 2022 July 2nd Fireworks display. Multiple council members said they'll be attending the events. 
---
Journalism is changing, and that's why The Citizen is here. We're independent. We're local. We pay our contributors, and the money you give goes directly to the reporting. No overhead. No printing costs. Just facts, stories and context. We're also a proud member of the Virginia Press Association. Thanks for your support.