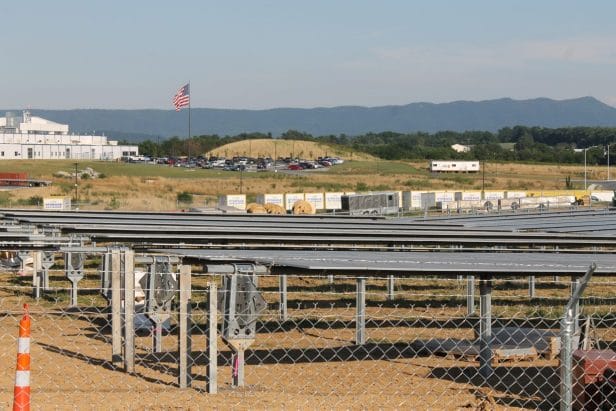 A contributed perspectives piece by the Climate Action Alliance of the Valley (CAAV)
Editor's Note: This is the latest installment of a regular series of contributed news roundups about statewide environmental and news. This piece highlights, with links to further coverage in various media outlets, recent environmental news stories of significance to Virginia, with a focus on energy and the environment.
Energy
The just-issued, first‑of‑its‑kind Virginia Solar Survey aimed to collect data and information related to each county and city's experience, readiness, efforts and needs related to solar development. This report contains a summary of results and preliminary analysis of key findings. The City of Charlottesville's partnership with Local Energy Alliance Program (LEAP), a non-profit, hopes "to make the switch to solar energy easier and cheaper for city residents." A new program from the Virginia Department of Energy is seeking proposals from companies "willing to finance and install solar at low- to moderate-income homes in Wise County." Proposals for utility-scale solar farms continue to make news, with decisions for and against in Surry County, Chesterfield County, Henry County, Fauquier County, Charlotte County, and Pittsylvania County.
UVA will "begin multi‑year effort to find ways to create, store, and use clean energy." The federal Department of Energy is seeking public input about its plan "to turn [abandoned' mines into clean energy hubs…. [T]he proposal came from] the Biden administration's Interagency Working Group on Coal and Power Plant Communities, which seeks to deliver federal investment to revitalize hard-hit energy communities…. The clean energy hubs could feature solar photovoltaic systems, microgrids, geothermal energy, direct air capture, fossil-fueled power generation with carbon capture, utilization and sequestration, energy storage, including pumped storage and compressed air, and advanced nuclear."
Virginia fishing industries are concerned about future federal plans for more offshore wind facilities. The Governor signaled his support of offshore wind, but declined to join a federal partnership of 11 East Coast states to boost offshore wind. He warned that "potential new offshore wind sites could cause 'millions of dollars of negative impact' to Virginia fishing industries." A blogger noted concerns raised by environmentalists and others about increases to Virginians' electric bills when Dominion seeks cost recovery for its wind projects; another blogger wants Dominion to set its projections into binding promises, to lessen such impacts on its customers. Martinsville's New College Institute developed "Virginia's first wind technician training program certified by the Denmark-based Global Wind Organisation" so workers can receive needed safety and other training. The SCC "approved Appalachian Power Co.'s latest plan to tap more power from the sun and wind in an effort to generate all carbon-free electricity for the utility's Virginia customers by 2050…. To cover the utility's expenses [of doing that], the commission allowed a rate increase that adds another $2.37 to the monthly bill of an average residential customer."
Virginia received $106.4M in federal funding to develop an electric vehicle charging network over five years, with guidance that "the ideal recipients of these funds are the existing gas stations and convenience stores that line every interstate exit in the commonwealth." Priority locations are "federally designated 'alternative fuel corridors,' which in Virginia include interstates 64 and 95 … [and] interstates 66 … and 81…. [Virginia's] initial plan will be focused on building public direct current fast chargers on the [priority] corridors … while also supporting charging in rural and disadvantaged communities." VDOT is seeking public input on transportation needs via two surveys.
"EV owners must pay an annual highway fee of $116.49 in addition to standard vehicle registration fees. Beginning July 1, 2022, EV drivers may choose to enroll in a mileage-based fee program in lieu of highway use fee." If an EV owner "ends up driving more than they expected to, the fees can never exceed the highway use fee the driver would've paid if they didn't sign up for the per-mile program." "A new [bipartisan] state law could jump‑start the conversion of much of Virginia's government vehicle fleet from gas-powered to electric cars by asking state officials to look at a vehicle's lifetime costs rather than just its sticker price before buying." Fairfax Connector, "[t]he county-run bus service[,] plans to introduce eight electric buses by December, according to a presentation to the Fairfax County Board of Supervisors' transportation committee." Noting a SW Virginia EV plant's addition of a new truck model, an editor argues that "the geography of the future electric vehicle industry is being drawn now" and that SW Virginia has the opportunity to have a bigger slice of that pie.
The DC area regional Transportation Planning Board voted "to adopt aggressive greenhouse gas reduction goals for the transportation sector, pledging to cut carbon emissions by 50% by 2030." Effective July 11, "Amtrak has scheduled a second daily departure from Roanoke, offering another option for travel to Washington, D.C., and to cities in the Northeast and Southwest Virginia." "New round trips … to Norfolk and … to Roanoke bring to eight the number of state-funded round trips from Washington. The expansion … addresses [the] growing demand for more intercity train service in the state." "Significant ridership increase [is] predicted" in the Roanoke area. A state study requested by legislators concluded east-west passenger rail service, from "Newport News to the New River Valley," is feasible. Suffolk residents want an Amtrak stop in their area.
In response to the Governor's desire to withdraw Virginia from the Regional Greenhouse Gas Initiative, several Virginia organizations, including CAAV, have urged the Air Pollution Control Board not to take such action.
Writing in The Trek, an online site telling the stories of Appalachian Trail hikers, a thru-hiker issued "A Call for Thru-Hikers to Learn About the Mountain Valley Pipeline." "A federal appeals court … turned back the latest of many attempts by Southwest Virginia landowners to keep … [the MVP off their property [through eminent domain]." A Court of Appeals denied "Mountain Valley Pipeline's request for new judges." MVP wants FERC to grant it a second extension, for four years, to complete the project. Another appeals court dismissed a suit against the proposed extension of the MVP (the Southgate project), although legal hurdles remain.
Climate and Environment
"Almost $400,000 in federal funding is coming to the Blue Ridge Parkway earmarked to enhance tourism, outdoor recreation and overall economic development in Virginia." Chesapeake has a new park in a largely industrial area along the Elizabeth River, intended to preserve green space. Virginia's Douthat State Park is one of seven state parks recommended by Blue Ridge Country magazine as worthy of "national status." The Governor formally dedicated Seven Bends State Park, in Shenandoah County. "Virginia has 41 state parks, with at least two more on the way." A small, 7-acre park in Alexandria "was designated a Community Forest by the Old-Growth Forest Network" because "it displays some characteristics of those important natural areas [old growth forests], as both a habitat and a place where harmful carbon is stored in the roots of aged trees. Red oaks, white oaks, chestnuts and tulip trees thrive there."
Virginia Tech researchers are working to "measure farm–to-fork food loss … [that] occurs in all phases in the supply chain—not only in processing, distribution and retail, but on-farm too." "A flour mill in Nelson County is one of 11 recipients of state-funded grants meant to bolster the infrastructure of food and farming enterprises."
The "national environmental nonprofit Center for Biological Diversity filed a [federal] lawsuit … against the U.S. Fish and Wildlife Service over its failure to determine or finalize protections for four species that have faced steep losses over the past decades." One species, the freshwater mussel native to Southwest Virginia, is included in the suit.
The spotted lanternfly, an invasive insect, has found its way into the Valley and is being added to the quarantine in effect elsewhere in Virginia.
"As Wegmans ends use of plastic bags at Virginia Beach store, [the] city consider[ed a] 5-cent bag tax." "VB [deferred a] vote on plastic bag tax, as some council members look[ed] to address litter on a 'broader scale'. The Governor rolled "back plastics phase-out, seeking to … [promote] recycling" [while eliminating]" a commitment by his predecessor to phase out single-use plastics at state agencies and universities. He delayed the "Polystyrene takeout container ban … five years." One commenter argued the Governor's "mixed signals on plastic bags [and] recycling indicate we should do better by our habitat." "Warrenton restaurants [signed a] pledge to reduce single-use plastic straw waste." Fredericksburg's "Revenue from [its] plastic bag tax could top $40K." Charlottesville is "considering adding a 5₵ plastic bag tax."
The National Park Service is partnering with "states, localities, and private entities" to establish 10 "guiding principles" to guide legislation governing the proposed Chesapeake Bay National Recreation Area designation, establishing "a voluntary collection of sites that represents the nation's largest estuary and the diverse communities, culture and history that surround it." A surplus in Virginia's budget resulted in record funding to support Bay cleanup efforts. The costs of those efforts are also rising, thanks to inflation. Maryland is beefing up its cleanup activities. The Bay's crab population is way down and Virginia and Maryland have imposed stricter limits on harvests. "Low blue crab counts have led to new restrictions on harvesting male and female crustaceans that [went] into effect July 1." The Virginia Marine Resources Commission halted Chesapeake Bay Foundation's work on artificial oyster reefs in the Bay, citing "a substantial violation of the state code." CBF said it's working to correct the problems.
FEMA and VDEM awarded the town of Drakes an almost $1million grant "to acquire and demolish" several buildings severely damaged by Hurricane Michael in 2018. "Flood damage in Buchanan County [following recent heavy rainfall has been] called 'apocalyptic' … [with] a long cleanup ahead."
Check out…
The Climate Action Alliance of the Valley (CAAV) is a non-profit, grassroots group in the Central Shenandoah Valley that educates legislators and the public about the implications of the Earth's worsening climate crisis.
---