By Gracie Brogowski, contributor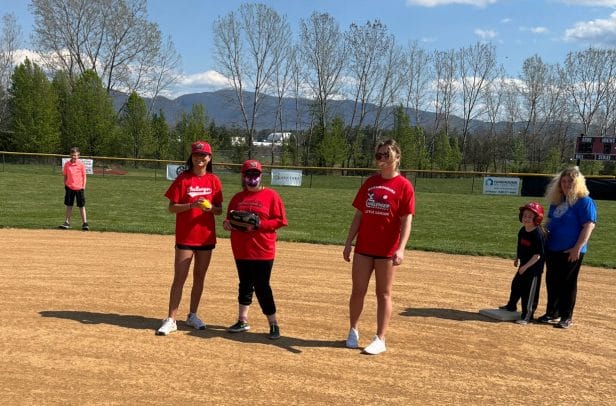 As the bat hits the ball, the parents all cheer. The batter, a young girl in a motorized wheelchair, zooms toward first base. This isn't just little league — it's an inclusive version in which children with disabilities participate and is now expanding to the fall season. 
While it began as a seasonal opportunity, the Harrisonburg Little League recently reached out to Empowerment3 to help the league expand its Challenger baseball program, which pairs players with disabilities with "buddies" to help hit and navigate the field. As a result, for the first time, Harrisonburg will offer a fall season of Challenger baseball.
Empowerment3 bills itself as a "center for physical activity and wellness for the underserved" and was founded by JMU kinesiology professor Tom Moran in 2012. It started as a part of an adapted physical education class where they work with people with disabilities at JMU that was just available in the fall semester. It has now expanded to provide programming for children and adults with disabilities or chronic illnesses, as well as older adults and at-risk youth.
In Harrisonburg, children with disabilities could play certain sports, like little league, but only at certain times.
"All of a sudden families came to me and they said, 'Well, this is awesome, but you know, what do children with disabilities do the rest of the year?' Because at that point in time, they only had Special Olympics, which, at that point in time, was just for adults," Moran said. "And then they had Challenger baseball, which was only a seasonal program."
The first fall season of Empowerment3/Challenger baseball begins Sept. 18. The organizations also plan to host a Fall Extravaganza event on Sept. 11 to raise money for the Empowerment3 organization.
Growing up with cerebral palsy, Moran wasn't able to play local sports because his crutches and walker were considered "weapons."
Now, with the help of his JMU students, Moran is able to offer people with disabilities the chance to do something he was not allowed to do as a kid.
"You know, as a person with a disability myself and others in the disability community would agree that often times, people just see our disabilities and all the things we can't do," he said. "And so then the player or the athlete starts to question, 'Oh my gosh, I can't do this.' But through sport — through baseball — these players in that game forget that they have a disability, and they just get to celebrate their abilities and show the whole community what they can do."
The organization offers multiple athletic activities for people with disabilities of all ages. Some include aquatics, fitness, self-defense, gymnastics and a nutrition program. It not only helps people physically, but also socially.
Donna Schminkey said the program has provided her daughter with opportunities that she didn't think would be available.
"The opportunity to be on a team or to be involved in a dance class or gymnastics, or any number of different kinds of fall playing, or even one of [Moran's] classes that is the adaptive PE class, the clinical that they do. It's just been a great opportunity for her to be with people," she said.
A burgeoning partnership
The idea of Empowerment3 and Harrisonburg Little League running Challenger baseball together came up earlier in the summer and was officially solidified in July. There are similar Challenger programs in nearby towns like Bridgewater, but Dr. Moran wants to make sure the opportunity to participate in baseball is available for more potential athletes.
"What I want to be clear is we're not trying to compete with other Challenger baseball leagues. … We just want to make sure that any and everybody that wants to play baseball has that opportunity anywhere across the Valley," Moran said.
Harrisonburg Little League President Dean Warlitner said the Challenger program was struggling to find athletes to be a part of the team. However, partnering with Moran and Empowerment3 helped increase the number of athletes for the fall season.
"We had about 10 players in our spring [baseball program] which is up from our normal five or six. [Moran] has 16 right now for our fall [baseball program]…So I look for us to continue to build and grow really strong," Warlitner said.
The Challenger baseball program is set up where each athlete has a "buddy" that helps them throughout the game. They recruit students from JMU and Harrisonburg High School. The Challenger league includes athletes with a variety of disabilities of all ages.
"[My one daughter] is blind, but she can hit a ball off the tee," said parent Beth Seller. "And, you know, whoever thought a blind kid could be part of a baseball team?"
'A very fulfilling' program
The program uses adaptable equipment to make sure each athlete has an equal experience.
"So we have built a little batting apparatus that is kind of like it's a spring-loaded back that we have a rope connected to and we can put it in the hands of a player in a wheelchair to try to simulate him or her hitting the ball," Warlitner said.
For Sellers, she's seen the Challenger program as a positive experience for all three of her daughters. They played Challenger baseball in Bridgewater and participated in the Empowerment3 after-school programs as well. She said each girl enjoyed it in her own way and immediately signed up when the fall season was announced.
"It just gives the kids another chance to be around their peers and participate in a team sport that's appropriate for them," she said.
Not only has it benefited the athletes, it's also been a supportive group for the parents as well. Schiminkey said she enjoys sitting in the stands with other parents cheering on each athlete and it's also great to have people to talk to who have similar stories and parenting experiences as her.
"It's been a very fulfilling thing not just for [my daughter] but for all three of us," she said.
While the fall baseball season is a major partnership for Empowerment3, Moran said he is starting three other programs for the organization as well.
"This fall … we're going to offer a 'Superhero Training' that really is about boxing and movement exploration. People discovering their superpowers. We're offering a program called 'I Care,' which is all about self care and mental health and emotional wellness," Moran said. "So we really have a spectrum of opportunities that we offer."
---
Journalism is changing, and that's why The Citizen is here. We're independent. We're local. We pay our contributors, and the money you give goes directly to the reporting. No overhead. No printing costs. Just facts, stories and context. We're also a proud member of the Virginia Press Association. Thanks for your support.