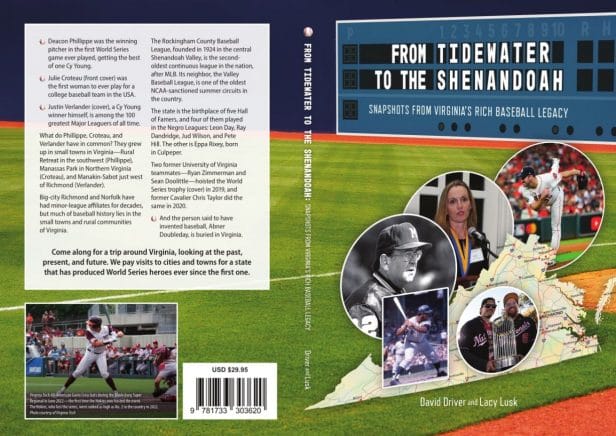 By Eric Gorton, senior contributor
It took the Bridgewater Reds four years to reclaim the Rockingham County Baseball League title on Tuesday. By this weekend, the accomplishment will have a mention in a new book about baseball and its tradition across the state.
Dayton native David Driver, co-author of, From Tidewater to The Shenandoah: Snapshots from Virginia's Rich Baseball Legacy, said one of the benefits of publishing the book on Amazon is that it can be updated.
"We're even thinking of, maybe next year, coming out with a new cover," said Driver, who is making a list of things to revise. The book, on sale since July 25, is available in both print and electronic versions.
"I've heard from people on Twitter, 'Why didn't you have something on Syd Thrift, former GM of the Orioles who went to Randolph Macon?'" Driver said.
Thrift is mentioned in the book, on Page 208 in a story about the late Jerry May, an Augusta County native who played catcher for nine years in the Major Leagues, from 1964 to 1973.
"We didn't want it to be a history about baseball in Virginia. There are elements of that in there, but we wanted it to be more about people," said Driver, who has spent more than 30 years covering baseball at various levels as a sports journalist and who played baseball at Turner Ashby High School and one year at Eastern Mennonite University.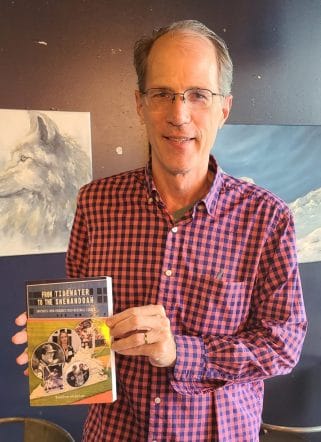 Driver wrote the book with fellow baseball journalist Lacy Lusk, a Richmond-area native who has been the Washington Nationals correspondent for Baseball America since the franchise moved to D.C. before the 2005 season. Lusk has also written about baseball for The Washington Post, The Washington Times and for a number of smaller papers across Virginia.
"I really wanted to have Lacy be a part of this because he knows more about college baseball and minor league baseball in Virginia than anybody I know. He's just a great resource," Driver said.
Lusk said Driver approached him about writing the book. "David was so nice to include me in the project that was pretty much his brainchild. He had mentioned us doing a podcast together in the past."
While the book includes stories about players and others connected with baseball across the state, the central Shenandoah Valley has a starring role.
"I think what makes Virginia distinctive is The Valley League and the Rockingham County League," Driver said. "From downtown Harrisonburg, you're within a two-hour drive of 15 to 20 teams, not just college."
Driver said he and Lusk interviewed about 200 people for the book, which consists of both original stories and updated stories that they wrote for other publications and then received permission to republish.
"I didn't want to run simply what had run before," Driver said. "Between Lacy and myself, we have three or four years of current stories and we tried to supplement that with more current content."
The first chapter of the book, which has 93 short, easy-to-read chapters, is a feature written specifically for the book by Lusk about University of Richmond baseball coach Tracy Woodson.
A chapter on Bill Harmon, apparently the only Major Leaguer ever born in Bridgewater, takes about a page. Harmon, who died in 2007 in Delaware at age 88, had 14 at-bats and pitched five times for the Phillies in 1941.
One of the most inspiring stories, Driver said, is about Staunton native Tyler Zombro, who was hit in the head by a line drive in 2021 while pitching for the Durham Bulls, a minor league team in the Tampa Bay Rays organization.
The story recounts how Zombro recovered from the injury that required brain surgery and months of rehabilitation to pitch again this spring for Durham.
Other players featured include:
Current Houston Astros ace Justin Verlander, a Richmond-area native and Old Dominion University alumnus who has pitched in the World Series four times, has three no-hitters, and has more than 230 victories in his career.
Ryan Zimmerman, a standout at the University of Virginia before becoming the face of the Washington Nationals from 2005 until he retired last year.
Curtis Pride, a standout basketball and baseball player at William and Mary who went on to play in the Major Leagues for 13 years. Born deaf, Pride has been the coach at Gallaudet University in Washington, D.C., since 2008.
Michael Tucker, Longwood University's only baseball player to make the Major Leagues
Billy Sample, who starred at James Madison University before heading to the Major Leagues for eight seasons.
Daryle Irvine, a Grottoes native and Spotswood High School graduate who pitched with the Boston Red Sox from 1990-1992.
Eric Kratz, an Eastern Mennonite University alum who spent 18 years in pro baseball, including 332 Major League games.
The book also features people who didn't play, but have had careers in the sport, including longtime JMU and Valley Baseball League broadcaster Curt Dudley and Harrisonburg High School graduate Amanda Sarver, who worked a number of years in public relations with the Baltimore Orioles. Sarver was hired for the position by another area native mentioned in the book, Monica Pence Barlow of Port Republic. Barlow died from cancer in 2014 while serving as director of public relations for the Orioles.
The information about the Bridgewater Reds' championship will appear near the end of the book in a section that has the standings of this year's team. A similar section provides this year's standings in the Valley Baseball League. Both leagues are mentioned numerous times throughout the book in various profiles.
---
Journalism is changing, and that's why The Citizen is here. We're independent. We're local. We pay our contributors, and the money you give goes directly to the reporting. No overhead. No printing costs. Just facts, stories and context. We're also a proud member of the Virginia Press Association. Thanks for your support.