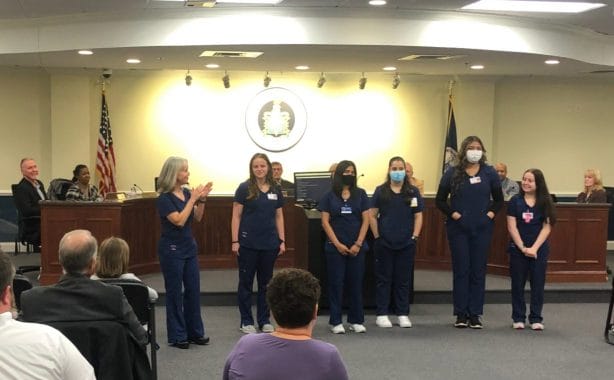 By Haley, Thomas, contributor
Johana Alvarenga's first hands-on experience in health care involved taking patients' vital signs, getting them dressed and helping them eat — personal care, which she said we too often take for granted. Her first patient reaffirmed her passion for nursing.
"She was the first person I spoke to," Alvarenga said.
The patient was a resident at the Virginia Mennonite Retirement Community and suffered from dementia, struggling to remember from one moment to the next. Alvarenga's top priority, still, was ensuring that she always left that patient feeling safe and secure.
Alvarenga did all of this last year while she was a high school senior. She was one of eight students last fall who were part of Harrisonburg High's first nurse aide program, a program unlike any other in the state.
And in addition to the practical nursing experience Alvarenga gained from the program, she also better understood the power of connecting with patients.
"Even though she wouldn't remember me, somehow she would share her warmth and her love with me," Alvarenga said. "I felt that connection, and I knew she felt it with me."

A head start into nursing
Harrisonburg High School introduced its nurse aide program in fall 2021 and has since brought 15 passionate healthcare workers into the field. The program is a collaboration between the school and a nursing home, making it the first and only of its kind in Virginia.
The entirety of the nurse aide program takes place at the VMRC and consists of three sections: approximately 50 hours of classroom time learning skills such as medical terminology and preparing for the multiple choice component of the CNA exam, hands-on learning in the skills lab and the clinical portion, where students work with patients and residents of the VMRC.
The culmination of the program is 120 hours including 40 hours of clinical time, required by the state in order to be approved to take the Certified Nursing Assistant (CNA) exam. Students then have the opportunity to take the CNA exam when the course ends.
The program was created by Myron Blosser, director of the Governor's STEM Academy at Harrisonburg High. He said he had a vision to start a health care pathway within the STEM academy because of the increased interest in health care and need for health care workers.
While it is offered through the STEM academy, all juniors and seniors are eligible to participate in the nurse aide program. There are no prerequisites, although students are encouraged to take other health care courses at Harrisonburg High. Students are selected through an interview process because there are only 20 seats for the course each year.

'A big support factor through it all'
Tricia Cummings was a math teacher for 21 years, but after her daughter was hospitalized for two and a half weeks in the wake of a traffic accident, Cummings discovered her passion for health care.
"I have a lot of experience with nursing staff," Cummings said. "I realized I wanted to become a nurse and make that difference for people."
Cummings went to nursing school at age 44. She was a practicing nurse for five years after earning her license in 2015, but she said that despite her love for nursing, something was missing. She longed to teach again and contacted Harrisonburg High about returning to teach math. That's when Harrisonburg High informed Cummings about starting the nurse aide program. She became its instructor.
"The timing was perfect," Cummings said. "It was exactly what I wanted to do so I could combine both of my passions."
Despite COVID-19 and virtual learning delaying the program until 2021, Cummings dove into her role — writing curriculum, creating mock tests and acting as a mentor to her students.
"I know [Cummings] has worked hard on this because I would get emails long after I was in bed," Blosser said. "The next morning she'd be sending emails and texts to me, and I thought, 'do you ever sleep?' But we're reaping the benefits of that now."
Ava Rath, a Harrisonburg High alumna and classmate of Alvarenga's, said she couldn't have been in this program without Cummings' constant support. Rath had no prior health care experience, but Cummings encouraged her to interview for a spot in the program.
"Ms. Cummings was a big support factor through it all," Rath said. "She knew we could all do it, which was very helpful. I love that woman so much."

A not-so-typical school day
Although classroom time and book work were necessary, Cummings said the interactive skills lab portion was a favorite aspect of the program.
"What really got my attention [about the program] was being able to do hands-on stuff and that being a part of my regular school day," Rath said. "I also liked the idea of being able to learn somewhere that wasn't at Harrisonburg High."
Students must learn 22 skills for the CNA exam, each with different numbers of steps. Even hand washing has a meticulous procedure that, if not followed precisely, can lead to failing the exam.
All students taking the test are scored on hand-washing and four other skills selected at random. Some of the skills include assisting a resident with using a bedpan, measuring and recording a resident's respirations and providing denture care.
The skills lab portion of the nurse aide program allowed students to practice these skills either on one another or on mannequins. Students spend approximately 50 hours in the skills lab practicing each one and all their steps over and over again because missing a single critical step during the CNA exam can cause a student to fail, Cummings said.
Perhaps the most valuable hands-on experience was with the patients and residents of the VMRC, the former students said. There are two sections of the VMRC: one being a hospital-like setting where patients will stay for only a bit of time, and the other being a long-term care facility, making the VMRC home for some residents. Students were tasked with helping them with their various daily needs such as taking their vital signs, getting them dressed, helping them eat and showering them.
Cummings said she was most impressed by how her students spent time with patients and residents even when they were not actively helping them with a task.
"It really meant the world to [the residents]," Cummings said. "There were a lot of hugs and 'thank yous' just for spending time with them. I think that's most notable."
Cummings recalled one patient, who gave two of her students flowers because he was so appreciative of their care.
"You're what [the residents] see for half of their day," Alvarenga said. "You kind of become their friend, and I like it when my residents see me not as their health care provider, but they also see me as a friend and someone they can trust."
Rath said it wasn't easy at the beginning.
"It was really scary at first," Rath said. "It was a place I didn't know, but everyone [at the VMRC] is really nice and very welcoming, and it definitely created more of a safe space."
Maddie Yoder was a junior who switched from the math and science pathway of STEM to the health care pathway. She took Cummings' introductory health care class her sophomore year, where Cummings asked if she'd be interested in the nurse aide program.
"I hadn't really thought about nursing or anything like that before," Yoder said. "It was a good opportunity, so I just decided I would try it out."
Yoder participated in the nurse aide program in spring 2022, and said this led her to "fall in love" with nursing.

'Plowing a new path'
Yoder got a job at the VMRC after passing her CNA exam. She said interacting with the residents has always been her favorite — and most rewarding — part of her job.
"It's really fun to have conversations with them and hear about their lives and growing up," Yoder said.
All 15 students from the program's first year plan to go to college. Fourteen are working as CNAs and most plan to work through college, Cummings said.
"It was a learning experience for all of us for sure," Cummings said. "But everybody supported one another throughout the course. They were all each other's greatest cheerleaders, and new really close friendships were formed out of the class."
Alvarenga is now attending Eastern Mennonite University to continue her studies.
"Since I was little, I always wanted a job that would do something for the community," Alvarenga said. "Now I get to do that."
Rath is attending East Carolina University and enrolling in the kinesiology program. Her dream is to work in pediatric physical therapy and continue building relationships with her patients.
"It's really special," Rath said. "[The patients] are all so different, and each one has different qualities that I just love."
The nurse aide program at Harrisonburg High is expected to continue growing in the coming years, but the leaders of the program say they will never forget the program's first group of students.
"[These students are] plowing a new path for us," Blosser said. "They're setting a new trend and leading by example."
Cummings said she is proud of "every one of them."
"They were my test group and I was their test teacher," she said. "All I can say is I'm so proud of all of the work they did; the flexibility, the patience, the cooperation, the support, all of it. The first year went way better than I could've hoped."
---
Journalism is changing, and that's why The Citizen is here. We're independent. We're local. We pay our contributors, and the money you give goes directly to the reporting. No overhead. No printing costs. Just facts, stories and context. We're also a proud member of the Virginia Press Association. Thanks for your support.