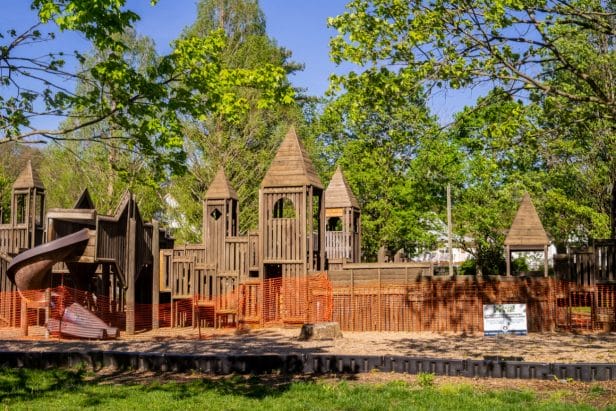 By Rachel Petterson, contributor
After months of public meetings and discussions, the Harrisonburg City Council landed on five main priorities for spending more than $20 million in federal funds and will now task city staff with vetting specific projects. 
The council, during a Tuesday afternoon work session before its regular meeting, picked up where it left off at an August work session to reaffirm its interest in spending its share of American Rescue Plan Act (ARPA) money for mental health support, affordable housing and accessible childcare. In addition the council decided on two other priorities: equitable access to parks and recreation, as well as city beautification.
Equitable parks included updating run-down facilities, such as Kids' Castle at Purcell Park, and adding lights to Smithland Athletic Complex to allow for activities to continue after dark, since they are currently being cut short as daylight dwindles. "Light everything," said council member Chris Jones.
The council members also said they wanted to make the amenities offered at parks in different parts of the city more equitable.
Beautification included paving streets, adding or improving sidewalks, preventing flooding–particularly at New Town Cemetery– and calming traffic. Council member Laura Dent said she favored planting more trees, as well.
Lori Britt, a professor of communications studies at JMU who served as a facilitator for the city during public meetings about ARPA funding, told the council that just because council members selected those five priorities, it does not mean that they couldn't approve other projects. For example, Jones has proposed providing aid to Black- and Brown-owned small businesses in the area, which he explained have been disproportionately impacted by COVID and not received the aid they need.
They also decided on key criteria that they would use to narrow down the projects moving forward. The council, with Britt's help, decided to choose projects that would:
"make a direct impact on the priority area."
address areas most affected by the pandemic.
be unlikely to be funded otherwise.
address "past racial, ethnic, and economic inequalities."
The council members decided not to have another work session just to discuss how they want to spend the money and instead will hand off the projects for city staff to vet, who will return to the council with their findings.
As the ARPA work session wrapped up, Britt emphasized that the data collected from the public input findings can be used by more than the city.
She addressed residents: "You may not have heard your particular project, but it doesn't mean it's lost. All of this data is documented — is publicly accessible. We encourage nonprofits, grassroots organizations, advocacy groups to use this data."
The data she is referring to with information about perceived need in the community from multiple angles — and including demographic breakdowns — is available on the city's website.
City taking deeper look at housing approaches
When it comes to affordable housing, the city's housing coordinator Liz Webb presented policy options aimed at adding and preserving housing in the city.
Among the policies being considered are to:
finding ways to develop city-owned property on Central Avenue and Neff Avenue.
offer residential tax breaks.
waive certain fees for home construction, renovation, and rehabilitation.
potentially using ARPA funds as a test-run for setting up a housing trust fund.
"They're all tools that will eventually be in the housing toolbox," Webb said. "And no one of them is going to solve this problem. But together, they're all going to be part of an ecosystem."
Webb said that, unlike some other municipalities, Harrisonburg doesn't have the authority to require housing developers to build a minimum number of units deemed "affordable." Instead, the city can provide incentives to builders.
In addition, Webb told the council that the city's housing staff is "working on a webpage that will include the resources for households and for developers."
"There are some already great programs out there through Virginia Housing, for example, that we can promote greater access to by linking to them," she said.
At this point, Webb said she was looking for direction on how to prioritize the potential policies so the city's housing staff can formulate specific suggestions to present to the council in the future.
City council members have been debating issues affecting affordable housing over the last five years and commissioned a study to examine the causes of skyrocketing housing costs and a lack of availability.
At Tuesday's meeting, several council members discussed the housing crunch from multiple angles. For example, council member Laura Dent, who also serves on the city's planning commission, suggested that perhaps the permitting process "needs to be streamlined."
Webb said city staff also want to "hear from developers because you've got to get to that sweet spot where they're making the profit they need to make and we're getting that affordability."
City Approves Harrisonburg's First Half Marathon
The council approved three public events for next month, including a half marathon and the downtown Skelton Festival.
Harrisonburg Downtown Renaissance will host its Skeleton Festival on Oct. 15 from 2-5 p.m. Main Street between Franklin and East Rock streets will be closed for this event.
Also on Oct. 15 will be Harrisonburg's first half marathon. The race will take place from 7-11 a.m., with set-up starting at 5 a.m. and clean up going until 1 p.m. It will involve the closure of the road leading into Heritage Oaks Golf Course.
The 20th Annual Race to Beat Breast Cancer 5k Run/Walk is scheduled for Oct. 29. It will start in Westover Park and go to the Sunset Heights neighborhood. The event will last from 9:30-11 a.m., with set-up starting at 6 a.m. and clean-up going until noon. This will entail the closure of South Dogwood Drive from West Market Street to Ohio Avenue.
---
Journalism is changing, and that's why The Citizen is here. We're independent. We're local. We pay our contributors, and the money you give goes directly to the reporting. No overhead. No printing costs. Just facts, stories and context. We're also a proud member of the Virginia Press Association. Thanks for your support.