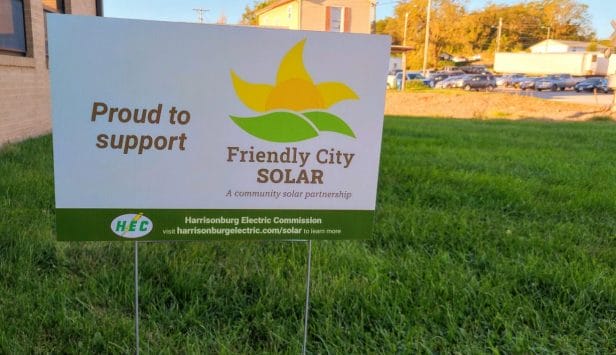 A contributed perspectives piece by the Climate Action Alliance of the Valley (CAAV)
Editor's Note: This is the latest installment of a regular series of contributed news roundups about statewide environmental and news. This piece highlights, with links to further coverage in various media outlets, recent environmental news stories of significance to Virginia, with a focus on energy and the environment.
Energy
The State Corporation Commission (SCC) recently approved Dominion's offshore wind project, with the caveat that Dominion needs to achieve the projected capacity of 42% of the "stated 2,600 megawatts of output." There have been a number of articles and opinions about the fact that the SCC's approval was a foregone conclusion because of the authorizing legislation, about the costs and risks to ratepayers, about data that has remained hidden, and about the benefits the project will bring, including economic ones related to jobs and Virginia's becoming a "hub". Dominion was not happy with the ruling, which is believes is "untenable." It threatened to cancel the project. The SCC will "hear more arguments on … ratepayer protection."
The Mountain Valley Pipeline (MVP) made the news for several reasons:
"Virginia's largest coal mining operation is set to get even larger after Gov. Glenn Youngkin's administration announced a deal between the state and Coronado Global Resources to expand operations and production at the company's Buchanan Mine Complex in Buchanan County." The expansion will produce 181 new jobs. This is the same county that has seen record flooding recently and whose "residents waiting for help to begin flood recovery: Good news may not be on the way." "FEMA, for some reason, doesn't want to help people who lose everything in floods."
Buckingham County residents, having successfully opposed the Atlantic Coast Pipeline, "are being forced to take on industrial metals mining." "Who monitors Virginia gold mining? It isn't always the state. "
"Dimension Renewable Energy has built eight solar farms and has partnered with nonprofit Community Housing Partners [CHP] to enroll those that live in CHP's public housing into the [shared solar] renewable energy program next year. Some 450 Hopewell and Petersburg CHP residents will have the option to enroll … and benefit from lower energy bills…," "Virginia schools [are] among [the] top in [the] U.S. to utilize solar energy." Southside VA has lots of solar farms—more than tobacco farms. An editor explored what that can mean for the region. "Guidance on how local governments can protect themselves when utility-scale solar farms reach the end of their life is now available with the release of a report from the University of Virginia's Weldon Cooper Center for Public Service." Storm water runoff is one issue.
"D.C. region leaders want to halve transportation emissions by 2030 despite road widening plans. [The]
Key to reducing greenhouse gas emissions is to promote regional transit strategies." EVs are on the rise and a company in the Roanoke Valley hopes to capitalize on that happening. "California's 2035 ban on new gas-powered cars set to apply to Virginia. A 2021 state law linked Virginia vehicle emissions standards to California as part of efforts to combat climate change." "GOP leaders want to untie Virginia from California EV rule." The Governor also "opposes banning [the] sale of new gas vehicles in Virginia by 2035," as does the House of Delegates leader.
The "Youngkin administration outline[d its] plan to withdraw Virginia from carbon market by regulation." "61 Virginia Democrats — more than a third of the General Assembly — signed onto a letter addressed to the state's Air Pollution Control Board opposing Gov. Glenn Youngkin's proposed regulatory route to remove Virginia from the Regional Greenhouse Gas Initiative." Various groups and commentators have supported this opposition:
Appalachian Voices; Buchanan County resident; CAAV and other environmental groups during August 31 rallies, including in Abingdon.
Climate and Environment
"Virginia Peninsula's coastal forests threatened by sea level rise and other risks, a new ODU study says, concluding that "unchecked sea level rise would cost Virginia $79 billion in this century."
"Cedar Island …, a small strip of marsh and sand that shields part of the Eastern Shore from the brunt of Atlantic storms … [is] home to an unassuming nature preserve that supports the shore's native seabird population. … Once, it was at the center of a controversial housing development that has since slipped beneath the waves. The barrier island is now at the center of a [$800,000] project by the Virginia Institute of Marine Science that hopes to preserve the island's marshes even as the sandy shore continues to shift every year."
The "EPA [told] 15 states they missed [an] air pollution plan deadline." Virginia made the list. DEQ will study air pollution in two largely Black Norfolk neighborhoods near coal terminals.
"In Portsmouth, a Superfund Site Pollutes a Creek, Threatens a Neighborhood and Defies a Quick Fix." The EPA will remove radioactive material from the "Portsmouth property that housed [a] scrap metal facility." A "medical sterilization facility in Henrico [was] flagged by EPA for chemical emissions." The facility is "one of 23 such sites that decontaminate medical instruments using ethylene oxide, while also emitting the chemical as an air pollutant at rates found to be hazardous in the long term for the surrounding community."
"Phenomena known as harmful algal blooms have led Virginia to add portions of Lake Anna and six other water bodies to its impaired waters list, an inventory of waterways that don't meet state environmental standards. Other listed waterways include Mint Springs Lake in Albemarle County, Aquia Creek east of Stafford, Wilcox Lake south of Petersburg, Woodstock Pond in James City County, Prince Edward Lake near Farmville and an unnamed tributary of the Chickahominy River in the Richmond area." Also on the list are several streams in the Charlottesville area. Work is underway in several Virginia counties to upgrade water systems.
Coal ash removal is controversial but feasible, an investigative report confirmed. "North Carolina, South Carolina and Virginia are proving it is possible for utilities to remove massive quantities of coal ash from ponds where it endangers groundwater, placing it in safer lined landfills. This could be a model for other states, but challenges remain." Reuse may provide one solution.
Bristol still hasn't resolved its landfill problems; the DEQ isn't happy.
"Tests have detected a so-called "forever chemical," a class of hazardous substances that can remain in the environment for generations, in the water of Spring Hollow reservoir in Roanoke County."
"Plastic recycling is back in Waynesboro, after three-year hiatus, beginning Sept. 1." Washington and Lee University stopped selling bottled water on campus. Virginia Beach continues to struggle with a proposed plastic bag tax.
The "John Marshall Soil and Water Conservation District, a state-funded county agency that promotes farm conservation practices," received new funding to allow the "agency to help farmers, landowners improve conservation practices."
As part of its Bee USA on Campus efforts, VA Tech students are proposing numerous projects "to preserve pollinator biodiversity by enhancing pollinator habitat."
Vineyards are susceptible to the invasive spotted lanternfly; they are working to get ready for their invasion.
Check out…
Why not…
The Climate Action Alliance of the Valley (CAAV) is a non-profit, grassroots group in the Central Shenandoah Valley that educates legislators and the public about the implications of the Earth's worsening climate crisis.
---