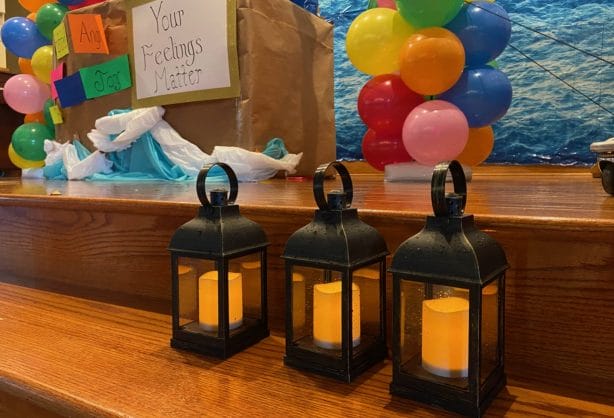 By Rachel Petterson, contributor
A cluster of children and adults — some in yellow bandanas and raincoats — trudged down the slope against a gray, misting sky, as they headed toward the site of one last ceremony of the weekend. They had just participated in the first Harrisonburg session of Camp Lighthouse, a two-day day camp for children and teenagers who are grieving the recent loss of a loved one.
About two dozen people 18 and younger, as well as at least one parent or guardian from each family, attended the Harrisonburg session last weekend at Brethren Woods Camp and Retreat Center in Keezletown, roughly a 20-minute drive from Harrisonburg.
While Oct. 1 and 2 marked the first Camp Lighthouse session in this area, the camp has been operating in the Chesapeake area for more than 15 years, and soon after opened a session in the Williamsburg area. These two other locations are known collectively as the Hampton Roads locations.
Sabine Brent, who has worked in sales and marketing for Sentara for 31 years, helped found Camp Lighthouse.
"We really wanted to do something for the community," she explained, adding that as founders started Camp Lighthouse, they first observed a bereavement camp for children in Memphis. "We got one of their leaders to come and help us the first year to roll it out. And then we have taken it along."
The name for Camp Lighthouse came from a quilt a former Sentara hospice patient named Cheryl designed for her daughter, Brent said. Cheryl had been saving her daughter's clothes to make a quilt for her wedding. But her daughter was only 14 years old when cancer put her in hospice.
A Sentara hospice nurse worked with Cheryl to design the quilt and realize that plan in a different way. She picked out a design of a large lighthouse, and volunteers finished the quilt after Cheryl died.
"Camp Lighthouse originated from an idea to have an outlet for children to grieve with their peers and realize that they're not alone, and that a lot of their peers go through the same process of losing a loved one, dealing with frustration, anger, grief, and what have you," Brent said.
The Harrisonburg camp displayed a replica of Cheryl's quilt last weekend. They aimed to be a beacon of hope for grieving children.
"Yesterday, when I was here I heard a lot of little kids say, 'Oh, it's so neat that others have the same experience, and they're angry, they're mad," she said in an interview Oct. 2, the last day of the camp.
The camp has especially attracted families who have been traumatized by the sudden loss of loved ones, as well as children who have lost parents or infant siblings, in addition to those who have lost elderly loved ones.
"We've seen as bad as a parent murdered in front of the children by the other parent — traumatic incidents," Brent said.
The camp is meant for children who have experienced loss recently, and they only recommend that campers attend once.
"If they really need more counseling, we really recommend that they see a therapist in the community," Brent said. "It's really for that immediate loss."
The camp doesn't just benefit the children, but adults in the family as well, both directly and indirectly.
"Some of the parents…have said, 'Gosh, my kids needed this because I was grieving and I couldn't help my kid as well as I was going through the same process,'" Brent said. "It originally was for children. But as the parents dropped them off, we really felt that there was a need for adults as well. So in all of the camps, we've had adult sessions."
In fact, camp organizers made it a requirement for this session that any parent or guardian that drops their child off at the camp must stay as well.
"You don't know what's going to happen," Brent said.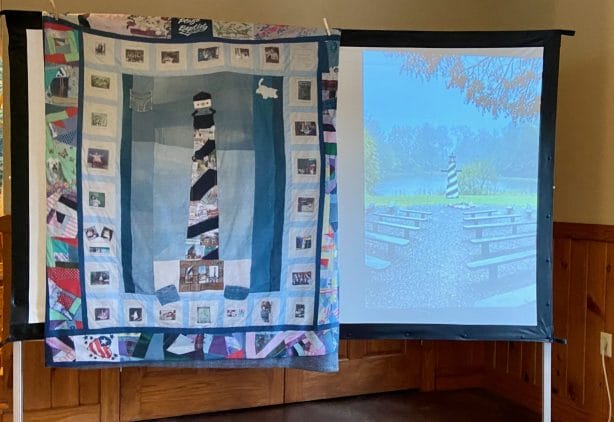 A moving experience for volunteers
The volunteers who worked at the event included Sentara hospice employees, employees from other branches of Sentara, as well as community members not affiliated with Sentara. Several of the volunteers working at the Harrisonburg camp were from the Hampton Roads and Halifax areas.
Christal Yowell, volunteer coordinator, said many of the volunteers are social workers.
All camp volunteers received training. Those who work directly with the campers and adults "go through a 10-hour…certification training that really helps them understand what we're trying to do and how to deal with grief," Brent said.
Other volunteers who help with administrative tasks, such as getting t-shirts, go through a two-hour training. Those interested in volunteering with the camp can reach out via Camp Lighthouse's website.
The campers and adults are split into their own groups by age. Each group had their own cabin, including the adults. The cabins served as a place for discussion and group activities. If there were more than one family member in an age group, the camp placed them in different cabins so that they could share freely. Each cabin had three or four leaders, called "lighthouse keepers" there to run and assist with activities.
Sentara hospice conducts events all year to aid families of Sentara patients, such as butterfly releases, holiday teas, and holiday picnics. Sometimes, as is the case for Camp Lighthouse, their events extend to the rest of the community.
Chrissie Taylor, community liaison for Sentara hospice in Harrisonburg, said she put a lot of effort in recent months to spread the word about the camp, reaching out to local schools, churches and any other organizations that work with children.
Erin Reighard, a medical social worker for Sentara hospice who served as a lighthouse keeper over the weekend, said most participants had heard about the camp from their school counselors.
As for the camp experience, organizers aimed for a mixture of fun and reflective activities.
For instance, campers made nautical flags, said Taylor, who was volunteering on the ground at camp as well.
"You take the nautical letters…they were to spell out initials, names, whatever they wanted to, and that's their flag memorial to their loved ones," Taylor said.
"It's really intended to mix kind of, like, therapeutic activities with real activities. Like, in Hampton Roads, we do kayaking, pony rides, rock climbing, because that camp lends itself for that," Brent said. The Harrisonburg session would have had more outdoor activities of that nature if it weren't from the rain last weekend.

A chance to grieve … and dance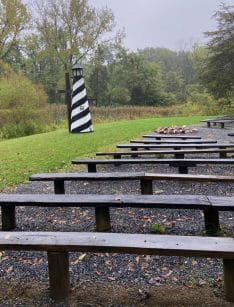 The opening ceremony was also a chance to let loose, even if plans were disrupted by the rain Hurricane Ian brought.
"It was more about: this is a celebration of life," Taylor said. "So we kicked it off with a lot of fun song and dance parties. We kind of got hyped up, talked about everybody who helped us make this possible. And then basically, we just had a bunch of games set up that were outside games, but we moved them in."
Among the activities were corn hole, tug-of-war and face painting before everyone went back to their cabins to bond with their cabinmates and leaders. After that, it was back to a freeze dance party, where the winning cabin got bragging rights and the first spot in the lunch line.
"We're not here to make you sad," Taylor said. "We're here to make you realize that grief is normal, but there's so many tools in your toolbox you can use to not grieve."
Taylor said that at the opening ceremony dance party, she was surprised by "how willing all of these children and the family were to just let it go, go loose, and dance, and the kids were absolutely phenomenal."
Campers also received a visit from Lori Mier, the local author of "Merin and Her Very Bright Star: A Story of Resiliency." Mier lost her parents in a car accident in 1984 when Mier was 3.
"She was in the car with her parents. She was three, and her parents died and she survived," Brent said.
Mier read her story to the children and each of them left with a copy of the book. Campers also made memory boxes as part of the activity and asked Mier questions.
"Lots of questions about, so how did you cope with that? … Do you still think about them? There's a set of twins here that [said], 'We just lost our father two months ago to a five-year battle of cancer, and we're afraid we're going to not remember him.' So we're making memory boxes," Brent said. "We're asking the kids to bring in mementos of their loved ones and put them in the memory box. And that's a way to remember, just like the author remembered her parents by a star."
Even last weekend's rain served as a metaphor for grief, Taylor said.
"It was a really nice caveat to what we're learning about here," she said. "Obviously, this camp is about the unexpected, so what we're dealing with right now is the unexpected…the rain was unexpected, but that's OK because life is going to give you unexpected things, and then you just got to figure out a way to make them work."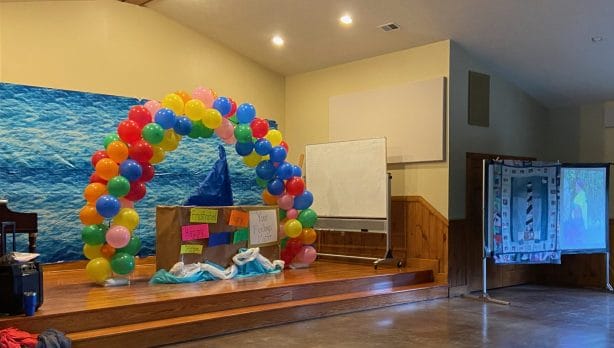 'They don't take anything from us'
The camp's closing ceremony, also indoors, was different than originally planned.
The lighthouse keepers, many clad in yellow, would go around to each cabin with bells and lanterns to deliver to each cabin, Taylor said. Then, they walked down the hill to the main building, the summer camp equivalent of an auditorium: an open space with chairs lined up in rows, facing a small stage at the front.
Had it been outside, the closing ceremony might have included the releasing of doves or the releasing of balloons with the names of camper's lost loved ones written on them, as other camps have done. Instead, the campers focused on supporting each other in ceremony in different ways.
The campers sat down with their cabins. Many had on bandanas and/or shirts in the color associated with their cabin, so purple, blue, and yellow peaked out among the raincoats and ponchos.
Taylor welcomed the campers and then gave the stage to Yowell, who recapped the weekend's events, referring to the slideshow with photos from their time together on display next to the stage. In line with the goal of giving campers a toolbox of skills to draw from as they cope with loss, various activities symbolized lessons, such as a hike through the woods to underscore lessons about navigation and orientation.
In the spirit of reflection and pause, Taylor read a poem before Chaplain Andrew Sagayam, who works as a chaplain for Sentara hospice and led group activities in the adult cabin this session, led a prayer.
While the prayer added an inherently spiritual aspect to the ceremony, Sagayam told The Citizen in an interview that religion wasn't the event's focus.
"This is not about religion here," he said. "This is about human beings, our fellow human beings."
He said he sees the collective experience as one in which God is present, but he wanted to focus on participants knowing themselves and making human connections.
From there, the stage was opened for families to come up and share the nautical flags they had made. Hands shot up each time the group was asked who wanted to share, and everyone who wanted to speak got to. Several brought pictures of their loved ones to show as well. Both children–from those who were very small up through teenagers–and adult participants spoke to the group about their loved ones.
Taylor wrapped up the event by explaining their last activity: a storyline. A long roll of paper spread on the ground at the back of the room offered a chance for participants to draw anything they wanted to on it — a message, a picture, perhaps something they took away from the weekend. Afterward, the group held the paper up for a photograph.
For the volunteers, it was an equally moving and emotional experience.
"If the campfire with having s'mores and the hikes that we've been on is any evidence of their—oh my goodness, they have just been so much—they've been fun," Yowell said. "And we've had just so much fun with them."
Camp Lighthouse, while centered on grief, is grounded in the process of living. As families shared memories about those who had died, death's constant presence was clear. But so was the experience of living — of breathing and sharing in a collective experience that contained both heaviness and lightness at once.
And as Sagayam, the chaplain, said, one of his take-aways when dealing with those grieving a loved one is that death doesn't always have to be synonymous with loss.
"They don't take anything from us," Sagayam said. "They, in fact, give us something to work on 'til our time." 
---
Journalism is changing, and that's why The Citizen is here. We're independent. We're local. We pay our contributors, and the money you give goes directly to the reporting. No overhead. No printing costs. Just facts, stories and context. We're also a proud member of the Virginia Press Association. Thanks for your support.