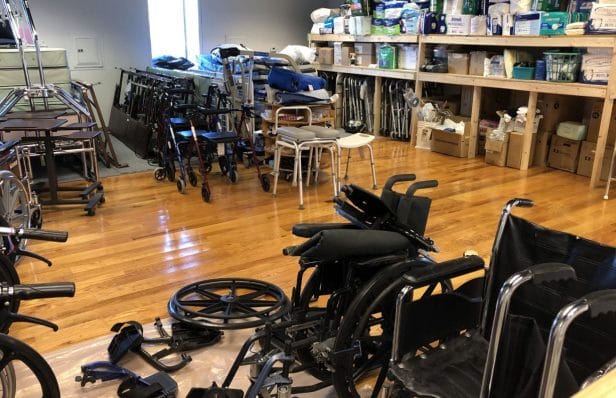 By Gracie Brogowski, contributor
In the wake of recovering from injuries, illnesses or surgeries, not everyone has access to — or the money for — equipment, like hospital beds, shower seats, walkers and wheelchairs.
Local organizations, such as one through the Harrisonburg District United Methodist Church, have sought to fill that need by creating medical equipment loaner programs for area residents.
The Methodist Church's faith-based ministry organization called Mission Central started running its Equipment for Caring program in 2015 out of people's garages, a storage shed and at some local Methodist Churches in Harrisonburg. 2015. Without a single location to keep donated supplies, it was a complicated operation. Four years later, Mission Central purchased its current location at 1704 Smithland Road and transferred all the donations there.

"In 2019, we we just had Mission Central finished the the churches [who] went together and bought and built that building that we are in now. So we're very grateful that we have a spot now where everything is kept," said Delores Reid, who oversees the Loaner Closet.
Reid has been in charge of the closet since the beginning. She is a former nurse and worked in home healthcare for many years before retiring in 2012. It wasn't until the district superintendent brought up the idea of an equipment loaning program that made her want to go through with it.
"It's gone and grown beyond anything I even imagined could happen," she said. "So it's been a good thing because so many people have benefited from it. So I'm thankful to be a part of it."
Reid said people who contact Equipment for Caring have a variety of needs. Most of the time, requests come from people taking care of a relative or people in assisted living facilities.
"Basically, all they have to do is say they have the need for it. And they either call or they come in during our hours that were open and for equipment," Reid said. "We ask that they sign a medical release of liability form so that if they would get hurt."
She said she and others who help operate the loaner closet check the quality of the donated items to make sure they're in good shape.
While wheelchairs and shower seats are the two most commonly requested equipment, the closet offers different types of walkers and hospital beds.
"We actually have over 60 hospital beds, and the majority of those are out in homes," Reid said.
Carolyn Frank has donated and benefitted from Equipment for Caring. She said she has seen many people get the help they need for recovery and getting rid of equipment that's no longer needed.
Frank said it was helpful for her mother, as well as for her. Frank said she is always looking for ways to give back. She goes to yard sales to look for equipment and will occasionally get them for free.
"I try to help out whenever I can," Frank says. "[Equipment for Caring] is always on my mind when I think of medical equipment."
Ashleigh Sherman, a community health worker, said she uses the medical closet to help patients within the Continuum Case Management program. The employees go there each Thursday for equipment such as wheelchairs, rollators and grab bars for people's couches.
She said the program has been a lifeline for many of her patients.
"That demographic is elderly [and] low income and therefore unable to afford a lot of the medical equipment necessary for them to do just normal activities of daily living," she said.
One of the most important things to this organization is having enough volunteers and donations for the closet. Most volunteer assignments involve cleaning the equipment and inspecting the equipment to make sure it's sanitized and safe for people to use.
"They're meticulous with what what they do with the equipment," said Debbie Roach. :They seem to have a knowledge of everything that's there and want to make sure that people are as well equipped at home so that they can have a good recovery or so that they can feel better about themselves at home."
And for those who have set up the closet and volunteer with it, the program fills more than just a an equipment need in the community — it also creates a tighter community.
"That's why I say it's a God thing," Reid said, "because it's bigger than I am and it's bigger than we are as individuals."
---
Journalism is changing, and that's why The Citizen is here. We're independent. We're local. We pay our contributors, and the money you give goes directly to the reporting. No overhead. No printing costs. Just facts, stories and context. We're also a proud member of the Virginia Press Association. Thanks for your support.