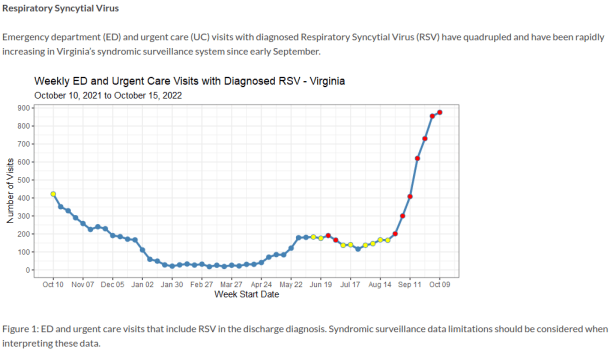 By Eric Gorton, senior contributor
Rockingham County Public Schools urged parents last week not to send their children to school with flu-like symptoms as cases of the virus climb across the area and region.
Meanwhile, Sentara RMH is seeing more patients with flu-like and respiratory illnesses this fall than in the past couple flu seasons, said Rebecca Brubaker, a nurse with Sentara RMH Medical Center Infection Prevention and Control.
Although The Citizen was unable to get flu statistics for the city and county, graphics on websites for the Centers for Disease Control and Prevention and the Virginia Department of Health indicate the viruses are making life miserable for many area residents, particularly children.
"Influenza and RSV (respiratory syncytial virus) are not reportable diseases so we aren't able to track these illnesses to the same degree that we can for reportable conditions like COVID-19," Jordi Shelton, public information officer for the Central Shenandoah Health District, wrote in an email to The Citizen.
Brubaker said in an email that there was "not much movement with flu and RSV during the COVID pandemic. This fall, we are seeing transmission of both flu and RSV. There are no longer mandates to don masks in public, which makes the spread of virus/infection much easier."
Brubaker said RSV is challenging for infants and for adults who are immunocompromised and that the flu targets all age groups.
The letter to the Rockingham County Public Schools community stated, "We have seen numerous cases of students coming to school sick, even with a fever (or on fever-reducing medicine.) We do understand that having a sick child at home can be difficult, but we ask that you adhere to the 'How Sick is Stay-Home-From School Sick' portion of the document."
Other symptoms that warrant missing school, according to the letter to parents, include vomiting; diarrhea; heavy, persistent coughing; sore throat; fatigue; and shortness of breath.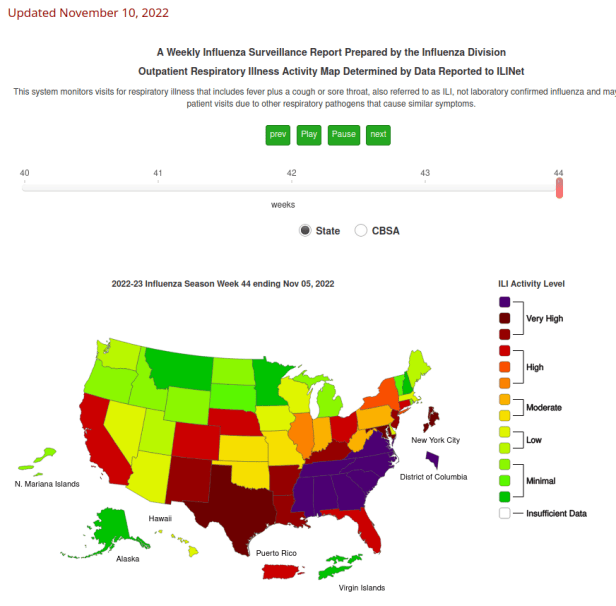 Virginia is among a handful of southeastern states and Washington, D.C. seeing the highest rates of influenza-like illnesses in the nation this fall, according to the CDC.
And the Virginia Department of Health website stated that during the week ending Nov. 5, 9% of visits to emergency departments and urgent care centers across the state were for influenza-like illnesses.
At 7.3%, the VDH's northwest region — which includes Harrisonburg and Rockingham — had the lowest percentage of visits to emergency departments and critical care centers for flu-like illnesses last week. The highest percentage of visits, at more than 10%, were in the northern and eastern regions.
The largest proportion of visits by age group, 21.4%, was for infants and children up to 4 years old.
Overall, there were 5,997 infections through Nov. 5, the VDH reported. No deaths have been reported.
Shelton said flu vaccination provides the best protection against virus.
"Though it is ideal to get vaccinated by the end of October, it's important to know that vaccination after October can still provide protection during the peak of flu season," she wrote.
Shelton also said people can get the COVID-19 vaccine and flu shot at the same time.
Flu is contagious beginning one day before symptoms develop and for five to seven days after symptoms present.
"People with flu are most contagious in the first three to four days after their illness begins," Shelton said. "However, infants and people with weakened immune systems who are infected with flu viruses may be contagious for longer than seven days."
Researchers are working on RSV vaccines, but none are available yet, she said.
In addition to getting vaccinated, the health department has a number of recommendations for preventing the spread of infectious diseases: Covering coughs and sneezes; washing hands often with soap and water; staying home from work and school when ill; and avoiding people who are sick. People who feel sick and must go out should wear a mask.
---
Journalism is changing, and that's why The Citizen is here. We're independent. We're local. We pay our contributors, and the money you give goes directly to the reporting. No overhead. No printing costs. Just facts, stories and context. We're also a proud member of the Virginia Press Association. Thanks for your support.