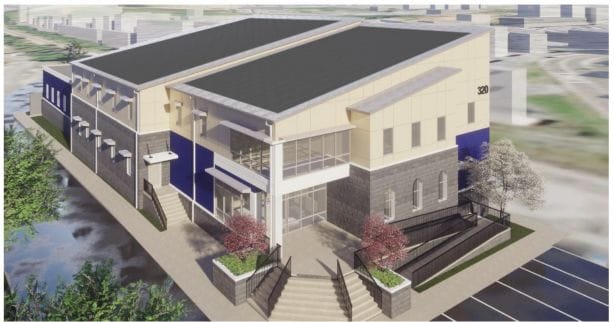 By Ryan Alessi, publisher
Concerns about ballooning construction costs for the city's homeless services center and low-barrier shelter prompted the city council on Tuesday to hold off on finalizing a plan for spending its $23.8 million in federal American Recovery Plan Act funds. 
City council members will hold another work session Dec. 13 to discuss how to allot several million dollars.
Under the council's initial draft of projects and programs to fund, about $6.9 million would go toward parks and recreation improvements, including long-planned projects like building a splashpad at Ralph Sampson Park, rebuilding the Kids Castle at Purcell Park, and fixing and improving the skate park at Westover Park.
Council member Chris Jones said Tuesday that the city's parks are used by more than 90% of residents and served as refuges during the pandemic. Several of the projects have been delayed since March 2020, making them natural fits for investing federal funds meant to help communities recover from COVID-19-related effects and disruptions.
Not everyone was convinced. Council member Laura Dent said spending $6.9 million — about 29% of the total ARPA funds — on parks and recreation seems "out of proportion."
Dent advocated Tuesday for more money to be put into a housing trust fund to provide assistance for residents to buy or rent homes.
The city already planned to use $10 million on two projects: $5 million to build a fifth fire station to serve the northwest part of town near EMU and $5 million to construct what the city is calling a homeless service center. The latter will house a low-barrier shelter while providing space for organizations to help people who are experiencing homelessness. The homeless services center will be built on a 3-acre plot on North Main Street that the city purchased earlier this year. The shelter is slated to open in November 2023 with other related spaces and services to follow in 2024.
But City Manager Ande Banks told the council Tuesday that the $10 million for those two projects might not be enough, depending on the construction bids and the price of building materials that have skyrocketed during the last two years.
Jones said it would be a "safe play" to make sure there was extra funds to pay for those projects. He said he didn't want the city to promise funds for other programs, only to have to take it back to pay for construction costs or find another way to increase revenue.
"It would be immature for us to fill those buckets and then turn around and raise taxes," Jones said. "I couldn't live with myself."
Banks said he would support the council setting aside more ARPA funds for those projects just in case.
"A contingency fund for both the homeless shelter and the fifth fire station would be very welcome," Banks said.
Jones also said he wanted to see the council use ARPA funds to pay the operations costs for the homeless services center through 2026 — the last year ARPA funds can be spent.
Later in Tuesday's meeting, Amy Snider, the newly named acting deputy city manager, provided an update on the homeless services center project and suggested the council move $100,000 to pay for the first year of the center's operations. That amount could come out of the $500,000 the city council allots for Community Block Grants that go to non-profit organizations.
The city won't be responsible for staffing the homeless shelter. Instead, the plan is for the city to lease it rent-free to an organization that would oversee it and provide care for people staying there. The city would pay for the building's utilities and maintenance. 

Public works building costs go up
As evidence of the double-edged nature of this year's economy, the council shifted money to help cover increasing construction costs for the city's new Public Works Department building off South Main Street. While building material prices have ballooned beyond expectations, a sharp increase in U.S. interest rates means the city also had unanticipated interest income.
As a result, the council unanimously approved using $1.9 million in interest income to cover $1.17 million in the added construction costs for the public works headquarters, as well as $351,000 to make the building energy efficient. The remaining $400,000 will go toward improvements to an elevator in the Public Safety Building downtown.
The new public works building's estimated cost is now around $7.8 million, up from the $6.3 million budgeted. The facility, which will house about 40 employees, also will include a fire department training center and a police substation. The new public works headquarters will be constructed in the current building's parking lot, then the old building will be torn down.
In addition to being energy efficient, the building will include solar panels on its roof. It is expected to open in summer 2024.

Short-term rental vs. entrepreneurship
In what has been a rare occurrence in recent months, the council members split on a vote, and ultimately denied a special use permit that would have converted half of duplex on Broad Street into a short-term-rental, like an Airbnb.
The property's owner, Robert Alford II, wanted to have his son live in the duplex's upper unit and manage the short-term rental of the lower unit, where the Alfords planned to allow up to six people to stay, said Adam Fletcher, the city's director of community development.
The city allows such arrangements but requires special approval when the owner doesn't live in the house where rooms are being rented out.
The Harrisonburg Planning Commission had unanimously recommended denying Alford's request. Dent, who sits on the planning commission, said her concern was that granting this special use permit could lead more duplexes to be converted from permanent residences to short-term rentals at a time when housing — especially affordable housing — remains scarce.
"I believe we'd be setting a dangerous precedent if we approve duplexes as short-term rentals," she said.
Council member Richard Baugh and Mayor Deanna Reed joined Dent in voting to deny the request from the Alfords, who weren't present at Tuesday's meeting.
Jones and Vice Mayor Sal Romero voted the other way. Both said they didn't want to restrict the Alfords' ability to be entrepreneurs.
The council has prioritized the values of supporting the city's workforce and allowing for affordable housing, Jones said.
"It's just interesting how sometimes they collide," he said of those goals. 

Increases in utility call fees
For the first time in 20 years, the city will increase the rates charged on field calls for water and sewer utility work. In particular, the city will raise fees for same-day and after-business-hour calls. The council unanimously approved the changes.
The goal, said City Attorney Chris Brown, is to "try to get customers to schedule in advance" to make it easier to assign crews.
Administrative field calls for water and sewer employees will cost residents and businesses $25, up from $15. Reconnections of water and sewer services will go up to $35 from $25. Same-day calls for both will now be $75, while after-hour calls will now cost $175. 

Also at Tuesday's meeting:
Jones resigned his seat on the council at the end of the meeting as a procedural matter after winning the Nov. 8 special election to fill the remaining two years of the term vacated by George Hirschmann. Hirschmann resigned in May for health reasons. By Virginia law, Jones must take office within 30 days of winning the special election, and he can't hold two seats at once. Jones was up for re-election but fell just shy in June's local Democratic primary of being renominated for that seat. Then, weeks later, he won the party's nod for the special election and ran unopposed in the Nov. 8 election.

Jones said he plans to take the oath of office Wednesday, meaning he will return to the council after less than a day as "a free citizen," as he jokingly called it. He will serve for the next two years, which means Tuesday was Baugh's last meeting on the council. The council tapped Baugh, a former mayor and council member, to step in for Hirschmann until the results of the special election. "You were the steadiness that we needed," Reed told Baugh as she thanked him at the end of the meeting.

The council unanimously appointed Quinton Callahan, an attorney with the firm Clark and Bradshaw, to join the Harrisonburg Electric Commission. Callahan will replace Hobey Bauhan, whose term expires Dec. 31. Dent, who has advocated on the council for energy efficiency and environmental sustainability, initially wanted to wait until the council's Dec. 13 meeting to give her time to interview Callahan and the other two nominees. But she said Tuesday she had discussions with each of them and was "most impressed" with Callahan. As part of his application, Callahan said he serves as town attorney for Timberville, where he has dealt with utility-related issues.

---
Journalism is changing, and that's why The Citizen is here. We're independent. We're local. We pay our contributors, and the money you give goes directly to the reporting. No overhead. No printing costs. Just facts, stories and context. We're also a proud member of the Virginia Press Association. Thanks for your support.