By Bridget Manley, publisher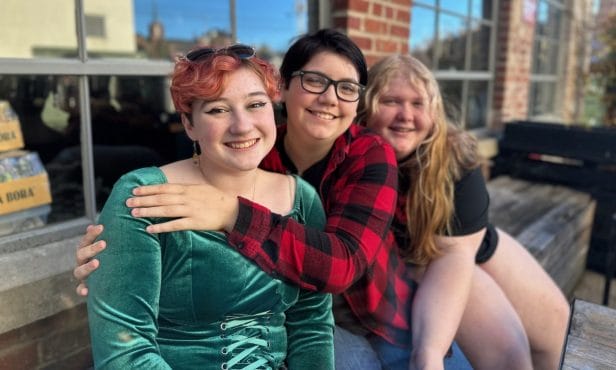 Ellie Tjaden, Lee Jenkins and Finn Maddox, students at Harrisonburg High School and members of the Gay-Straight Alliance, have weathered COVID shutdowns, masking and remote learning as part of their high school experience. But they have also experienced another strange phenomenon.
As they navigate questions and feelings about their own identities, they have watched as conversations about the LBGTQ community have escalated, finding their ways into school board meetings in Harrisonburg and across the country.
"I genuinely feel violated, having a grown adult person go to a meeting, and talk about my body and my identity as if it's a political issue," Finn Maddox told The Citizen. "It makes me feel so scrutinized, and so uncomfortable in myself."
Maddox uses they/them pronouns, as does Jenkins. Tjaden prefers she/her.
Some parents and conservative political leaders have raised concerns about "parental rights" by saying that schools have implemented policies allowing students to choose gender identities, pronouns and preferred names without out consulting the parents. At some meetings, those positions have drowned out discussion of the rights of non-binary and trans students.
The Virginia General Assembly amended the Virginia Human Rights Act in July 2020 to include gender and sexual orientation, thus protecting LBGTQ people from discrimination, including in educational institutions.
The Virginia Department of Education under former Gov. Ralph Northam issued guidance to Virginia schools to allow students to use restrooms and go by pronouns and names that match their gender by which they identified.
This fall, Gov. Glenn Youngkin overhauled many of those guidelines, but the changes are still in limbo as the state's Education Department works through more than 71,000 public comments regarding the new policies and possible contradictions to state law.
Locally, the Harrisonburg School Board has faced some upset parents and others who don't have children in the school system, who have raised concerns about gender affirming books, bathroom policies and use of pronouns.
For the members of the Gay-Straight Alliance, the attention has stirred anxiety and worry about the safety and mental health of non-binary and trans students.
"The aspect of having your identity being actively debated over is debilitating," Maddox said.
Lee Jenkins, meanwhile, has questioned why their identity is being turned into a political agenda.
"It's a non-political topic that people are making political," Jenkins said.
A safe space becomes a club for advocacy
The Gay-Straight Alliance, which has been around since the opening of Harrisonburg High School in 2005, has 20 active members as well as a dozen more semi-active supporters. The club provides a space for students who are exploring LBGTQ+ issues and their own sexual and gender identities, as well as for seeking acceptance and like-minded friends.
The group's meetings used to be smaller and more mundane, Tjaden said.
"We would complain about our love lives, and then go home," Tjaden said with a laugh. But following COVID, more students joined the club.
Maddox said they came out as non-binary at the end of their freshman year of high school, right before COVID shut down schools.
"That year was a very big time for me to process my identity, because I'd been feeling off, or different, since I was a kid, and I didn't have a word for it," Maddox said. "So when I found out what non-binary and trans meant, I felt safe. I felt at home in that identity."
When Maddox came back to school their junior year, they attended a Gay-Straight Alliance holiday party.
"It's given me a space to connect with other people in the community and help stand up against people making us feel unsafe, and I think that's important for any community to have," Maddox said.
Meanwhile, controversy was brewing in school board meetings across the country and in the Valley, and the group started to advocate for themselves and their identities, including pushing back against book-banning in their school.
Then the Harrisonburg school board was sued by several teachers and parents, who said that their rights as parents and teachers were being violated by the board's gender policy.
And the day the lawsuit went to court in November, the group decided to stage a walkout. They thought about 30 students might walk out. It turned out that hundreds did.
"We had people that we thought would never come out," said Tjaden, who organized the event. School athletes — including the high school football team — walked out and held signs and shouted their support.
"I was not expecting some of the football guys to get on top of the cafeteria tables and scream 'trans rights' with a sign over their heads, which honestly made me really happy," Jenkins said.
During speeches, people in the crowd would cheer and shout their support, and Gay-Straight Alliance members said they felt the "loud love."
"A lot of the trans and non-binary people who are a part of GSA were just bawling their eyes out because they felt so empowered and felt supported by our school community," Jenkins said.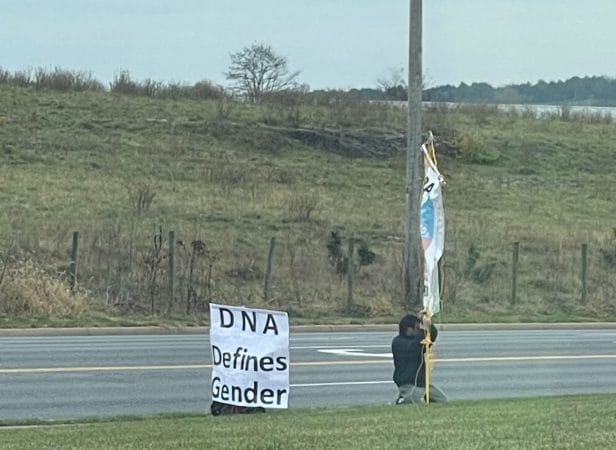 "Why is my identity a political debate?"
The night of the student walkout, a meeting of the Harrisonburg School Board turned contentious as community members filled the public comment period both against and in support of transgender students.
The following day, as students arrived for classes at Harrisonburg High School, they were greeted by a man on school property holding signs that read, "DNA defines gender."
Lt. Chris Monahan of the Harrisonburg Police Department told The Citizen that the high school's School Resource Officer issued the man a trespassing order and escorted him off campus. The man came back later in the day, but stood down the street, off school property.
"It was just awkward to know that there was somebody actively standing outside our school, like a 30-40 year-old guy holding a sign outside of our school, telling us that our identity was against something," Maddox said.
After all, Maddox said, safety and compassion were main reasons behind the walkout.
"We were advocating for our safety in the walkout," they said. "What we were doing was saying is that [this behavior] is presenting an issue to the safety of trans kids."
All three Gay-Straight Alliance members said that while they feel they have a very supportive school community, they have also experienced harassment and misgendering by some on campus.
They have been called slurs and been shoved by other students in the hallways. According to the students, one teacher at school intentionally uses students' dead names — names given at birth that the students no longer use — even though they have been using their chosen name for years.
"My birth name was very hard to find in the system, and he found it," Maddox said. "He proceeded to call me by my birth name in class, singled me out, called me "she" and my birth name, and I was sitting in the corner of the room sobbing."
Multiple studies have shown that using a person's chosen name and pronouns lowers depressive symptoms, suicidal ideation, and suicidal thoughts in transgender youth. And the three students pointed out that teachers have used nicknames for other students when asked to do so.
Jenkins, Maddox and Tjaden want people to know that they are not "promoting kidnapping," as one commenter said at a recent school board meeting. But they are promoting safety of the trans community and the "basic human right" to live in a way that is authentic to them.
"Identity is a basic human right," Tjaden said.
All three Gay-Straight Alliance members said they want to continue the dialogue with community members to dispel misconceptions about their identities and have "one-on-one conversations" about why angry words can lead to violence against their communities.
"They have the right to protest, they have the right to speak their mind just as we do," Maddox said. "But the difference is that their actions are hurting us, and ours aren't."
---
Journalism is changing, and that's why The Citizen is here. We're independent. We're local. We pay our contributors, and the money you give goes directly to the reporting. No overhead. No printing costs. Just facts, stories and context. We're also a proud member of the Virginia Press Association. Thanks for your support.