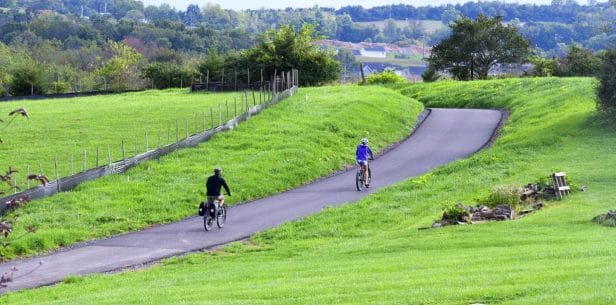 By Rachel Petterson, contributor
The Harrisonburg City Council ultimately decided Tuesday to allot the remaining $11 million of federal American Rescue Plan Act funds on a spending plan that prioritized parks and recreation. 
The four council members voted 3-1 to approve that plan, with council member Laura Dent dissenting. Only four voting members were present because interim council member Richard Baugh was replaced by council member Jones at the last meeting.
The council has already committed to using more than $12 million of the approximately $23 million in ARPA money the city will receive. Those funds will go toward building a new fire station on the northwest end of town and a permanent homeless shelter and homeless services center, as well as to pay for city employee retention payments and paying the salary of ARPA program manager, Luke Morgan, who is tasked with managing the related paperwork and grant applications.
With about $11 million left for other spending, the council members have been debating for several months how best to prioritize using the money to support other projects and programs.
The spending plan council approved in Tuesday's work session is based on a version that council member Jones presented to the council. Compared to the spending plan proposed at the last work session on Nov. 22, it includes broader fund accounts aimed at helping support mental health and childcare instead of designating certain amounts to go toward specific line items related to mental health and childcare.
The plan also designates funding for a program called the Business of Childcare, which was proposed by the Shenandoah Valley Small Business Development Center. The Business of Childcare program is designed to support child care providers with business management skills.
And it increased spending on parks and recreation to go toward bathrooms on Side B of Smithland Athletic Complex.
The approved spending plan will be up for its second — and final — approval at the last city council meeting of the year on Dec. 27. That will be the last meeting before the newly-elected council members, Monica Robinson and Dany Fleming, take office in the new year and Vice Mayor Sal Romero's term ends.
The spending on parks and recreation in lieu of further spending on housing was the most controversial element of the spending plan. Romero, Mayor Deanna Reed, and Jones emphasized that parks and recreation provides for the needs of a community on multiple levels.
For example, Romero pointed out that soccer fields can provide a safe space for undocumented immigrants.
"Soccer to a lot of people in this community who are undocumented, who are just afraid of interacting with others, is a place where they feel safe," he said. "It's a place where they relieve stress. It's a place where they feel like they belong."
On the other hand, Dent was particularly adamant that a fund to expand supportive housing — and especially geared toward helping people out of homelessness — should be a priority. This funding would have gone toward expanding Commerce Village, which currently houses 30 people. Dent explained it mainly focuses on people with disabilities and veterans who have experienced homelessness, helping them with health care and building skills for a stable and housed life going forward. The expansion would have doubled the capacity of this facility.
Ultimately, the council opted not to use ARAP funding for that.
"It really bothers me that you have to say 'not enough left over for housing' when that should be the first priority," Dent said.
Other council members, though, said they are not abandoning the issue of housing.
One challenge they revisited repeatedly is that housing projects they have approved in the past have not yet come to fruition.
"To me, it's more about why are those not happening?" Romero asked. "Because at the end of the day, if they were already in progress, how would this conversation be different? It could be a lot different."
Total crime in city hasn't increased
Harrisonburg Police Department data from 2018 to the present shows that, in total numbers, crime in Harrisonburg hasn't increased. Rather, it has stayed relatively the same, as Chief of Police Kelley Warner told council members at Tuesday's meeting. The most common type of crime in Harrisonburg, by a margin of more than 700 offenses, is property crime.
These statistics were shared at Tuesday's meeting because council members said they had heard increased concerns about crime in the city following a handful of high-profile crimes, including two shootings — one fatal and another that injured eight people — this fall.
Tuesday's conversation also included concerns over domestic violence.
Jones asked whether there are statistics on that, considering the perception that domestic violence increased during the pandemic. Warner said domestic violence is not cataloged as its own crime. Rather, the specific crimes involved are cataloged, such as aggravated assault.
Warner said there are not many specific statistics on domestic violence, especially while most activities were remote due to the COVID-19 pandemic.
"A lot of those crimes go reported because kids go to school," she said, "… so it really wasn't getting reported. I mean, there was a lot of discussion on that. I don't even think that our best scholars could even tell us what really happened during that period of time."
"The information here is pretty superficial," Romero said, when referring to the bar graph that showed total offenses. Warner directed the council to the statistics the police department regularly publishes online.
Housing development approved for northern Harrisonburg 
Northside, LLC, received approval for a special use permit to build a housing development on the north end of Harrisonburg near the intersection of Mount Clinton Pike and North Main Street. The complex would include a total of 177 units, including attached townhomes and apartments, said attorney Quinton Callahan, who spoke on behalf of the developer during Tuesday's public hearing.
The developers aim to attract families.
"This is a project that's about home ownership" Callahan said.
Adam Fletcher, the city's director of community development, said the land was slated to be used for a neighborhood Walmart for a long time, but that project never became official.
"It's been up for conversation for quite some time," he said, when referring to that parcel of land.
While the city development staff did not recommend the council approve this project because it did not provide a high enough housing density, the council unanimously approved this project with the condition that it be built within two years — not the original plan of three years.
Dent said the density and style of this complex would be appropriate.
"I think this is about the right density for where it is and it's a good…combination of some multi-family along the busier streets that would be presumably more affordable and the townhomes…I really liked the layout of the townhomes," she said. "There's some breathing space around them."
Callahan had argued not to "let perfect be the enemy of the good," and Dent agreed.
Reed expressed her enthusiasm as well.
"Again, we want housing," she said.
While making the decision to approve this project, the council members viewed a list of the other housing projects they have approved but have not yet been built.
There was a general consensus that the council wanted to take advantage of what was in front of them. Jones said he remembered a church that was not approved because that land was going to be used for something else, but then the hypothetical alternatives aimed at economic development never happened. He urged the council to "work in our reality" instead of pushing off plans to wait for something better. 

Donation approved for new fencing at Purcell Park 
The Harrisonburg Little League Association is donating about $52,000 to the Department of Parks and Recreation for the construction of new fencing at Purcell Park, as Director of Parks and Recreation Brian Mancini announced at Tuesday's meeting.
Mancini said the project would add fencing to the two baseball fields closest to the skating rink Funky's, closing off the dugouts and creating a barrier along the foul line so that the boundary between the field and the area where parents watch is more clearly defined.
Mancini said the fencing will solve safety issues.
"If I was in the dugout too, the fence doesn't come up high enough so a foul ball from somebody hitting a ball can get into the dugout and hit kids," he said. "It'll correct that issue as well."
---
Journalism is changing, and that's why The Citizen is here. We're independent. We're local. We pay our contributors, and the money you give goes directly to the reporting. No overhead. No printing costs. Just facts, stories and context. We're also a proud member of the Virginia Press Association. Thanks for your support.