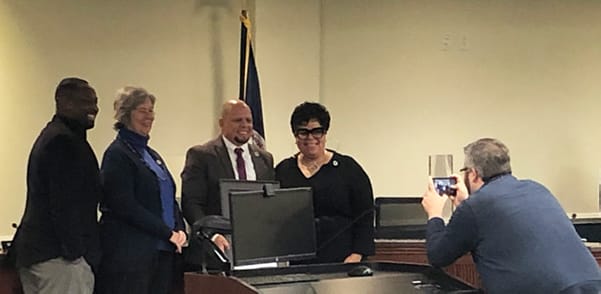 By Rachel Petterson, contributor
After four years on the city council, Vice Mayor Sal Romero stood up from behind the dais upon the adjournment of Tuesday's meeting for the last time as a council member — at least for now.
Romero, who talked passionately at Tuesday's meeting about the importance of public service, had said several times that while this chapter was ending, his civic engagement work would continue.
Serving on city council has been an extension of other ways Romero has been involved in the Shenandoah Valley community.
He immigrated to Broadway from Mexico as a 13-year-old as part of a family supported by the local poultry industry. He graduated from JMU with his master's degree. And he became Harrisonburg's first Latinx city council member.
"I would say that just the sole fact that people were able to see the first Latinx person for this community be elected — that in itself is a big accomplishment, not for me, but for the Latinx community who wanted to see somebody there," Romero said.
His win was all the more poignant because he was the top vote-getter in that 2018 election. "That was significant and that spoke loud," he added.
As his four years on city council came to an end, Romero sat down with The Citizen to take stock of his historic term, which included the challenges of serving during a global pandemic and his path ahead. 

A lot to do in four years
The 2018 version of Harrisonburg — while Romero was running for city council — was a much different place. The community was embroiled in a debate about whether to support a new high school that could cost around $100 million and would likely mean an increase in taxes. And of course, no one had heard of COVID-19.
Romero ran on a platform that emphasized funding the public schools and after-school programs, as well as working to include people across cultures and languages. And he was a strong supporter of building Harrisonburg's second high school. He and Chris Jones, who was running for re-election to the council that year, found themselves aligned on issues during the campaign and they finished 1-2 on Election Day.
The two acknowledged at their final city council meeting together on Dec. 27 that they didn't really know each other well until that race but now consider each other friends.
"Over the years, I have really learned from Chris," Romero said at Tuesday's council meeting, and then turned to Jones. "You're right, we've become friends, and I have really appreciated your counsel on the business perspective."
Along the way, the council approved key pieces of what Romero said he wanted to accomplish.
Rocktown High School is currently under construction.
"The high school will be built here in a year and a half, which was really one of the main reasons I ran," Romero said. "And that was obviously accomplished by not just myself, but the rest of the council."
He also cited several other accomplishments by the council during his term, such as using federal American Rescue Plan Act funding to construct a permanent homeless shelter, a fifth fire station and improvements to city parks.
"There's a large soccer community in Harrisonburg, many of which are made by the Latinx community, and having access to fields and being able to play freely has been a challenge over the years," he said. "For me as a player, as well as a director of the league, and now as a city council member, it's been a challenge so we were able to allocate some funding for that. Also opening a futsal court, the first of its kind in this area–that was a unique thing that we accomplished."
He also cited the repurposing of a basketball court into a futsal court. Futsal is a version of soccer played on a smaller court.
"Around Sampson Park, back in the summer, we opened up a futsal court," he said. "We have lights. And even now in the wintertime, there's still people that go out there and play. So I would say those are some of the most relevant things, in addition to continuing to support community organizations. We increased that over the years that I was on council."
Romero also advocated for the translation services that are now offered at city council meetings, covering English, Spanish and Kurdish.
"If we look back at the pandemic and the communication that was going out into the community, I felt like that was significant. If you look around the state … we were maybe one of a few localities that were actually investing into having messaging in multiple languages, not only in written form, but also in oral form. And so I feel like that is very powerful," Romero said.
People have settled in Harrisonburg from around the world — there are 57 languages spoken at homes of city school students, for instance — which makes the translation services crucial, Romero said.
"I also believe that we need to continue to grow that not only by having the resources available, but by diversifying our staff and by ensuring that we are hiring more and more bilingual, bicultural staff," he added.
In his day job, Romero works for the city schools where he is director of equity and community engagement and works with students of all backgrounds. Beyond English, he said the most common languages are Spanish, Arabic and Kurdish.
"I think that in order for those services to be used more than we have, we're going to have to have greater constituency advocacy," he said. "So when people come to the city council for issues that matter to them, then that's when we're going to need them, but we need somebody to be driving that as well."
Romero said part of connecting people with city services is making sure they're accessible.
Mayor Deanna Reed called Romero the "most caring person that I know."
Reed has known Romero for about a decade, ever since she was a substitute teacher at Spotswood Elementary School where Romero served as an assistant principal. But she said she saw Romero's drive to be a public servant in a new light during the COVID-19 pandemic.
In the early months when the virus was spreading through the community, Romero went to neighborhoods, especially those where English isn't the primary language, to inform people and offer help, Reed said.
"He spent a lot of weekends in neighborhoods where we were passing out information, trying to get people to get tested," Reed told The Citizen. "And he didn't think twice about it. When I said he put his life on the line, he did. And that's who Sal is."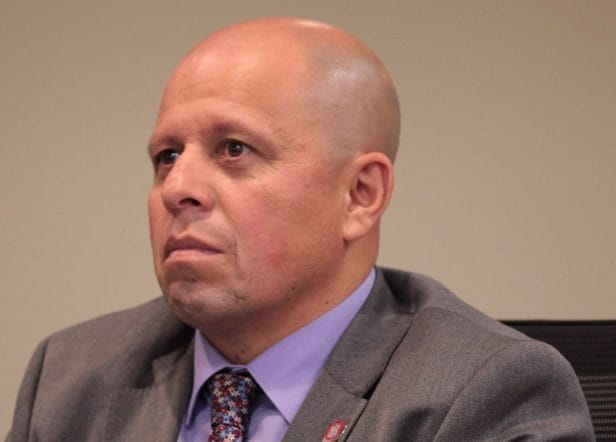 Deepening connections between government and people
Romero said he intends to be involved with city council as an advocate after his term is up, particularly for the Latinx community.
Council member Chris Jones playfully expressed his interest in this at Romero's second-to-last meeting as vice mayor on Dec. 13th.
"I wish you would have ran again. We need you, but it might be kind of fun to have you come to the podium and yell at us," Jones said. "I encourage you to, because we still need your opinion, man."
Romero chuckled at Jones' remark. But he's serious about the underlying point. Romero said he wants to see future city councils actively reflect the community's diversity by seeking broad input.
He said he plans to help "by ensuring that they are reaching out not only to me, but I'm also reaching out to them when it comes down to matters that impact the community broadly, but also specifically to the Latinx community." And he said he envisions not just doing that alone — but as part of a "coalition of people who represent various communities, immigrant communities …"
When constituents bring issues to the city council, it is then the council's job to take that feedback and make a decision. Romero said he takes ownership of each decision he has made during his term.
That's one quality that Romero's colleagues said they most appreciated about him. At the Dec. 13 meeting, council member Laura Dent thanked Romero for using a process that is "very thorough and methodical and conscientious." She went on to thank him for his "overall support and level-headedness."
Romero said he can only think of a couple instances in which he might have gone back and voted a different way, and in those rare instances, he reached out to those affected.
"I went to the people and I said 'Hey, you know, I want to talk with you if it's OK,' and here's why. And not to excuse or explain myself, but just so that that person knew that, if I could go back, I would change it and here's why," he said.
Jones told Romero at the Dec. 13 meeting that he appreciated Romero's approach even when they fell on different sides of a vote.
"Whether we were in agreement or not, everything stayed professional and we did our best to help as many people as possible," Jones said. "I appreciate your willingness to always stand up for people that may not always be present, for folks that are invisible…in certain settings."
Romero said he sought out as much information as possible on every issue that came before the council.
"I felt like I asked the questions I needed to ask," he said. "I informed myself by asking staff and the community and hearing others. And then once I felt like I had all the information together, I had to take ownership of my decision-making and never did I decide on anything because I was told by a particular political group and/or individual: 'Vote this way.' So I feel that I was able to honor my philosophy in saying, 'People would like me to make decisions based on what I believe is best.' And that's what I think I did."
And because it can be daunting for people to reach out to the council — whether due to language barriers or discomfort over speaking at a public meeting or even the time commitment of attending a council meeting — it's important to reinforce the idea that their advocacy is valuable and influential, Romero said.
Romero emphasized communicating with individuals, even over party lines. At Tuesday's city council meeting, Romero recalled an encounter with a constituent who had a very different political philosophy.
"She certainly was a big fan of our former president," said Romero, a Democrat.
The two talked for more than two hours, and while they found little common political ground, by the end Romero said she thanked him for his time and said "if you run again, I'll vote for you."
Romero told The Citizen he is particularly proud of "being accessible to the community, irregardless of party line, always being there for people and all the different individual stories that I could share today, about people feeling heard, people feeling like they mattered."

COVID-19 alters the council's trajectory
The pandemic altered Romero's priorities during a large portion of his term, which started January 2019.
"Anytime you're elected to office, and for me, that was my first time, I came with grand expectations to get some things done. And then before we knew it, the pandemic was here. And so no one planned for this," he said.
Suddenly, priorities had to shift.
"We had to be honest with ourselves and say, 'Well, you know what, those things are very important and we're going to try to keep– to push those things forward, but right now, we have to stabilize our community. We have to ensure that everybody stays safe. We have to inform our community, we have to support them in ways that we need to. So it was more like a sort of attending-to-an-emergency sort of feeling," he said.
In addition to the public health and economic challenges, it was an opportunity for community engagement.
"In the best of scenarios, I wish I would have had four years to focus on the things that I told the community I was gonna work on, plus the things that would come about as a result of engaging with communities on a regular basis," he said.
In the end, it made his term unique.
"I feel like one of the things that I will be able to say is that–if I ever run again– is that no one no one else can tell me what it's like to run a city with other colleagues under a pandemic. I mean, we were challenged in ways that… no others have been in their terms," Romero said.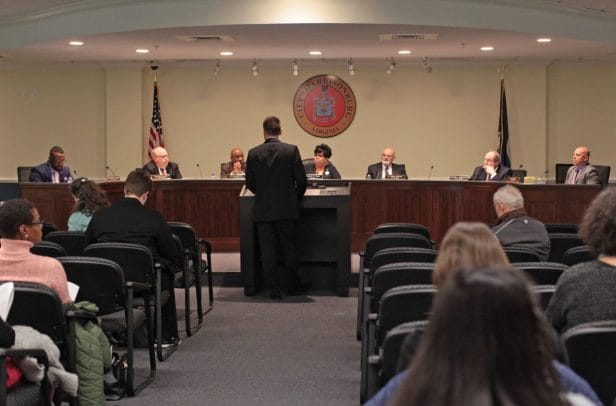 Romero's wish list for future councils
Romero said he expects the next council will continue much of the work this group started, such as addressing inclusivity and homelessness. He also said he hopes for a continued emphasis on public school funding, public safety and emergency personnel staffing.
"I remain concerned about the lack of growth and people who…want to become police officers, but also who want to stay as police officers and not just talking specifically about HPD, but also fire and rescue and other emergency personnel," he said. "I was extremely happy to see at our last council meeting that we had five new officers and that we had eight in the academy which is really, really encouraging. But hopefully this next city council will continue to focus efforts on: How do we continue to do everything that we can to ensure that public safety remains strong and grows?"
He also said he has concerns about community development, including housing developments that the council weighed in on by approving zoning changes. Many of those proposed developments in recent years haven't yet come to fruition.
"I'd like for the council to really be able to dig deeper in and … ask the question, 'Why?' Go to the builders and go to the investors and say 'Why? Like what is keeping you from doing this?' Because I believe that there might be some things that we can do to support that," Romero said.  

What's next for Romero?
As for Romero, in addition to maintaining contact with the city council, he will continue other areas of his professional life.
"I will continue to work with Harrisonburg City Schools. I've been in education for 20 years. And so I don't think that I would trade that for anything," Romero said.
While on council, he has been careful to keep strong boundaries between each element of his career, particularly regarding his career with city schools.
"I feel like that's one thing that I really feel proud about," Romero said. "I was able to keep things very professional, never in any way or form had any conflict of interests. And so, I was very careful. I communicated with people that want to speak about city government business through my personal email or my government email, but not necessarily through my work email. And I really try to keep things separate by ensuring that if I was going to city council business, not always, but for the most part, I would do it before school, after school, you know, and during lunch, things like that."
Jones, at Tuesday's meeting, said he could envision working with Romero in a different capacity in the future because he'd like to see Romero become a school superintendent in Harrisonburg or another Virginia city some day.
Romero's professional life doesn't stop with his job. He is involved with other business endeavors.
"Real estate is a passion of mine as well. So I will continue to build my real estate business. My wife and I have a cleaning services company. We'll continue to work on that," he added.
He also hopes to regain elements of his personal life upon the completion of his term, such as more time with his family — wife Maria Cardosa and daughter Jacqueline and son Daniel — and prioritizing his personal health again, as he did before the intensity of the last four years.
"The biggest reason I decided not to run for re-election is…my two children," Romero said, for instance, cheering at Daniel's soccer games. "I definitely won't miss any of his soccer games this spring like I did [the] last two years. I'll be going to every single one of them."
Romero emphasized the value of family and taking hold of opportunities in his life, and he hopes that other young people do the same.
His own journey has shaped his public service, starting as a 13-year-old when he first immigrated to the U.S. to when he obtained his U.S. citizenship in 2004.
"At 13 coming from another country where I had endured some hardships and different things of that nature with a really supportive family and all, I feel like I was a little more mature than most 13 year olds, having to cross the border without documents," he explained. "And those experiences naturally help you grow as a person."
Romero credits his parents and the support of his family for much of what he has accomplished. They encouraged him to stay in school at 16.
Romero recalled telling his parents: "I don't want to go to school no more and I don't want to be bullied no more. I don't want to be in an environment that no one likes me–at least I felt that way– where I don't fit in, where there's nothing that I like, where I just I don't feel part of. I want to go to work. I want to drop out."
His parents, who worked in the poultry industry, didn't want to see Romero truncate his education. They convinced him to stay and graduate high school.
"I owe them everything I have, you know?" he said.
Romero's parents have remained in the poultry industry.
"And so thank you to poultry work … because my parents were able to give us everything that we needed," he said.
As for what he might tell his 13-year-old self — and others in that stage of life — he offered some universal advice.
"You have to make sure that not only you work hard but that you are able to connect with the people — the right people — who will help you lead [toward opportunities]. Ask questions, be curious. Dream for things to become, but always learn more about the things that you're interested about. So not just–don't wait… to be handed this stuff, but go after it in the little ways that you can. Knowledge is power, you know? One day when you're older, know that everything that you have is because of the things that you've done to accomplish," he said.
Now at 44, Romero acknowledges that there is still much to come, but he has already accomplished so much because he has "been able to take advantage of [his] time."
To young people he says, "think about how you're spending your time. How are you utilizing the time that you have? And what value are you getting from what you're doing?"
— With reporting from the Dec. 27 city council meeting by publisher Ryan Alessi.
---
Journalism is changing, and that's why The Citizen is here. We're independent. We're local. We pay our contributors, and the money you give goes directly to the reporting. No overhead. No printing costs. Just facts, stories and context. We're also a proud member of the Virginia Press Association. Thanks for your support.