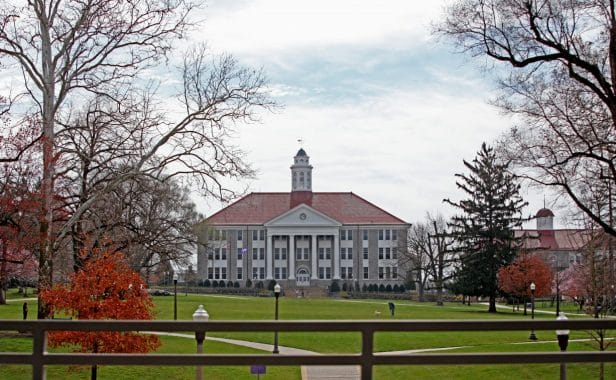 By Gracie Brogowski, contributor
JMU's annual winter session, which gives students the opportunity to take certain courses during winter break over a two- week period, begins Jan. 3. This year, the university decided to increase the number of classes available to the JMU student body.
"…The conversation was surrounding giving students more opportunities to take courses during the winter session that they might not be able to take during the actual regular sessions and in particular, our students who have very prescribed majors gives them an opportunity to take courses outside the major is sometimes inside the major as well," said Associated Vice Provost for Enrollment Quentin Alexander. "And so they also [are] giving students the opportunity who may have during the regular semester not done very well at times, and second, pick up one or two credit for stepping through their grade point average or even to decrease their time to graduation."
Lori Britt, head of JMU's School of Communications, said she believes this is a great opportunity for students who have only one or two credits left for fulfilling their requirements for graduation. 
"I think it can help a lot of students. A lot of students end up with just one credit to go. You know, there might be one credit short or they got a little bit behind a semester they need one or two credits," Britt said. "It's a great chance to do that."
A JMU winter session class can vary between in-person or asynchronous depending on the professor's goals and how the class is set up. According to Alexander, classes can be as short as a few hours or as long as a full day.
"It depends on the class and the format of the class. So like I said, there's a certain number of hours that are required for per credit hour. So that varies depending on one the format of the class," Alexander said.
He also explained how this is a great opportunity for students who come in undecided to see if any of these classes spark their interest and help them choose a major.
"I think the main influence factor would be that we look at what our students are interested in that they may want to take, maybe not a full course in in terms of three credit hours, or maybe we'll take one credit hour to see if they're really interested in and that may lead them to take a three credit hour course the following semester or even change their major to that particular topic," Alexander said.
The session offers classes within multiple subjects such as health science, biology, marketing and music. Alexander explained that each department agreed to the idea of increasing course opportunities and some departments — like the psychology department — chose to offer classes for the first time.
"[The departments] saw the advantage of it for their students … for example, if there is a major course that students can't get in during the regular session, they may go in during this session to get into it or to take care of just additional credit," Alexander said.
The communications department participated in this by offering the gen ed course as well as interdisciplinary classes that many students find interesting.
"We have romantic initiation skills, romantic maintenance skills, and a lot of people like to take those back to back … We have a course called the mobilization of hate. And we have a course on personal branding, and then another class on new media and health communication, which is a really interesting topic," Britt said.
After the additional courses became available, Alexander saw an increase in enrollment. He says this is an opportunity for students to explore different subjects that they might not be able to in the regular school year due to the required classes they take.
"I will say with the increase of the course offerings, the number of students taking classes has increased as well and particularly because of the diversity of the courses that are being offered students who might not otherwise get to take those courses during the regular session," Alexander said. "…they may have very prescribed or heavy schedules, [so] the opportunity to take these courses during a winter session and explore other areas of interest that may not be related to the major so the normal students taking courses has increased which is good for the university is good for the students as well."
Britt also noticed a major shift in enrollment for the communications department. She says having more students in a class makes it more engaging for everyone. For example, Britt said one of the winter session classes will consist of 15 students which will factor in "a really rich discussion of those topics."
"Well, I always think that classes are more engaging for students if there's more students in them and it's really hard for an instructor to bring that full energy when they only get three to four students in a class," she said.
Having an increase in JMU winter session classes has offered multiple opportunities for students who need the extra credit or have a specific interest in a subject outside of their major. The university believes this will help students expand their knowledge on other subjects as well as help them get one step closer to graduating.
---
Journalism is changing, and that's why The Citizen is here. We're independent. We're local. We pay our contributors, and the money you give goes directly to the reporting. No overhead. No printing costs. Just facts, stories and context. We're also a proud member of the Virginia Press Association. Thanks for your support.