By Rachel Petterson, contributor
An organization running group homes for recovering addicts has technically violated Harrisonburg's zoning ordinances for the last several years, but the city council hasn't figured out yet how to fix the issue.
Tuesday, after extensive debate during the meeting's public hearing on the issue, the council is asking city staff to investigate potential solutions that would protect neighborhoods (as zoning ordinances usually are aimed at doing) while also helping those recovering from substance abuse — all while not violating federal fair housing rules.
Oxford House, Inc. — a Silver Spring, Maryland-based organization that provides group housing to individuals recovering from drug and alcohol addiction — uses three single-family dwellings in Harrisonburg as group homes. All three violate the city's zoning ordinances by housing more people than permitted in a single-family dwelling.
The council did not come to an agreement on how to address this problem while balancing all involved factors, which include the federal Fair Housing Act, which requires "reasonable accommodation" to be provided for those with disabilities, such as those recovering from addiction.
Oxford House, Inc., describes itself on its website, as an "umbrella organization" that provides a network for the operation of group homes. Each Oxford House is "a democratically run, self-supporting and drug free home," according to the site.
The houses can have between six and 15 people, and as the organization's website says, "there are houses for men, houses for women, and houses which accept women with children." Having started in 1975, it runs more than "2,000 houses in the United States today."
City officials first learned about two of the group recovery homes in 2019, and the staff mailed notices of violation to the property owners in 2020. The third one came to officials' attention in May 2022 after a complaint. And the city again issued violation notices to all three property owners in June 2022. The city also sent copies to Oxford House, Inc., in July.
Stephen G. Polin, Oxford House's general counsel, requested in a letter to the city that Oxford House be treated like single-family homes with the residents functioning as the family, citing the need for reasonable accommodation under the Fair Housing Act. From this arose multiple layers of complexity due to the nature of an Oxford House's set-up, as well as technicalities of the law and the fact that these houses are already in operation despite violating the city's zoning ordinance.
The council voted 4-0 to refer the issue back to city staff. Vice Mayor Laura Dent was not present because of illness, so the vote did not include her.
When sending back to staff, Jones said he was skeptical of Oxford House, Inc., and whether the organization is aiming for profit over rehabilitation. He said he also wants to know who the organization's lobbyist is.
"You're working with folks that have coerced the state to put us in a position to allow them a way to work around us," Jones said. "And so I would want to see the most aggressive way to hold those folks accountable because they're literally not being accountable for the residents that are inside the home."
Jones said he wants the staff to prioritize city residents in any recommendations.
"The best we can do is just be as aggressive as possible when it comes to protecting the neighborhoods in the city. So whatever that looks like, do that," he told city staff.
Mayor Deanna Reed said the staff also should consider what's best for those who are staying in the group homes.
"For us as Harrisonburg, we are concerned about the people who are living in those facilities as well. That's who we are as a community."
She and council member Dany Fleming said they want to know how other localities with these kinds of facilities, including Oxford Houses, are handling this situation. Fleming said that according to the Department of Behavioral Health, Virginia has 160 of this type of group home.
Other Matters from Tuesday's Meeting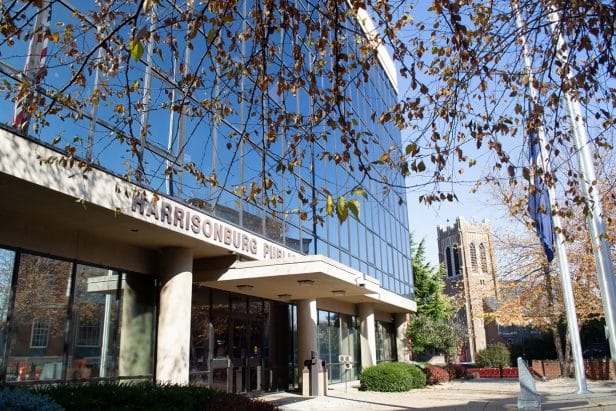 The council unanimously approved spending nearly $990,000 saved from vacancies at the police department to build a fence around the city's Public Safety building. The fence is aimed at protecting employees, especially as they enter and exit their vehicles late at night and early in the morning in the parking lot behind the building. Council member Jones and Mayor Reed said it's unusual that Harrisonburg doesn't have such a physical barrier there.

Council members encouraged community members to attend Martin Luther King Jr. Day events this weekend:

Jones said his brother, Pastor Benson Jones, will be speaking at a community worship service at 3 p.m. Sunday at Emmanuel Mennonite Church and a Martin Luther King Jr. Day Convocation at 10:10 a.m. Monday at EMU.
Council member Monica Robinson mentioned the Arc of Harrisonburg and Rockingham's Martin Luther King Jr. Day event, which will be held from 1-4 p.m. on Jan. 16 at the Lucy F. Simms Continuing Education Center's parking lot at 620 Simms Avenue. The event will include food boxes for anyone who needs it. 
The Martin Luther King Jr. Way Coalition will have an online celebration at noon Monday.
Also on Monday, JMU will have a guest speaker, Dr. Lerone A. Martin, who will give remarks at 6 p.m. Jan. 16 in Wilson Hall with a reception afterward.
In addition, Bridgewater College will also have a Martin Luther King Jr. Day speaker, Rev. Dr. William J. Barber II, at 7:30 p.m. Wednesday in Cole Hall.
---
Journalism is changing, and that's why The Citizen is here. We're independent. We're local. We pay our contributors, and the money you give goes directly to the reporting. No overhead. No printing costs. Just facts, stories and context. We're also a proud member of the Virginia Press Association. Thanks for your support.