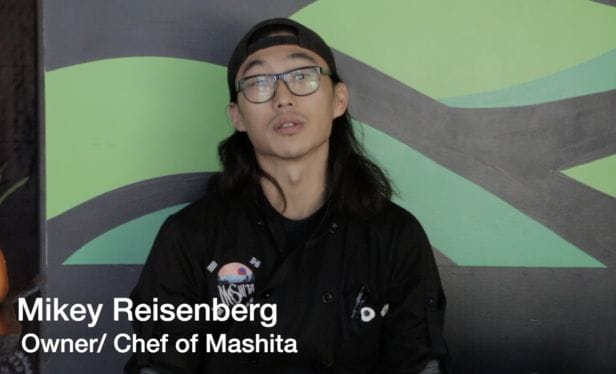 Article and video by Kevin Gorman, contributor
While running a local restaurant has never been easy, the last few years have tested Harrisonburg's restaurants — with a pandemic that kept people out of their dining rooms followed by difficulties in finding and keeping employees and then rising food costs.
As a result, some restaurants have been encouraging patrons to eat in, rather than take out. 
Mikey Reisenberg, who founded Mashita with its Korean-inspired cuisine, took that messaging to the next level last fall when he posted on Facebook how people can best help the business and others like it. 
And he talked with The Citizen about how that decision came about and why dining in a restaurant isn't just better for a small business but for the environment as well:
Eric Terry, president of the Virginia Restaurant, Lodging and Travel Association, said restaurants across Virginia might seem like they're bringing in more money after raising prices, but that revenue is just offsetting higher expenses.
"The increased costs of labor, food and other materials for things like to-go orders have really reduced the profitability of the business," Terry said. "There is also significant costs to the restaurant for the delivery companies that most consumers want to use."
Specifically, costs of single-use plastic containers are costly financially and environmentally. Inflation of other materials and the desire to pay better wages also fuel costs in restaurants.
Reisenberg said he sent the Facebook message not to complain but to inform. Here's his post: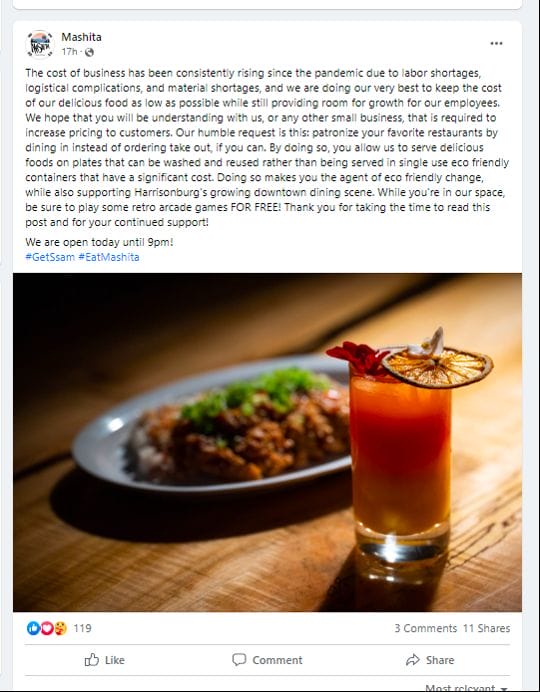 Kirsten Moore, owner of Magpie's Diner, said the community rallied behind restaurants during the weeks and months of lockdown in the early part of the COVID-19 pandemic.
"But now things are different," she said.
Restaurants like Magpie, Mashita and Mr. J's Bagels & Deli have used more eco-friendly or compostable take-out containers.
But Moore said each box "costs us anywhere from 25-50 cents. Plus more for the silverware, napkin, sauce containers, and the bag, everything goes in and it adds up quickly."
And like Reisenberg, Moore said tipping for take-out is still rare, so not tipping takes money from the pockets of the kitchen and wait staffs.
"Aside from all of that, every chef's food tastes better at the table it's meant to be eaten at, not after it's been driven across town and reheated," Moore said. "Dine-in is so much better for the workers, the business, the craft, and the environment."
---
Journalism is changing, and that's why The Citizen is here. We're independent. We're local. We pay our contributors, and the money you give goes directly to the reporting. No overhead. No printing costs. Just facts, stories and context. We're also a proud member of the Virginia Press Association. Thanks for your support.