By Daniel Robinson, contributor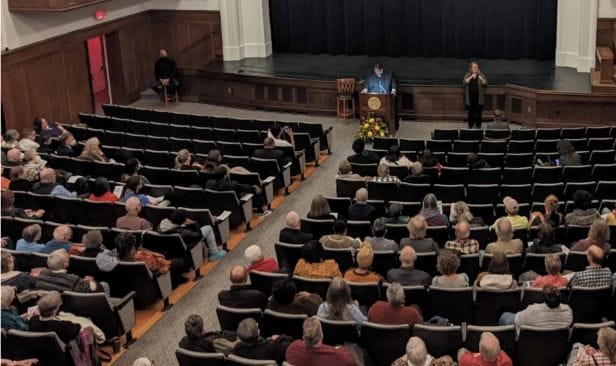 Minister, activist and author Rev. William Barber II urged the crowd at Bridgewater College's Cole Hall auditorium on Wednesday to pick up where Martin Luther King Jr. left off by protesting injustices. That, he said, is how to honor King's legacy.
"Dr. King was not killed because of his accomplishments, he was killed because he was not satisfied," Barber said.
Throughout the evening, Barber returned to the theme of satisfaction.
"We, as a people, are too satisfied with other people's suffering," he said.
In his speech, which he often punctuated with a fiery tone, Barber offered facts and statistics about the devastating human toll of poverty.
He sometimes called out specific governmental policies, politicians and corporations that have neglected or, in his view, intentionally targeted marginalized people for exploitation. Among them were West Virginia's Democratic U.S. Sen. Joe Manchin and Dominion Energy, both in relation to supporting pipeline projects affecting Virginia. Barber's remarks received applause from the audience.
Barber, delivering the speech in honor of Martin Luther King Jr. Day on Monday, pastored Greenleaf Christian Church in Goldsboro, North Carolina, for 30 years before stepping away this year to become director of Center for Public Theology & Public Policy at Yale Divinity School. Barber has been involved in political activism since his youth, including holding leadership roles in the NAACP.
Barber gained national recognition when, in 2013, he coordinated demonstrations called "Moral Monday" at North Carolina's Capitol building in Raleigh, protesting certain policies of then Gov. Pat McCrory, a Republican.
In 2017, Barber co-founded the Poor People's Campaign: A National Call for a Moral Revival, building on the original Poor People's Campaign which was founded in 1968 by Dr. Martin Luther King Jr. The following year, Barber was awarded the MacArthur Fellowship, commonly known as the "Genius Grant."
At one point during Wednesday's speech, Barber asked members of the audience to stand up and come to the front of the auditorium and stand with him. Barber drew on a passage from Psalm 118, verse 22: The stone the builders rejected has become the cornerstone.
He used that to make an argument for society to care for those who are on the margins.
"If you have been rejected because you're poor, come stand with me. If you've been rejected because you are a woman, come stand with me," he called the audience.
Barber closed the evening with a specific call to action.
"We need a coordinating committee for the Poor People's Campaign here in Virginia," he said.
The Poor People's Campaign uses non-violent civil disobedience to advocate for issues such as protecting voting rights, increasing the minimum wage, promoting educational equality and reducing mass incarceration.
He specifically appealed to the students and young people in the audience to get involved in the Poor People's Campaign.
"We don't have a 'youth committee' in the Poor People's Campaign. If you're involved, you're in," he said.
Throughout the evening, Barber spoke repeatedly of nonviolent action and the pursuit of righteousness.
"We have a moral commitment to stand against injustice," he said.
---
Journalism is changing, and that's why The Citizen is here. We're independent. We're local. We pay our contributors, and the money you give goes directly to the reporting. No overhead. No printing costs. Just facts, stories and context. We're also a proud member of the Virginia Press Association. Thanks for your support.