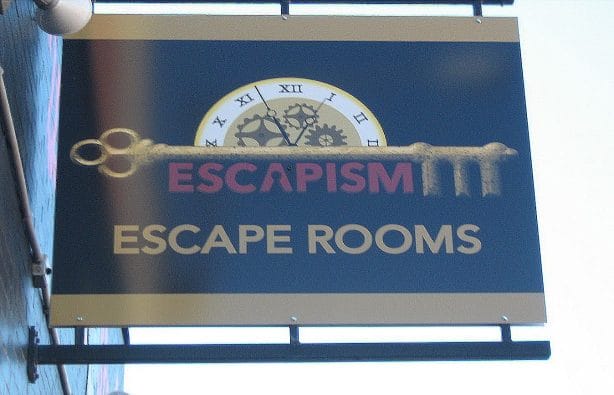 By Stephanie Spernak, contributor
It's winter. Let's play some indoor games.
Sam Lambert and Suzanne Dupuis opened the Escapism Escape Rooms in downtown Harrisonburg on Water Street in June. They are live escape room enthusiasts, who have played about 25 escape rooms throughout Virginia and other states. And they were inspired to take the entrepreneurial leap and open their own escape room game venue after playing the Escapology Escape Rooms in Fairfax, Virginia.
The live escape room concept is a team-based, physical activity with cleverly concealed clues that must be found to solve a variety of puzzles under time pressure, typically 60 minutes.
The choice of scary and threatening themes for most of these game rooms provides a psychological motive to solve the puzzles. Another feature, locking the players in the game room, also adds to the suspense. Dupuis, Lambert's fiancée, said the couple enjoy solving puzzles of many kinds, particularly the kind of critical thinking and "out-of-the-box" puzzles showcased in live escape room games.
Dupuis and Lambert met when their children were young and participating in the Destination Imagination program, Dupuis said. Destination Imagination is an educational non-profit organization that teaches students from pre-K to university the importance and fun of "creative and collaborative problem-solving skills." Lambert served as a volunteer instructor at the Harrisonburg chapter of Destination Imagination at the time.
A Harrisonburg native, Lambert graduated from Turner Ashby High School in 1994, trained as a nuclear mechanical engineer in the U.S. Navy, and was stationed on the Nimitz-class USS Carl Vinson CVN-70, one of the Navy's ten nuclear-powered aircraft carriers.
Dupuis, meanwhile, grew up in Florida and New Hampshire and came to Harrisonburg to attend James Madison University.
Lambert said he would keep his day job as the sales manager of Blue Ridge Power Sports on Heritage Drive in Harrisonburg work at Escapism during evenings and weekends. Dupuis said she wanted to try something new after working for several years as an administrator in the Rockingham County Public Schools.
Harrisonburg has had one other live escape room venue, but it was a casualty of the COVID-19 pandemic.  The House of Clues, opened in 2017 in the Shannon Hill Office Park off E. Market Street, and closed permanently in March 2020. 
Creating Escapism
Live escape room games have been a trend in experiential entertainment for families, friends, and team building events since the first one opened in San Francisco in 2012. Today, there are about 1,900 escape room game venues in the U.S. and about 5,000 globally, according to data from the site Room Escape Artist. Virginia has 52 venues with 125 live escape rooms. 
When they began planning Escapism in 2021, Lambert and Dupuis planned to build four escape rooms. They worked together to select a theme, storyline, and objective for each room. And they will create all the clues and puzzles for each.
Each room must provide a realistic and believable environment that matches the theme. This involves choosing paint, furniture, artwork, tools, and decorations. Dupuis said they find props and other artifacts for the rooms in thrift stores, on Amazon or specialty stores from around the world. Some props she makes herself.
The clues are most often letters or numbers "cleverly concealed" around the room and used to open locks that lead to more clues as the players work through the room. All the while, the timer ticks.
Lambert said he uses his mechanical engineering skills to visualize and then build locks and puzzles for the room. For example, Lambert said he may design a lock that requires a certain combination of numbers, which can be found somewhere in the room.
For instance, if players need a five-digit code to open a lock, they might notice five playing cards with the necessary five numbers arranged on a side table.
Other common puzzles that provide clues include riddles, codes and ciphers. Some puzzles require simple mathematical operations or use of facts with which most people are familiar — such as the date of Halloween.
A riddle puzzle might work this way: The man who built it doesn't want it, the man who bought it doesn't need it, the man who needs it doesn't know it. What is it?
In the room might be a coffin — the riddle's answer — with a lock that needs a code to open it. When the coffin is opened, there might be another puzzle or clue inside. This is how puzzles are set up to "flow" through the game room.
Lambert said he most enjoys creating radio frequency identification (RFID) based puzzles. RFIDs include two parts, a "tag" that is programmed with a digital code transmitted by small antenna in the tag. The "reader" device receives the transmitted code. One or more objects in the room can be tagged and a placed near an object with a "reader" that receives the transmission from the tag.
If the reader is placed on an object like a locked box somewhere in the room, the box receives the transmission from the tagged object (which usually must be placed in a certain location or arranged in a particular order with other tagged objects) opens and contains a clue to another puzzle.
"There is no limit to what you can do with these RFID puzzles. They allow you to be very creative," Lambert said.
While Escapism incorporates some technology in the room design, other venues have no physical game elements and offer completely virtual options. For instance, Massanutten Resort, about 15 miles east of Harrisonburg, features both live and virtual reality escape room games.
Lambert said Escapism will remain a fully live venue and not offer video or virtual reality escape room games.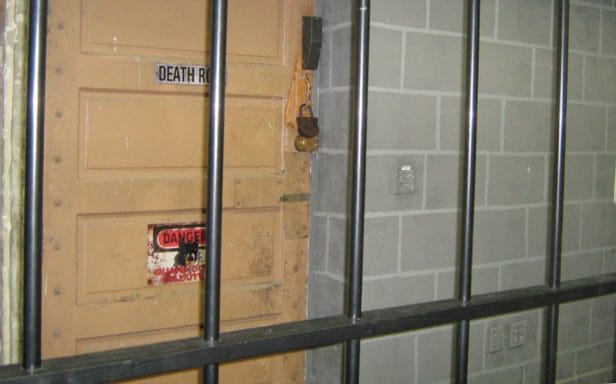 Suspending disbelief
Room themes, storylines and objectives are an essential part of the escape room's immersive experience. In a live escape room, players see, hear, handle — and even smell — the room's objects.
Although searching for the clues and solving the puzzles together is great fun for the team, Lambert said he thinks the main draw of live escape room games is the immersive experience.
Like theatregoers, some players will have a greater ability to "suspend their disbelief," which can enhance their immersive gaming experience. This phenomenon raises a paradox about escape room games. Immersive enjoyment requires suppression of critical thinking, but these skills must be "turned back on" to solve the puzzles.      
While different themes have been adopted by live escape rooms, a recent survey of escape room owners showed the four most popular themes are solving mysteries, engaging in a happy fantasy world, working out science/laboratory tasks and surviving an encounter with horror or the supernatural.  
Lambert and Dupuis both serve as "gamemasters" at Escapism. The gamemaster monitors the safety and progress of every team via audio and video equipment. Although some live escape room venues may make a show of "locking" the players in the rooms to enhance the experience, Lambert said no one is ever trapped in an escape room. He does not lock his rooms. Lambert said all guests must view a safety video before entering the rooms.
When the team assembles in the room, the gamemasters immediately turn on the timer. Lambert says team members must communicate and cooperate to succeed. And many team members bond with each other over the challenge.
Lambert encourages all teams to ask for "hints" if they get stuck. If the gamemasters observe that a team's progress through the puzzles has stalled, they might drop a hint so the team can move on. But he said teams still must solve the puzzles. The hints just move them back on track.
Lambert said he has seen some groups stymied when someone in the group "hoards clues" so they can be the one that solves the puzzles. He said when it comes to solving the rooms, the more heads the better.
(Here is a video of how other escape room owners created a "Game of Thrones Escape Room" a video showing how a team solved this room.)  
"The Shot Caller"
Lambert and Dupuis completed their first room at Escapism in about three months. They called it the "Shot Caller," based on the 2017 prison film of the same name. 
Like many escape rooms, "Shot Caller" is based on a prison escape theme. The storyline is that the team are inmates helping each other to escape. Lambert said the teams are shown a brief video about the story before they enter the room and speakers are placed in the room to deliver music and sounds related to the story.
Lambert said they chose this theme for their first room "because we were new to monitoring / running an escape room. With everything we had in place, this seemed like the easiest room "for us to get our feet wet."
Lambert said that only about 30% of the groups will solve the puzzles in the "Shot Caller" room before the 60 minutes elapses, a percentage similar for many escape rooms in the industry.  Lambert said "The Shot Caller" room has a "difficulty rating" of four out of a possible five stars.
Landing on the Leader Board
Marc Lonett and his wife Carson are also escape room enthusiasts, having visited 19 escape rooms in four states. They look for nearby escape rooms when on vacation, he said.
"We took our kids when there were only 6 and 4 years old to their first escape room in Virginia Beach, and our oldest keeps asking when she can do another room with us," Lonett said.
Lonett runs the Sports Buddies program at the Harrisonburg chapter of the national Big Brothers Big Sisters non-profit, youth mentoring organization. Carson Lonett is the special assistant to the vice president for student affairs at JMU.
When the Lonetts saw a sign that Escapism was coming to Harrisonburg, Lonett said they made a reservation to go, along with a friend, the first week it opened in June.
The three Lonett team members not only solved the puzzles and escaped the "Shot Caller" room in less than 60 minutes, but their time to escape was 34:03. This was a record time for the Shot Caller room and earned them a place on the Leader Board, which they still hold.
Lambert said the current record time on the top of the "Shot Caller" leader board is 14 minutes and two seconds, but that time was recorded on the team's second time through.
Lonett said his group asked the game masters for two hints.
"Sometimes your group will trap themselves in a corner and can miss the most obvious of clues," he said. "Other times, the rooms can be tricky, and people don't want to ask for a clue."
He said the hardest part is often overthinking.
"Escape rooms are set up for the average group to be able to solve, you don't need any outside information to be able to solve the puzzles," he said. "So don't feel like you need to master complex calculus or know how to solve a Rubik's Cube to be able to get out."
He also said the group's composition makes a difference.
"You need the person who will run around trying to find all the clues, and others who will read all the clues and analyze them, people who you can bounce ideas off, and brainstorm out loud," he said.
The group may also need the "calm-headed person who can keep the group together, rather than arguing, and lead the group to success," he said.
Lonett said he and his wife usually go with a group between three and eight people, although he and his wife have done several escape rooms, just the two of them, "for our date nights."
"Three Nights of Terror"
Psychologists have long been fascinated by the concept of "recreational fear," which refers to those who willingly seek out frightening entertainment. Many of the most popular live escape rooms are based on frightening themes and story lines. A few can even be terrifying to some people, such as the Las Vegas Blair Witch escape room, which is based on the 1999 horror film.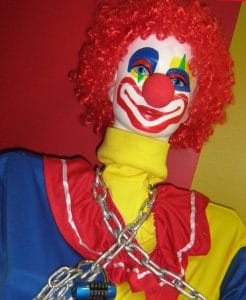 Some of the most ancient and popular forms of entertainment world-wide involve frightening and even terrifying situations and events. But unlike sitting in a movie theatre, or comfortably at home watching Netflix, or reading a Stephen King thriller safely in bed, live escape rooms may be able to elicit greater fear, and fun, because of their physical reality and immersive qualities.
Some scientists believe that the emotional processing in the amygdala of the brain takes place almost spontaneously when perceiving a "threat." That triggers powerful excitatory chemicals and hormones that flow through organs and muscles to prepare for the "fight or flight" response.  
One website advertises its escape room games this way: "If you're looking for a heart-pounding, adrenaline-pumping thrill, look no further than these horror escape games in the US."
Lambert said a second escape room — actually three connected rooms — called "Three Nights of Terror," opened briefly along with the "Shot Caller" room when Escapism first started in June. "Three Nights" was closed soon after to undergo installation of a sprinkling system.
Lambert said that safety work will be completed soon, and "Three Nights" will reopen later this spring, along with Escapism's other new rooms, "Breathe!!!" and "Toxic Attack."
As planned, the "Three Nights" room kicks up the fear quotient. Of the four rooms at Escapism, Lambert rates "Three Nights" as the most difficult. The time limit to escape is 90 minutes instead of the typical 60 minutes allowed for the other room because there are three-connected rooms full of clues and puzzles to solve. "Shot Caller," "Breathe!!!," and "Toxic Attack" rooms are each two rooms.
To ratchet up the fear factor, "Three Nights" includes clowns. Clowns inspire a strong, irrational fear amounting to panic in some people, and diagnosed as coulrophobia and certain clowns like "Pennywise" in Stephen King's "It," have become synonymous with fright. Indeed, a 2016 poll even found that Americans were more afraid of clowns than of climate change, a terrorist attack or even dying."  
But, in this case, it's all in the spirit of increasing the fun.
Margee Kerr, a staff sociologist at a Pittsburgh-based haunted house called "Scare House" and an instructor at Robert Morris University and Chatham University, explained why fear is fun in an interview with The Atlantic about her work. 
Kerr told The Atlantic that, "to really enjoy a scary situation, we have to know we're in a safe environment. It's all about triggering the amazing fight-or-flight response to experience the flood of adrenaline, endorphins, and dopamine, but in a completely safe space."
She told the magazine that she sees it happen all the time when she works with haunted houses as people "leap into the air in shock and fear at a well-timed scare but then burst into laughter at their own reaction."
Dupuis said she and Lambert often see similar reactions at Escapism.
"Teams come out of the rooms laughing together, sharing what they thought was scary or clever and saying how much fun they had," Dupuis said. "For us, it's gratifying to know that our customers are enjoying the escape room experiences we created."
---
Journalism is changing, and that's why The Citizen is here. We're independent. We're local. We pay our contributors, and the money you give goes directly to the reporting. No overhead. No printing costs. Just facts, stories and context. We're also a proud member of the Virginia Press Association. Thanks for your support.