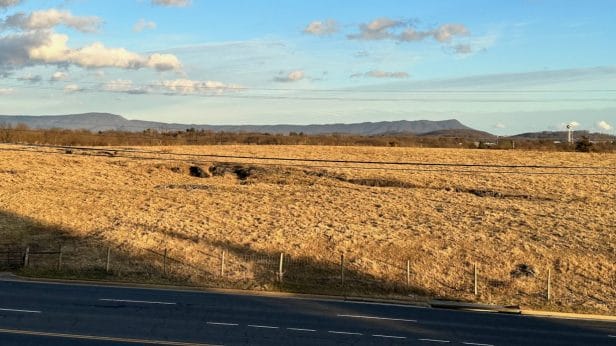 A contributed perspectives piece by the Climate Action Alliance of the Valley (CAAV)
Editor's Note: This is the latest installment of a regular series of contributed news roundups about statewide environmental and news. This piece highlights, with links to further coverage in various media outlets, recent environmental news stories of significance to Virginia, with a focus on energy and the environment.
Energy
The Nature Conservancy [TNC] reported that the current General Assembly session, happening from January 11 to February 25, … will consider nearly 3,000 pieces of legislation, [indicating TNC will be] weighing in on a select group of impactful policies. These include bills on Energy and Climate and Virginia's Lands and Waters. "Electric utility rate reform [is] back on [the] General Assembly agenda, [with reformers filing a] bill to increase regulatory power, [and] Dominion …backing a] bill offering sweeping changes to the system."… [The] "two competing electric rate reform bills, with one focused on giving state regulators greater power to lower rates and the other offering a broader overhaul of the state system backed by utilities", are getting a lot of attention. A blogger said "Dominion wants to rewrite its own rules again ", arguing the latter more complex bill "will raise costs to customers." At least theoretically, both bills "call for more oversight of power bills."
"As Virginia lawmakers negotiate proposals to reform the laws regulating the state's two largest electric utilities, a separate [bipartisan] push is being made to reinvigorate a commission intended to allow more in-depth consideration of such issues outside the legislative session. Senate Bill 1166 … and House Bill 2275 … would outline a greater role for the Commission on Electric Utility Regulation, or CEUR, in reviewing the state's energy policy.… [T]he Virginia State Corporation Commission [SCC] oversees utility regulation in the commonwealth; the CEUR, established in 2008 and composed of lawmakers, is charged with overseeing how the SCC implements the laws governing Dominion Energy and Appalachian Power Company."
The 2023 General Assembly session will end on February 25. A Virginia energy commentator thinks there are several bills that "could bring more clean energy to your community", also noting that local governments are working along these lines as well. She references several bills addressing "solar schools, climate resiliency, [and] energy efficiency." (There is also a bill to "allow Appalachian Power customers to purchase solar energy from third parties. ") Nonetheless, she points out, "Attacks on Virginia's climate laws are front and center at the General Assembly." Two of these relate to Virginia's participation in the Regional Greenhouse Gas Initiative (RGGI) and the state's clean cars standards. To date, efforts to kill or weaken both laws have failed in the Virginia Senate. A Democratic State Senator penned this opinion piece in support of Virginia's continued participation in RGGI. A Norfolk engineer supported the Governor's efforts to withdraw the state from RGGI.
Delegate Wilt's bill to repeal the clean cards standards passed 52 – 48 in the House of Delegates. Enacted in 2021, Virginia's standards tie "Virginia to California vehicle emissions standards that are set to ban the sale of new gas-powered cars in 2035." Under the Clean Air Act, Virginia has "two choices on vehicle emissions regulation" in setting standards. "California was granted an exception to set its own standards … [and] over a dozen other states have" followed California's lead, enacting standards more stringent than federal requirements. Virginia could have elected to follow the less stringent federal standards when it decided to establish standards. Wilt believes "the California standards place burdensome cost demands on Virginians and [that] the 2035 target is unrealistic. [He also argues that] EVs will also put a strain on the grid." Democrats counter that "Virginia's adoption of the Clean Cars standard positions it as a leader in the 'acceleration' toward electric vehicles [and that] passing Wilt's bill sends a message that the state doesn't want to lead 'or, worse yet, can't compete…. Wilt's bill faces a rocky road in the Senate, where Democrats have killed several Republican bills aimed at the same goal." A Senate sub-committee previously declined to pass comparable legislation, along party lines, but the full Senate will vote on the House bill following crossover on February 7.
"State regulators … approved a plan by Roanoke Gas Co. to convert biogas from a sewage treatment plant into natural gas for distribution to customers in the region.… The State Corporation Commission found that the joint project with the Western Virginia Water Authority is in the public interest." The company considers this to be "a renewable natural gas project."
"Energy Right, a Virginia-based non-profit that brings a conservative perspective to clean energy conversation" noted that —
"The commonwealth's energy policies are the point of frequent contention, but not all Virginians are toeing the historical party lines on clean energy policy. Clean energy is not the political wedge issue that it once was, and for good reason: this old dichotomy misses what Virginians actually care about. In addition to getting policy right in the eyes of Virginians, our leaders would be well served to first consider the proper role of government, if any, in energy decisions at the local level."
Nuclear energy and nuclear waste made headlines recently:
"[W]hat we know about nuclear waste disposal in Virginia."
"Small modular reactors are not going to save the day."
"Youngkin's nuclear initiative would make Virginia an energy innovator."
"Dominion Energy plans to deploy small modular nuclear reactors statewide by 2032."
"25 questions about small nuclear reactors."
"First small modular reactor gets certification from Nuclear Regulatory Commission."
"Game over for the Mountain Valley Pipeline"? A commentator believes "The Mountain Valley Pipeline is down $6 billion with seconds on the clock in overtime. Even casual viewers can see that the game is over. MVP has lost. Gamblers should cut their losses while they still can." "A long-running legal dispute over a corporate venture's authority to seize private property for a natural gas pipeline [MVP] has reached the U.S. Supreme Court, where landowners see signs of hope." A FERC attorney believes that a "company that monitors environmental compliance by the [MVP] has a relatively small but continuing conflict of interest caused by its work on separate projects by developers of the controversial pipeline…." "Environmental groups asked the Fourth Circuit during oral arguments Tuesday to toss a key water permit for the [MVP], which would lead to even more delays for the $6.2 billion project that developers aim to resume constructing this summer."
Arlington County announced all of its facilities are now powered by renewable energy, "two years ahead of schedule. As part of the Community Energy Plan adopted in 2019, Arlington County committed to transitioning 100% of county operations to renewable sources by 2025." In other recent solar news, various Virginia localities have rejected proposals for large-scale solar farms or adopted policies limiting them: Isle of Wight County, Mecklenburg County, Culpeper County, Halifax Town, and Patrick County,
Climate and Environment
"The Virginia Climate Center is expected to launch in late January… [and] will work with local communities across the state, listening to what they need and providing information to help them develop strategies to manage their risks from a warming climate…. 'It's entirely a community-oriented organization. Almost an extension service like many states have for agriculture. It's modeled in very much the same way: combining research that is going on inside the university with real-life problems going on outside of the university.' The VCC team was awarded a 2-year, $2 million grant from NOAA to develop the pilot project."
Meanwhile, "Virginia Tech experts have been studying extreme weather patterns and have some predictions for 2023 and beyond. The U.S. experienced 18 natural disasters related to weather and climate in 2022 that exceeded $1 billion dollars in damage and loss…. '[T]he general expectation looking forward to 2023 and years beyond is for a continuation of an upward trend in high-dollar disasters stemming from weather and climate events….' [E]arly predictions suggest this year will be the hottest on record."
"The Virginia Department of Conservation and Recreation … [awarded] $51,757,388 in supplemental awards from the Virginia Community Flood Preparedness Fund. These newly funded [22] projects will expand flood prevention and protection projects including mitigation, capacity building, planning and studies throughout Virginia. Charlottesville was one of the grant recipients.
The "Environmental Protection Agency and the Department of the Army announced … the final revised definition of Waters of the United States." The new definition serves as a … reset of the [prior] Administration's … rollback of longstanding clean water protections…. With the new definition, limits are established 'that appropriately draw the boundary of waters subject to Federal protection.' And the new definition notes that this does not mean activity cannot take place in Waters of the United States. It means the activity must not violate the Clean Water Act."
The "Chesapeake Bay [is] still in poor health, [with] blue crabs suffering, says [the most recent] State of the Bay report." The report gave the Bay a D+ rating. "The effort to restore the Chesapeake Bay has made little overall progress the past two years, with improvements in some categories offset by stagnation or deterioration in others" according to the Chesapeake Bay Foundation. Its "dredge survey results found the lowest number of blue crabs in the survey's 33-year history." A recent study reported on the considerable economic benefits Virginia's seafood industry provides the state. Two legislators would like to see a Virginia blue catfish industry that might help protect the Bay. A local farmer and blogger touted the benefits for farmers and the Bay of the "Alliance for the Chesapeake Bay … program that helped [farmers to be more efficient] and safer… with conservation vouchers. It's called the Healthy Streams Farm Stewardship program."
Tangier Island residents hope new oyster reefs will help in its challenges from rising waters. "Two potential projects would deploy oysters, one of the cornerstones of the island's seafood-based economy, as protection against land-devouring waves and storm surge. Both are in the early stages of development." Artificial habitats inland may help Smith Mountain Lake's fish population.
Bristol Virginia's landfill woes continue. The "New mayor, vice-mayor set landfill as top priority." A judge granted its request for mediation in a lawsuit filed by sister city Bristol Tennessee. A citizen group is seeking "air monitoring" for the landfill. A local group is fundraising for air monitors. Virginia's Attorney General sued the city over the landfill's "stench." Some legislators think Bristol should receive some federal aid.
The Valley Conservation Council reported its "Land conservation efforts successful in 2022; 2023 could be banner year."
Check out…
Sierra Club Piedmont Group's virtual program on Charlottesville's Climate Action Plan – Feb. 8, 7:00 PM to learn about Charlottesville's newly adopted Climate Action Plan and ask questions of staff. Register here. Consider whether there are reasons for other localities to develop such a plan.
Renewal of Resistance – an evening with StopMVP Artivists – Jan. 31, online 7 PM – for music, dance, and poetry. Register here.
These sources about the Inflation Reduction Act (IRA) tax credits that take effect this year IRA take effect. Here's a quick rundown of some of the ways you can save money with solar and more starting now. Below are links to the federal code text regarding HOMES and HEEHRA. Virginia will create its own plan for dispersing these funds ($186M in total).
§18795a. High-efficiency electric home rebate program (HEEHRA) https://uscode.house.gov/view.xhtml?hl=false&edition=prelim&req=granuleid%3AUSC-prelim-title42-section18795a&f=treesort&fq=true&num=0&saved=%7CSGlnaC1FZmZpY2llbmN5IEVsZWN0cmljIEhvbWUgUmViYXRl%7CdHJlZXNvcnQ%3D%7dHJ1ZQ%3D%3D%7C1%7Ctrue%7Cprelim
§18795. Home energy performance-based, whole-house rebates (HOMES) https://uscode.house.gov/view.xhtml?hl=false&edition=prelim&req=granuleid%3AUSC-prelim-title42-section18795&num=0&saved=%7CSGlnaC1FZmZpY2llbmN5IEVsZWN0cmljIEhvbWUgUmViYXRl%7CdHJlZXNvcnQ%3D%7CdHJ1ZQ%3D%3D%7C1%7Ctrue%7Cprelim
Residents and businesses aren't the only beneficiaries. So are non-profits and schools. You can encourage your school system and your church or congregation to install solar. And your neighbors. And commercial facilities. Generation180's Solar for all Schools program created a toolkit that interested parents, community members and schools can use (and a helpdesk) to help their school go solar. Its last report showed a tripling of the amount of solar on Virginia schools.
Locations of the top 50 Virginia localities with the most temporary emergency shelters per‑capita. "The increasing frequency and severity of natural disasters means that the need for emergency evacuation and shelter plans has never been greater. According to the Federal Emergency Management Association, understanding your climate risk, or proximity to probable natural disaster, is an important first step for making a plan. Tools like the Climate Mapping for Resilience and Adaptation allow you to assess your risk by location. Knowing where nearby emergency shelters are located is another way to prepare for the worst. In the event of flooding, hurricane-level winds, or other disasters, emergency shelters offer a place to sleep, and also often provide food, water, and first aid services." Closest to the Central Valley (though not necessarily west of the Blue Ridge), among the 50 localities are the Counties of Bath, Highland, Rockbridge, Albemarle, Greene, Madison, Culpeper, Fauquier, Clark, and Nelson. Cities include Staunton, Winchester, Lexington, Buena Vista, Covington, and Charlottesville.
"These 6 charts that track air quality and precipitation in Virginia, plus other environmental indicators." For example, recently air quality in the Shenandoah Valley National Park was rated good.
Why not…
See a film or two playing during the 13th RVA Environmental Film Festival, starting March 10, with the heartfelt documentary, "Wildcat," playing at The Dome of Science Museum of Virginia at 7:30 PM? The festival continues at the Byrd Theater March 11-12. Showings will continue until March 19 at various venues throughout the community. The lineup includes films for all ages and covers environmental topics such as forest conservation, survival amidst climate change, mysteries of sea life, pollinator decline, natural gas pipelines, and more. Details are here.
Attend Citizens Climate Lobby (CCL)'s Conservative Climate Leadership Conference and Lobby Day in Washington, D.C. – March 28-29? CCL's approach to enacting climate solutions is to work with everyone along the political spectrum. The Conservative Climate Leadership Conference and Lobby Day provides the opportunity to engage climate advocates and lawmakers who are right of center. The application deadline for attending the conference and securing a limited lobbying spot is March 10. The application deadline for attending the conference with no lobbying is March 14. Find details here.
Attend the Waynesboro Parks and Recreation's 10th Annual Shenandoah Plant Symposium 2023, A Plant Palette, March 24 from 8 a.m. to 4:15 p.m. at the Wayne Theatre in downtown Waynesboro? Waynesboro Parks & Recreation will present a lineup of speakers. Find "inspiration for your backyard garden…. Registration is limited to 250 people. A boxed lunch will be served. The cost is $90 per person." Register here.
Watch an Eastern Mennonite "Professor's work featured in 'Wetlands of Wonder: The Hidden World of Vernal Pools' documentary? At 54-minutes long, it might suit your kids too.
The Climate Action Alliance of the Valley (CAAV) is a non-profit, grassroots group in the Central Shenandoah Valley that educates legislators and the public about the implications of the Earth's worsening climate crisis.
---