By Eric Gorton, senior contributor
Starting July 1, Harrisonburg Electric Commission customers likely will see a 6% increase in the utility's base rate for power.
The proposed increase for residential customers would result in an increase of about $4.55 per month for the average customer using 1,000 kWh, HEC General Manager Brian O'Dell said Tuesday while discussing a draft budget for fiscal year 2024 with the HEC Board of Commissioners.
The board will review an updated draft at its April 25 meeting, where numbers could be adjusted — but probably not substantially. HEC has not increased its base rate since July 1, 2016.
While the cost of power goes up, customers could get some relief from lower natural gas prices, and bills could actually be lower than what they are now, O'Dell said.
HEC purchases power from Dominion Energy, which generates much of its electricity with fossil fuels. A large portion of that is natural gas. When fuel prices fluctuate, Dominion passes on the changes, up or down, to HEC, which adjusts its customers' bills.
The average residential bill has increased by more than $29 a month since late 2021 because of higher natural gas prices. Before November 2021, the fuel cost adjustment was 0.4 cents per kWh, which added $4.39 to the average bill.
In November 2021, HEC raised the fuel cost by one cent, resulting in an additional $10 added to the average bill. The fuel cost was increased again, by approximately 0.8 cents, in May 2022, adding another $8.21 to the average bill. Another 1.1 cent increase in the fuel cost last November added another $11 to bills.
Fuel Cost Adjustment Increases Since Nov. 2021 – per kWh
Date
Fuel Cost Adjustment
Increase
Amount charged on average residential bill
Before Nov. 2021
.439 cent
$4.39
November 2021
1.439 cents
1.00 cent
$14.39
May 2022
2.26 cents
0.82 cents
$22.60
Nov. 2022
3.36 cents
1.10 cents
$33.60
O'Dell said in an email Thursday that the fuel cost adjustment could be lowered in April to about 2.5 cents per kWh, which would reduce that portion of the monthly bill by about $8.64, making it about $25 a month.
Much of the increased power cost stems from Dominion's endeavors to bolster its renewable energy portfolio to comply with the Virginia Clean Economy Act and the Regional Greenhouse Gas Initiative (RGGI). Among those efforts is a nearly $10 billion project to build an off-shore wind farm off Virginia Beach.
O'Dell said that project and other renewable energy efforts are mostly responsible for a 20% increase in a generation demand charge next year. Generation demand charges, which figure into the wholesale cost of power, are generally used to recover costs associated with capital projects.
"It's a huge jump," O'Dell said Tuesday. "The primary drivers of that are going to be construction work in progress as it relates to offshore wind and our share of the interest on the financing and then there's several 100 million in credits and allowances, which are going to be RGGI and RECs (renewable energy credits)."
Overall, O'Dell said wholesale energy costs will rise 12%. The utility also will get less money for being a stand-by in case extra power generation is needed during emergencies, such as when it put extra power on the grid Dec. 23-24during a cold snap that affected the entire East Coast.
"We get compensated monthly for having that generation on standby should they need us like they did around Christmas. They auction that capacity, and it continues to decrease so our credit is decreasing. It's a broken market," O'Dell told the board.
Overall, HEC is expecting a $4.8 million deficit between revenues and costs for FY24 and thus the need for the 6% rate increase.
The rate increase only covers a portion of the deficit. O'Dell said HEC will delay several routine maintenance projects until the 2025 fiscal year, as well as an overhaul of some gas turbine engines to help cover the shortfall.
"An 8% retail rate increase would have recouped the entirety of the Dominion increase," O'Dell said in the email Thursday, "however it was never in the conversation to pass the full amount on to the customers. It was a matter of how much we would be taking out of reserves to cover the necessary expenses."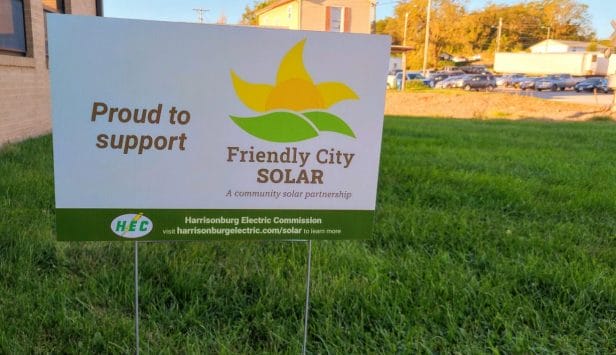 Friendly City Solar subscribers can increase their support
Also Tuesday, the board voted to double the maximum amount of energy customers can subscribe to through Friendly City Solar, from 25% to 50%.
HEC marketed the program as a way for customers to support solar energy without having to install solar panels on their homes. The program was designed so up to 1,000 residential customers using an average of 1,000 kWh per month could get 25% of their energy through it.
Registration for Friendly City Solar started in mid-August, and 153 participants signed up in the first month. But interest has waned since then, and the program now has 300 subscribers. Of those, 200 are subscribed to the 25% maximum, O'Dell said.
The energy is available for purchase in 50 kWh blocks. After some discussion about changing that method and allowing customers to choose a percentage of their power to purchase, the board decided to stick with the block system.
Board member Maria Papadakis said she would like to hold some of the power in the program in reserve in case the board decides to make changes down the road. The program is only available to residential customers now, but Papadakis said the board may want to open it up to commercial customers at some point.
Friendly City Solar subscribers pay 3 cents more per kWh on the amount of energy they purchase through the program because it costs more to produce than regular grid energy, O'Dell has said.
HEC purchases solar energy from Dominion's Acorn Drive solar plant, which began operating in November. All energy produced at the Acorn Drive plant goes on the HEC grid, and HEC shoulders the cost of the energy that is not purchased through Friendly City Solar.
---
Journalism is changing, and that's why The Citizen is here. We're independent. We're local. We pay our contributors, and the money you give goes directly to the reporting. No overhead. No printing costs. Just facts, stories and context. We're also a proud member of the Virginia Press Association. Thanks for your support.