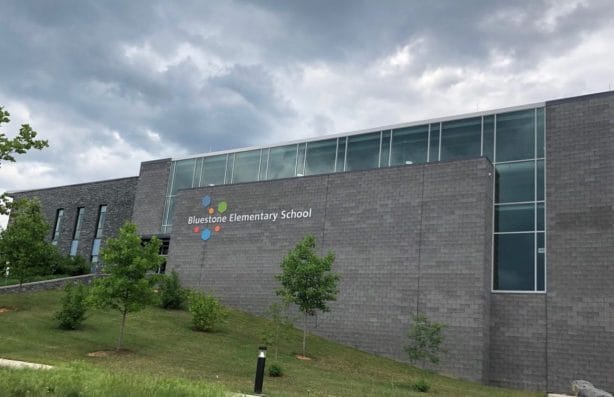 By Bridget Manley, publisher
The Harrisonburg Education Association is taking steps to potentially bolster its power as a union and pursue the right to collectively bargain — joining a growing list of teachers' organizations in Virginia.
The move comes after other unions in Virginia – including teachers in Richmond and Charlottesville – won their own rights to collectively bargain. And school district officials haven't come out with any opposition to HEA's efforts, as the district's leaders continue to look for ways to lighten the burden on teachers and improve teacher morale.
Last week, HEA began sending cards to teachers in the HPCS to gauge school employees' support for collective bargaining, according to HEA President Andy Thompson. Thompson, a teacher at Thomas Harrison Middle School, told The Citizen that the card campaign will ask employees, including teachers and other staff, for the authorization of HEA to pursue collective bargaining on their behalf. HEA will collect the cards over the next few weeks.
If the majority of school staff express their support, HEA representatives will then present a resolution to the school board. The school board will ultimately have the authority to approve or deny a resolution allowing the teachers to collectively bargain.
As of Friday, HEA had received feedback from 400 employees in support of collective bargaining. The organization's goal is to gain support from 80% of the Harrisonburg City Public Schools' 1,100 employees.
Proponents of unionizing say it would give teachers and staff more power to negotiate wages, but also with setting school hours, asking for repairs inside schools, determining employee health care and other benefits.
Thompson said the union would fight for living wages for all employees – including office workers, custodians and cafeteria workers, as well as educators.
Collective bargaining had been banned in Virginia for public sector employees until the Virginia General Assembly passed a law to let local governments allow their employees to collectively bargain. Since the law went into effect in 2021, some school boards have voted to allow their teachers unions to collectively bargain.
Public service unions in Virginia do not have as much power as private unions. They are prohibited from striking or holding "sick-outs," and collective bargaining is new.
School Board Chair Deb Fitzgerald told The Citizen that the board and school superintendent Michael Richards have been aware of HEA's plans since early last fall after a meeting between Richards and Thompson.
HEA has increased its membership numbers this year – going from 171 members to 221 members, making it the largest one-year increase in the organization's history. At one point last year, HEA was the second-fastest growing teachers' organization in Virginia, Thompson said.
Thompson said he has heard "overwhelming" support so far from teachers he has spoken with. 
Richards said the school district's administration has no official position on collective bargaining because the decision to allow collective bargaining would be up to the school board.
"Personally and professionally, I support the mission of HEA and believe that teachers in particular should have a seat at the table when it comes to their contracts," Richards said in an email to The Citizen.

Trying to improve teacher morale
Thompson said teachers have become responsible for so much more than educating children, such as being responsible for the physical, social and emotional health of students, all while feeling a general lack of respect from parents and other stakeholders in the community.
"The relationships between teachers and their students is devolving," Thompson said. "They have less power over what they teach, over their creative abilities, they have less ability to discipline students, to correct behavior…they have lost all autonomy in the classroom."
The issue of low teacher morale is most acute in elementary schools, according to both Thompson and Fitzgerald. At a meeting last fall, elementary teachers urged the board to come up with ways to make their jobs less stressful, saying they were at a breaking point.
Teachers have had to take on additional responsibilities as positions at the schools open and go unfilled, and many do not have adequate time for lesson planning, often spending time at school on the weekends to catch up. Teachers have even suffered physical abuse from students.
"We have had many teachers with bruises," Thompson said.
Thompson said Richards and the board are making an earnest effort to address teachers' concerns. At the first board meeting of 2023, Richards told the board that improving teacher morale was one of his main objectives for this year.
Richards formed a staff advisory council — an informal group that includes teachers, custodians and other school staff — to develop and suggest solutions to the problems teachers have laid out. Some of the members of HEA are also on the council.
Some policies have gone into effect in the last few days or will be implemented in the coming days, Fitzgerald said. The changes are specific to the needs of each school, with elementary schools seeing many of the changes. Those include:
No required meetings will be held on workdays for teachers, which was a frequent request across the system.
There will only be one more after-school meeting — which is required by the district – for the rest of the academic year.
Classroom teachers at Bluestone Elementary School will no longer have to perform morning or afternoon bus duty and will be freed of other responsibilities by 3:30 pm.
Cafeteria monitors will now help students get through the lunch line at Stone Spring Elementary School, giving the teachers a few more minutes to eat their own lunches.
Chipping away at small changes will help teachers free up more time for educating students — or just catching their breaths, Fitzgerald said.
Teacher retention is a concern for school boards across the Commonwealth. A November 2022 report from the Joint Legislative Audit and Review Commission found that more teachers left the profession in 2021 than joined in Virginia.
Richards said other plans will help ease the stress on teachers. Next year's proposed budget contains money to hire additional permanent substitutes.
The district is also working with the Staff Advisory Council to collect feedback from teachers about redesigning professional development and on the school calendar.
"For instance, they are soliciting feedback on various preferences for professional development delivery — virtual (synchronous or asynchronous), hybrid, and/or in-person," Richards said. "And they are exploring how staff define an "unencumbered work day" within the calendar. Does that mean absolutely no meetings? Does it mean meetings only by choice/mutual agreement? What adjustments might we make to fit in the meetings required by law?"

Next steps for collective bargaining
The Staff Advisory Council has a specific conduit to talk directly with the board, according to a policy adopted by the board last year.
If the collective bargaining card campaign is successful and HEA moves forward with the plan, Richards said he will dissolve the council and the board will deal directly with HEA as the formal conduit between school staff and the board.
The Harrisonburg City Council funds the city school system. For that reason, Fitzgerald has alerted Harrisonburg City Council that HEA is pursuing the collective bargaining process.
If the majority of school staff support moving forward with collective bargaining, Fitzgerald said she will request a meeting with Mayor Deanna Reed and city council to talk about next steps.
Fitzgerald said that while the push for collective bargaining was inevitable, she doesn't yet know if it's going to be successful.
"We have a pretty diverse staff right now, and the issues that staff are dealing with are pretty widespread," Fitzgerald said. "But if I had to guess right now, I would say that it is going to be successful."
If so, the school board will have 120 days to consider a resolution that they will pass or not as a school board to allow the union to collectively bargain.
Thompson said that while he is encouraged that Richards and school board members have been supportive of teachers, political winds can shift, and the board can change in every election year.
"Why don't we make sure that we stay together as an organization so that we can always fight for our profession and the kids in this community despite who gets elected to the school board, despite who gets hired as superintendent," Thompson said. "We have seen in other places where that has been to disastrous effect when local elections move away from teachers and education."
---
Journalism is changing, and that's why The Citizen is here. We're independent. We're local. We pay our contributors, and the money you give goes directly to the reporting. No overhead. No printing costs. Just facts, stories and context. We're also a proud member of the Virginia Press Association. Thanks for your support.