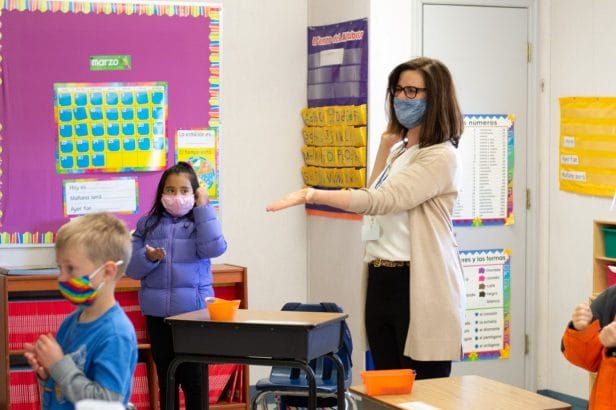 By Haley Thomas, contributor
More than two hours of public comments dominated Tuesday's Harrisonburg school board meeting as about 20 speakers voiced opinions on several different issues. The jumbling of topics — where one person would talk about working conditions at elementary schools while the next speaker addressed higher suicide rates among LGBTQ+ students followed by another person playing a gospel song to punctuate her point — gave the meeting, at times, the feel of a local political fever dream.
It was the second consecutive month in which community members came out en masse to deliver their views at the school board's meeting at City Hall. And like last month, many expressed opinions about whether to remove certain books from school libraries and their positions — both supporting and opposing — the district's policies related to non-binary and transgender students.
This came after a judge's initial ruling saying that a group of six parents and teachers failed to prove their rights had been violated, thus affirming the district's policies regarding transgender students and choice of pronouns.
Some residents also supplemented their remarks, which are limited to three minutes, with verses of scripture, words of affirmation and protest signs.
Meanwhile, several elementary school teachers raised their concerns to board members about conditions causing them to feel overworked and, as one teacher put it, as if they were "drowning."
Tom Domonoske commended those who spoke during the public comment period, smiling as he called it "the most educational and the longest part of these meetings."
"Anyone who has never [spoken during public comment], I urge you to do that," Domonoske said. "We need to hear from everyone."
While the meeting didn't devolve into a shouting match, as has happened in other districts in recent months, the tenor did strain the boundaries of civility at times, as some audience members snickered at certain speakers' comments while others got personal with their remarks.
Ryan Liskey, member of the Rockingham County Republican Party, said the lawsuit will not be the last brought against the school board. He added that children in HCPS are being robbed of education and that morals are being "thrown to the wayside and discarded with little to no discussion."
"We believe that most of these board members should be on [a] sexual predator list…Your ideas are dangerous and we are here to make it stop," Liskey said, inciting both applause and laughter accompanied by a few eye rolls from the audience.
Bill Call, a Harrisonburg resident, said he understands that there are multiple sides to the arguments on the table, but was disappointed to hear snickering in the crowd when other speakers brought up their religious beliefs.
"Welcome to the human experiment," Call added.
CJ Jordan, speaking on behalf of City Elders of Rockingham and Harrisonburg and joined by Corin Jackson who ran unsuccessfully for a school board seat this fall, opened her comment by reciting the Bible verse Romans 6:13 —  "Neither yield ye your members as instruments of unrighteousness unto sin: but yield yourselves unto God, as those that are alive from the dead, and your members as instruments of righteousness unto God." 
Jordan said the policy involving treatment of transgender students allows children to use pronouns "other than what God has ordained" and have access to pornography in schools with no parental consent. She asked everyone present to pray for forgiveness and ended her speech by holding her phone to the microphone and playing the song "Let the Church Say Amen" by Andrae Crouch.
"This is not for public comment, ma'am," said the board's chair, Deb Fitzgerald. But Jordan echoed the lyrics, shouting them into the audience while beckoning everyone to raise their hands.
It was the first of several times throughout the evening when board members reminded those speaking that public comment was a time to address policy.
Jason Calhoun, a Harrisonburg resident who has spoken at several meetings this year, said the schools' libraries contain 37 copies of books written by author NoNieqa Ramos, who is married to Superintendent Michael Richards, but have no more than six copies of the top ten childrens' books.
"Please don't address the people, especially the family members of people who are sitting up here," Fitzgerald pleaded. "Please talk about policy."
"And the devil shall be upon their shoulder," one audience member shouted.
Patrick Fritz, of Broadway, said he is concerned that so many of the residents who spoke Tuesday night cited religious reasons for their opposition to certain library books.
"There is absolutely nothing preventing a parent from talking to their children," Fritz said. "You don't get to remove books from our libraries because you don't like them. If you don't like them, talk to your children."
Sandy Parks, retired HCPS librarian of 29 years, echoed her support for access to books that address all types of experiences and issues, including LGBTQ+ commentary.
"The book that isn't right for one child could be the book that saves the life of another child," Parks said.
Adam Copeland pointed to Liskey's "Let the Parents Decide" protest sign.
"We have elections that freely facilitate that process, and this community has spoken," Copeland said. "We affirmed that every student matters."
Copeland said he believed those parents' outrage is powered by misinformation and that it is "performative and unnecessary."
Carrie Knight, a former teacher who spoke at the board's last meeting, expressed her continued support for the board's policies. She compared pronouns and identity to her child's choice to identify by their nickname, calling it "basic respect."
Knight also expressed her frustration for teachers who are "utterly stressed, overwhelmed, and overworked this year."
"Our focus needs to be on supporting teachers and teacher assistants in ways that promote retention…and allow teachers to do what they do best: teach with creativity and enthusiasm," Knight said.
In between the back-and-forth among community members over LGBTQ+ issues and policies, several elementary school teachers told the board how much they're being stretched.
"These teachers need help…our city cannot afford to lose great, expert teachers — not in this environment," said Andrew Thompson, president of the Harrisonburg Education Association and speaking on behalf of Harrisonburg elementary school teachers.
Anne Kappers, a second grade teacher and member of the HEA, concurred, adding that teachers are "drowning." She said a lack of time, staffing and respect have pushed elementary school teachers to the edge.
"The entire manner in which our society treats and views teachers has to change," Kappers said, raising her voice. "We are constantly asked to be perfect, endlessly compassionate, wildly creative, forward-thinking, organized, charismatic, and most significantly, compliant."
Her speech garnered a standing ovation and a roar of applause.
Later in the meeting, Richards expressed his support for teachers in HCPS. He said he wanted to make it known that they're right — they are facing too much stress with too little time to combat it. So far, Richards said he has held 35 focus groups with teachers to figure out the root of each problem and how to solve them. At the very least, he said, this will involve "more hands on deck."
"We do believe in the shared responsibility of problem solving," Richards said, adding that solutions will be brought to the board as soon as possible, in conjunction with teachers.
Hill's last meeting
This was Obie Hill's last meeting as a member of the board. Hill lost his re-election bid in November and will be replaced on the board by Emma Phillips.
He expressed his gratitude and asked for prayers for both the board and city council, closing his remarks by reading Bible verse John 3:16 aloud — "For God so loved the world, that he gave his only begotten Son, that whoever believes in him shall not perish, but have everlasting life."
"I like to believe that our lives end the day we become silent about things that matter," Hill said. "What I've said in this position were things that mattered to me…I thank you for allowing me to serve."
This story has been updated to correct the spelling of Corin Jackson's name.
---
Journalism is changing, and that's why The Citizen is here. We're independent. We're local. We pay our contributors, and the money you give goes directly to the reporting. No overhead. No printing costs. Just facts, stories and context. We're also a proud member of the Virginia Press Association. Thanks for your support.