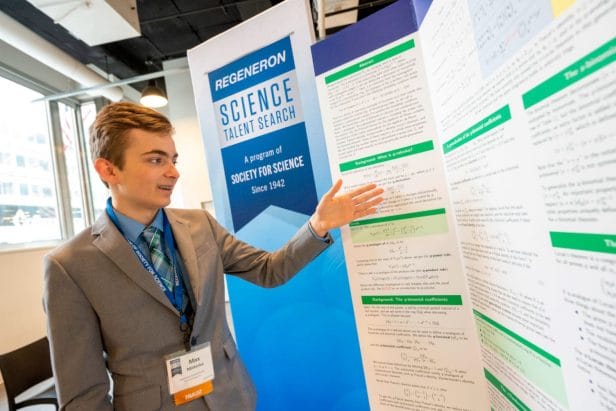 By Eric Gorton, senior contributor
Harrisonburg teenager Max Misterka knows a lot of math, and he's especially up on the q-derivative these days.
For those of you whose math chops are a little rusty, the q-derivative is quantum calculus's analog to the regular old derivative in regular old calculus. Misterka has been spending a lot of time with the concept, and even came up with his own take on it that he calls the s-derivative.
For his efforts, Misterka finished fourth in this year's Regeneron Science Talent Search and received $100,000.
The Society for Science bills the Science Talent Search, founded in 1942, as the nation's oldest and most prestigious science and math competition for high school seniors. Each year, nearly 2,000 students submit original research in fields such as cancer, climate change, the space race and more.
The top 300 scholars receive cash prizes, with the winner earning $250,000.
"I was actually amazed once they announced I was top 300. I wasn't expecting that," said Misterka, the son of Shannon Fitzgerald and Jason Misterka. "And then top 40 was next and I got to go to the finals."
The top 40 finalists participate in a finals week competition, typically held in Washington, D.C., where they meet leading scientists and distinguished national leaders, and visit institutions of historic and political importance.
"That was really fun for me and meeting the other finalists was great," Misterka said. "They all have really interesting projects in so many different areas."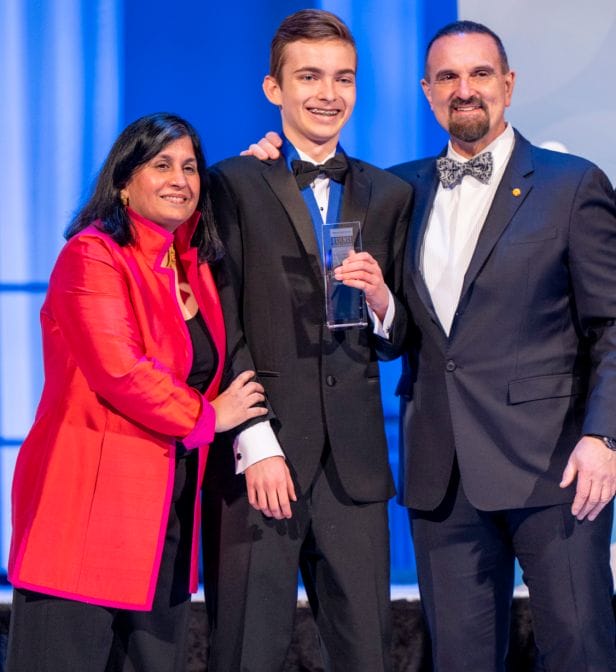 The contest requires students to submit an extensive written report of their scientific research to demonstrate creativity and interest in science, as well as supporting documents from schools, advisors and mentors. A team of scientific evaluators and judges review applications and select the finalists.
"The 40 finalists … were selected based on the scientific rigor and world-changing potential of their research project," states a press release from the Society for Science.
The finalists came from 48 states, Washington, D.C., Puerto Rico and four countries.
In describing his research, Misterka said, "In calculus you might learn stuff like the product rule and the power rule, there is a q-product rule and a q-power rule that were already known and in my research, I found an s-product rule and an s-power rule in this generalized version of q-calculus."
Misterka, who is schooled at home, started his research in January 2022, after getting into a research program run by the Massachusetts Institute of Technology called "PRIMES-USA" (Program for Research in Mathematics, Engineering, and Science for High School Students). He was assigned a mentor who turned out to be a former STS competitor and who is now a graduate student at Harvard.
Getting into PRIMES-USA "was great," Misterka said. "It was perfect for me."
Misterka said his mentor, Sanath Devalapurkar, provided some background and teaching on research he was doing, which led to Misterka's award-winning research. "I got really interested in it and worked on it for the rest of the year," he said.
Misterka said he updated Devalapurkar once a week on his progress and Devalapurkar would provide insight and suggest possible directions.
In an email, Devalapurkar said that Misterka "came up with a very elegant perspective on the project I suggested, and in the process broadened its scope."
He added, "Max is a very independent and deep thinker, and it was a great experience to be mentoring someone who's so passionate about mathematics. It's rare, but extremely rewarding, when one gets to mentor someone and learn things from them!"
Misterka said students in the PRIMES-USA program received lists of contests they could enter. "Regeneron was one of them so I decided, why not, I'll try it and it turned out well."
Misterka will attend MIT beginning in the fall and plans to double major in math and physics. At the moment, he said, he thinks he will follow-up his undergraduate education with graduate school and eventually become a professor and continue conducting math research.
"Math research is definitely really fun for me. I've been doing it for a while now. MIT-PRIMES was my first real project. Before that I had just done projects for fun. It's just really fun to discover new things in math."
He said he's especially looking forward to learning more about how q-calculus can be applied to quantum physics.
Misterka said most of his $100,000 prize money will be used to pay for college.
And if the math doesn't work out, there's always computer programming or piano playing to fall back on, two additional interests where he excels.
---
Journalism is changing, and that's why The Citizen is here. We're independent. We're local. We pay our contributors, and the money you give goes directly to the reporting. No overhead. No printing costs. Just facts, stories and context. We're also a proud member of the Virginia Press Association. Thanks for your support.