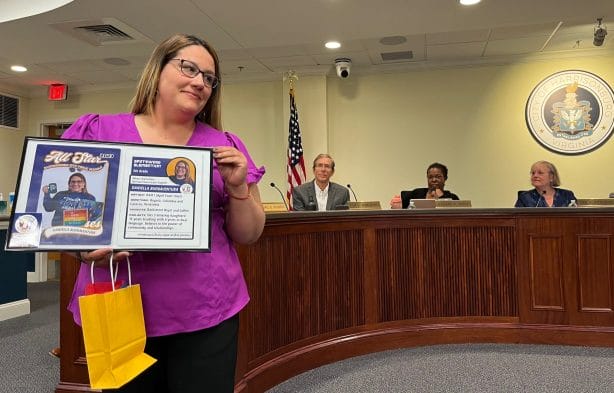 By Haley Thomas, contributor
Through teary eyes, Daniella Buenaventura made her way through the crowded city hall chamber, where audience members had by that point risen to their feet. They applauded as Buenaventura made her way to the dais to accept the city school district's Lucy F. Simms Educator of the Year award. While the board's meetings are typically quiet, a chorus of cheers rang through the room on Tuesday.
Buenaventura, a 5th grade teacher from Spotswood Elementary, is the first winner in four years, now that the Harrisonburg Education Foundation resumed giving the award.
Emcee Jeremy Weaver, the district's director of human resources, congratulated Buenaventura and greeted two of her young daughters, who immediately began to rifle through their mother's gift bag from the Harrisonburg Education Foundation.
"Chocolate!" One of her daughters shouted. Her face fell when she realized it wasn't chocolate after all — she was holding a stack of trading cards with the faces of the top educator from each HCPS campus on them.
Weaver introduced one of Buenaventura's former students, Greyson Lunsford, whose family had written a recommendation for her. He said the letter touched him and "captures her essence."
"When we asked [our son] to tell us what made her so special, he said, 'I wish she could be my teacher for everything, until 12th grade,'" Weaver read from the letter Lunsford's mother, Anita, wrote. "'She always accepts you, no matter what. She makes you feel like you belong and you matter every day.'"
Many board members and attendees began to cry. Buenaventura wiped her tears to hug the student, whose family watched as he held her tight and smiled proudly.
"'She'll always be there for you when you need her, even when you're not her student anymore,'" the letter went on to say. "'She made our class a family.'"
The letter further explained that the best testament to Buenaventura's passion for her students was when she asked Anita Lunsford — who was also the author of this recommendation letter — to film Spotswood's 5th grade graduation ceremony because she would be helping out on stage and "didn't want to miss a minute."
Anita Lunsford, as the videographer, took the opportunity to ask students what they loved about Buenaventura. Some of the answers included:
"She made me feel safe."
"I realized I was smart this year."
"She made learning fun."
"She just loves us all so much."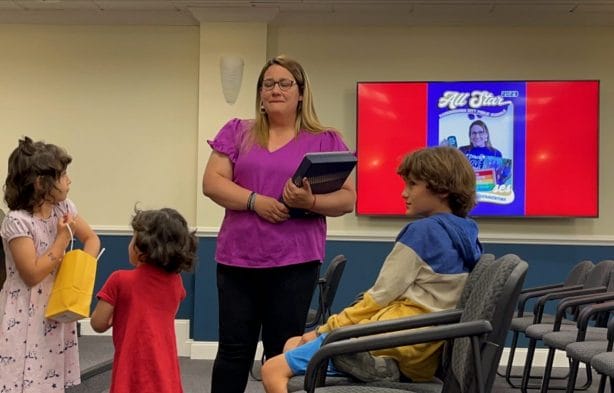 The family added that multiple middle school students, including their son, make trips back to Spotswood to visit Buenaventura. They closed their recommendation letter by stating that they and their son will never forget her kindness.
Weaver also read a statement from Brendon Derstine, Spotswood's principal, who described Buenaventura as someone who "builds learning communities focused on meeting students where they are and pushing them to high levels of achievement."
"Her data outcomes are a testament to her commitment and care for her students," Derstine wrote. "All students make significant growth and achievement in her classes. Her commitment to student success is unsurpassed."
Buenaventura used one hand to wipe her tears and the other to hold her daughter close. She made her way back to her seat and was met with hugs from her colleagues who came to support her.
"I feel honored to represent a little iceberg of all the hard work that everyone else does here," Buenaventura told The Citizen after receiving her award. She added that she is honored to represent her colleagues, because "without them, I couldn't do it."
The district also recognized the top educator from each city school, including:
Brittany Moore – Harrisonburg High School
Alayne Milton – Skyline Middle School
Allison Yoder – Thomas Harrison Middle School
Donna Faulconer – Elon Rhodes Early Learning Center
Kendyl Connifey – Bluestone Elementary
Ingrid Victoria Ruiz Solano – Keister Elementary
Alexa Weeks – Smithland Elementary
Daniella Buenaventura – Spotswood Elementary
Jamie Baugher – Stone Spring Elementary
Julette Rush – Waterman Elementary
Each winner was selected by their own school community and was "very participatory amongst staff members," Weaver said. And each winner received a $250 check from the Harrisonburg Education Foundation.
The top educator awards had been on a hiatus since the COVID-19 pandemic began in 2020, but this year, Weaver said he realized "it's time to bring this back" and "recognize the outstanding folks among us."
He added that all HCPS staff goes "above and beyond" each day.
And district leaders agreed.
"We have some of the best educators in the world," Superintendent Michael Richards said. "So if you get educator of the year here, it's something very special."
Board member Kristen Loflin sniffled and said, "Please just bring us tissues next time!"
---
Thanks for reading The Citizen, which won the Virginia Press Association's 2022 News Sweepstakes award as the top online news site in Virginia. We're independent. We're local. We pay our contributors, and the money you give goes directly to the reporting. No overhead. No printing costs. Just facts, stories and context. Thanks for your support.