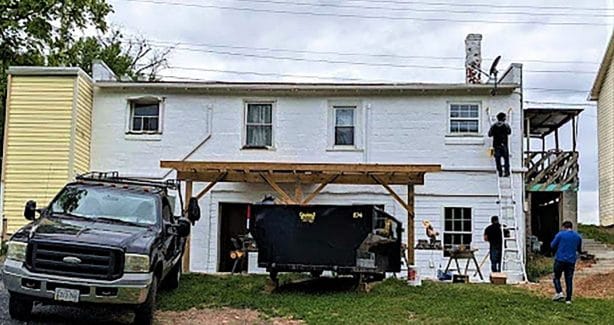 By Sukainah Abid-Kons, contributor
After two years of renovations at their location on Reservoir Street, local nonprofit Our Community Place(OCP) will officially open the two new "efficiency apartments" that are now ready to be lived in starting June 23.
The organization will hold a ribbon cutting at 3 p.m. at 50 Reservoir Street. Located at what OCP has dubbed "The Reservoir Street House," these two apartments will be rented out at lower rates to individuals who have struggled with chronic homelessness in the past. Along with the apartment, OCP also will help the tennants acquire any necessities for their new homes, including dinnerware and furniture.
The apartments in the basement will be different from the ones in the house's upper story. While the original apartments are one-bedroom and have each resident living separately, the downstairs "efficiency apartments" will include more shared space, and will have a lower cost, hence their name.
Sam Nickels, executive director of OCP, said the organization has been planning on converting the basements into apartments since acquiring the building in 2021. After fundraising and receiving a $118,000 grant from the Central Shenandoah Planning District Commission, OCP began renovating the space and completed the work in 2022.
"We knew that if we added two new apartments in the basement it would be a really efficient, low-cost property to run, so from the very beginning we knew we wanted to raise funds to do that," Nickels said.
Nickels described the Reservoir Street House as a type of pilot program for OCP. The organization wanted to see if it could acquire the property and keep up with the costs of maintaining the spaces, all while offering them to clients at lower rental rates to help people who have experienced homelessness find a long-term housing solution.
"What we've found is that we can do it and that we can do it well," Nickels said. "It's a great way that gives us a way to house some difficult-to-house folks."
Nickels said OCP also works with the tenants one-on-one to help prepare them for life as a renter. OCP will help those selected to live in the apartments evaluate their income, develop a budget, and plan for how they can pay their rent while managing other life costs.
Nickels said this housing is particularly helpful for those who have struggled with chronic homelessness and have trouble finding housing because of past evictions or because of a criminal record. Nickels said the project has two main goals.
"Make it [housing] affordable for really low-income  people, but also to provide the supports that they need to overcome a variety  of barriers that might cause them to become homeless again."
---
Thanks for reading The Citizen, which won the Virginia Press Association's 2022 News Sweepstakes award as the top online news site in Virginia. We're independent. We're local. We pay our contributors, and the money you give goes directly to the reporting. No overhead. No printing costs. Just facts, stories and context. We value your support.