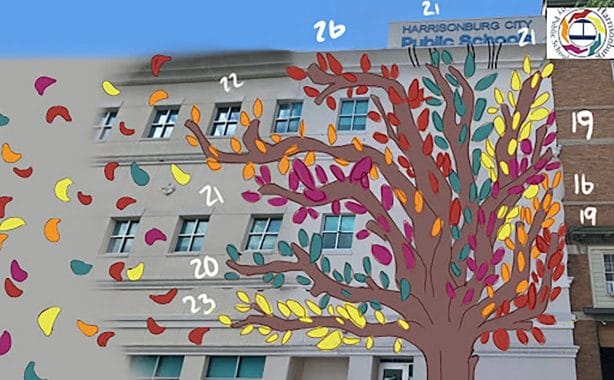 By Haley Thomas, contributor
The school year might be over, but students already have homework for the 2023-24 school year: creating a community mural downtown that will be called "Intertwined."
Sophia Yoder, Harrisonburg High School alumna and former president of the Governor's STEM Academy, and Myron Blosser, director of the Governor's STEM Academy, came up with the idea for a student-created community mural about two years ago, Blosser said.
But the STEM Academy's board had a lot on its plate at the time, so Clare Kirwan, who's a rising senior at the STEM Academy, took on the mural project, which will be displayed on the Central Office building in Court Square across from Walkabout Outfitters.
"This was something that I felt really passionate about, and I already had an interest in visual art and making that more equitable to kids," Kirwan told The Citizen. "And then with student leadership, I wanted to get involved with that."
Kirwan, the president of the HHS Governor's STEM Academy, originally presented the idea for the mural to the district's school board in December 2022. She described it as a "tree of life" that would be made up of ten branches to represent each school in the district, including Rocktown High School that's expected to open in fall 2024.
Students at each school would work together to design and paint their own branch's leaves, allowing all students to showcase their experiences and ultimately promote dialogue among the schools and across the community. Initially a little overly optimistic, Kirwan hoped to complete the mural by Spring Break, she said.
"When I took a step back, I realized that this could be something that's really important and cool in our community, and it just needed a little bit more time," Kirwan told the school board at Tuesday's work session. "And there was more opportunity for student leaders to get involved, so I thought, why not take that opportunity?"
Kirwan assembled a team of 11 student artists to begin creating a mockup of the future mural. Only a couple of the students on Kirwan's team are in the STEM Academy, which is made up of 375 students enrolled in one of three different pathways: science and math, technology and engineering or healthcare.
"I think sometimes kids just don't know about the opportunities of academies, and that can sometimes hinder them," Kirwan told The Citizen, adding that getting students beyond the STEM Academy involved was important to her. "I made sure to reach out to a bunch of students that maybe hadn't had leadership opportunities in the past."
Kirwan and her team connected with William Snyder, a local professional muralist who specializes in polytab fabric — a waterproof, wear-and-tear proof cloth that can be painted inside and adhered to a wall by a professional.
"It will look like it's been painted on, but it's a lot easier for us…we'll be able to cut everything out and apply them individually," Kirwan said.
The team then wrote its mission statement:
"Trees are the basis of life. But beyond this, trees are complex systems. A tree is made up of leaves and branches with different roles that come together at the trunk with one common goal. This tree is like our community: diverse yet with a common goal, it takes all of us to grow and bear fruit. We hope this tree, a collection of different chaotically curated leaves, will serve as a talking point for our community."
The mockup that Kirwan and her team then created uses numbers to represent how many leaves each branch will have. Snyder made the recommendations to allow for enough leaves for students to design while the whole mural remains visually appealing. The team decided to add more leaves blowing away from the tree to represent the district's alumni. The team derived the mural's color palette from the hands in the HCPS logo, further integrating the theme of being "intertwined."
The team is now getting in touch with art teachers across the district and providing a timeline so those teachers can integrate the project into their curriculum next year.
Kirwan said how students work together to design and paint their leaves is up to art teachers, but she suggested ideas such as allowing each student to paint a leaf and then selecting the best designs from each school.
On "paint days," students from the mural team will go to each school to help students paint, provide expertise and assist art teachers, but ultimately, "we really want this to be something for students," Kirwan said.
"That's another really unique opportunity for those students [on the mural team] to go and interact hands-on with kids and be these student leaders," Kirwan said.
In November, Kirwan said she plans to install the tree trunk part of the mural with Snyder's help.
"The idea with that is that it's going to be a bare tree through the winter, and then we're going to place the leaves in the spring," Kirwan said, prompting oohs and aahs from the board. "So it will be like this tree bloomed for our community."
Kirwan has recruited videographers and photographers from the Harrisonburg High School newspaper, the Newsstreak, to document the mural's progress. She also discussed integrating tree biology lessons into the project, along with teaching new art processes for the leaves.
"I love the idea of the tree kind of making its way — branching out, so to speak — into biology too," said Board Chair Deb Fitzgerald. "There's room for it to go into literature, into writing exercises, all sorts of things. It's really cool."
Kirwan said she hopes to have the mural completed by March and have an unveiling ceremony with music, food and entertainment.
Fitzgerald said her son is a 2004 graduate of Harrisonburg High School and recently came back to town. When she told him about the idea for this mural, she said he asked, "When did Harrisonburg become cool? This is like, really cool!"
Kirwan said she's thrilled for the mural to have a more formal timeline, but she said she's even more excited to see what students come up with.
Blosser agreed. He said even though art isn't necessarily a part of STEM, "we fold that into what we do. We really are STEAM."
As for Kirwan, Blosser said he couldn't be more proud to work with her.
"She has just become president [of the Governor's STEM Academy], and when you see her next June, she will be running for Congress," Blosser said with a laugh. "A rising tide lifts all boats, and the Governor's STEM Academy, we see ourselves as a rising tide. Not only amongst the STEM academy, but we also want to elevate everything around us."
"This is something people can get excited about," Kirwan said with a smile.
Kirwan's team of student artists from Harrisonburg High School includes:
Eliza Malcolm
Julia Cicatko
Reese Tibbles
Lydia King
Sequoia Hall
Lena Blagg
Anna Campillo
Abril Carranza Martinez
Katie Mateo
Zaida Wang
Kristi Duong
---
Thanks for reading The Citizen, which won the Virginia Press Association's 2022 News Sweepstakes award as the top online news site in Virginia. We're independent. We're local. We pay our contributors, and the money you give goes directly to the reporting. No overhead. No printing costs. Just facts, stories and context. We value your support.